by Keavin Wiggins

For this edition of Unsigned Heroes we venture to America's heartland to talk with Joe Beck, lead guitarist for modern rock powerhouse 8C8.
Perhaps the heaviest band we've profiled in their series thus far, 8C8 holds a lot of promise of breaking into the big time with their guitar-oriented songs that deliver plenty of power and melody. In fact, early in the band's history MCA Records approached them, but they wanted to take some more time to fine tune their music and grow as a band, now a couple years later they appear like seasoned veterans with music that is sure to catch the attention of not only music fans but the record companies. Just visit their website and listen to "Hallow" or "1:43AM" and you'll see what we mean.
This article may be the first you hear of 8C8 but there is a good chance it won't be the last!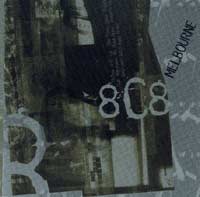 RNW: Ok first question, where did the name 8C8 come from?
Joe: 8C8 is kind of a band secret that was originated before I joined. I can tell you that 8C8 is a sizing metric for styrofoam cups and it is also a monoclonal antibody that plays a crucial role in the regulation of cell death in many eukaryotic systems. You'll just have to visit www.8c8band.com to inquire more about this.
RNW: Can you give us a little history of the band?
Joe: Smitty, Joe, and Shane all went to school together and graduated in the same class. They had been great friends since they were in grade school. In high school, Smitty learned to play the guitar and quickly realized he had a real instinct for writing songs and was singing melodies over what he had written. Soon after that, Joe learned to play the bass and they told Shane to buy some drums because they needed a drummer to build a band. So Shane did. They played together for the next 2 years nearly 3-5 days a week writing an impressive amount of original songs with real substance to them and building their prowess in their performing ability. A good friend of mine took me to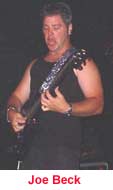 one of their practices in early '01 just so I could see what he had been bragging about. When I got there I witnessed 30 or so fans crammed into a barn jamming and singing to every word Smitty sang and I noticed these songs were actually really good. Very good. I also noticed they were only a 3-piece in extreme need of another guitar player to thicken their sound. I brought my guitar rig over to their next practice and the chemistry was immediate. I quit my other band that I was in and have been playing with them ever since.
RNW: One that same note, If I read the bio correctly, you were the last one to join the band. The rest of the band said that you were the magic ingredient they needed to find the right formula musically. So did the band more or less start from scratch when you joined or did it more or less evolve further from what it was before?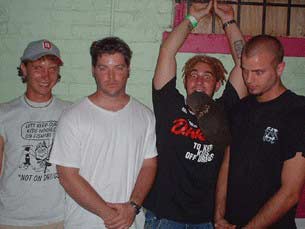 Joe: The band definitely evolved. The guys never played with anyone else before, so it was like adding a new dimension to the band with having another guitar sound. I went in and learned all of the songs that they had written and put my flavor to those songs. I think most of the songs were written by Smitty on his acoustic prior to me joining the band and those are the songs on Melbourne. Now, the writing process has changed a bit. We all pretty much collaborate together and feed off of a riff somebody writes. You will definitely hear a change in musical direction with our upcoming album. You will also hear more of my guitar influences from bands like 'The Police' 'Tool' and 'Pink Floyd'.
RNW: What first inspired you to pick up the guitar and starting playing?
Joe: I've had a musical ear since I can ever remember. I first learned how to play the piano...then the saxophone...but those instruments didn't fulfill my desire to release emotion and energy. In 1990, I went to Bogarts and saw this 'unknown' band at the time named Alice and Chains. That concert was my first concert I'd ever been to and was my life altering experience. I had to learn the guitar and learn to create energy like those guys did. I quit playing sports, bought a guitar, and played it till my fingers bled every night for the next few years.
RNW: I've read that you guys hailed from Melbourne, KY and in fact named your album after the town but relocated to Ohio? How did that move come about?
Joe: I'm not sure where you heard that, but it is untrue. We all still live in Northern Kentucky. Shane and I still live in Melbourne.
(the press release for their album states "Groundbreaking New Cincinnati, Ohio Based Band, 8C8 Preparing Their Highly Anticipated CD Release." Since KY and OH are neighbors it seems like an honest mix up! -ed)
RNW: What is the Cincinnati music scene like?
Joe: In the early 90's, the Cincy original scene was huge. There were so many talented bands and musicians and alot of them have become very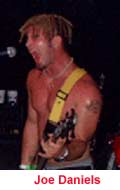 successful. Alot of them were a little late in their genre and the grunge phenomenon destroyed their chances of becoming huge. Back then, original bands drew a strong and steady following. The atmosphere wasn't "Who is playing at this club?"....it was "What club is this band playing at?" Cincinnati still has a plethora of talented musicians and bands and I think the scene is getting better than what it was in the late 90's. The Cincinnati scene has always been very competitive, but there is an emerging sense of collaboration and respect growing too. If that continues, the atmosphere could change to the way it was in the early 90's. The major problem I see with Cincinnati is that I believe it is the cover band capital of the world. 90% of the most popular clubs cater only to cover bands and they pay cover bands extremely well. So, alot of our talented musicians are playing in cover bands to make money and have 'side' original projects on the back burner.
RNW: I understand that you guys were approached in 2000 by MCA but felt that you weren't ready sign to a major label yet, since you had only been together a few months. How did that come about? And any regrets that you didn't sign on the dotted line back then?
Joe: The offer never made it to the point for us to sign on the dotted line. It was merely a sign of interest in the band from a major label after an A&R rep saw a show of ours.
We, as a group, knew we weren't ready and weren't ready to jump into something that big at that point in time. No regrets. Things will work out if they are meant to be. I believe we are ready now, but we'll just have to wait and see.
RNW: We know MCA found you, but the music industry seems to primarily be based out of LA and New York, so you find it difficult to try and get major label attention in Ohio?
Joe: It is very difficult to gain attention in Ohio. It just seems that you have to first... have your act and music together, second....you need to know the right people to get you contacts... and third...luck.
RNW: Any thoughts about relocating yet again to either LA or New York?
Joe: I would relocate to LA or NY if there was an acceptable deal offered to us to record. Other than that, I doubt it.
RNW: 8c8 released your album on your own, but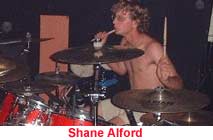 when you guys land a label deal, will you basically just re-release that album with maybe some bonus track and remixing, mastering? Or will you take the best tracks and write new ones to record a new album?
Joe: I'm sure we would re-record a few tunes from the Melbourne cd and add the most recent songs that we have written. We are ready to record our second album.
RNW: Would you rather go with a major label who sometimes try to manage band's creativity to obtain the most optimum commercial potential for the music and will make you guys big stars or would you like to go with an indie that gives you gull artistic control but with less of a chance of breaking huge?
Joe: It really depends on what the nature of the intent is. I am fully open for a producer to come in and make suggestions on how to make our songs sound better, but I would never trade artistic integrity for commercial success in a million years. "Making it big" isn't my ultimate goal. Writing great songs and being happy with the output is my goal. I'm always looking to create my masterpiece.
RNW: What is your song writing process like? Do you take an idea to the rest of the band and work together to create a full song or do you take an almost complete song to the band and have them add their own little flavor to it?
Joe: Like I said before, we take everybody's input from the band. I had put my own flavor and added things here and there on the Melbourne cd, but our writing process now is pretty much a collaboration. Sometimes a member will come in with a whole song, but we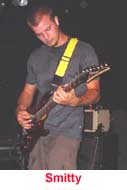 usually take riffs and build verses, choruses, etc. around that idea. Every member's role is their own creation.
RNW: Do you have any new songs that are not on the CD? That you really want people to hear?
Joe: Yep, we have between 8 - 10 tunes ready to be recorded. We will be going into the studio next month to start the process.
RNW: For someone who has never heard 8C8, which song do you think they should listen to first to get a feel for what you are all about?
Joe: Good question. I tend to characterize us as a Live/Tool/The Police/Deftones mixture of a band. The song that encompasses that the most is probably 'Dreams Within' which will be on our upcoming album. As for the Melbourne CD, they should probably listen to '1:43AM' first. It combines guitar delay with distortion, great melody and vocals, and it's just an overall a wonderfully written tune.
RNW: What do you make of the current music scene? Is there any artists that are out big today that do it for you?
Joe: To be perfectly honest, there isn't a current band out there that does it for me. The last time a band really "moved" me was Tool's 'Aenima'. I literally had that cd in my car's cd player for 2 years. I like some other music out there, but I haven't been in awe of anybody. I think the current music scene is going to see a big shift again just like it does in every new decade. Something is going to take over, but I don't know what.
RNW: How would you describe your sound to someone who has never heard it? I hear a lot of Faith No More influence, am I on the right track or are you guys inspired by any other bands?
Joe: We have a melodic/hard sound that has an excellent vocalist, eccentric bass player, a promising drummer with great instincts, and some killer guitar chops tones and solos. I definitely have an influence from Faith No More, but you will definitely hear Live/The Police/Tool in there as well.
RNW: Along the lines of the last question where do you think 8c8 fits into today's music climate?
Joe: Modern/hard rock. I definitely see our songs being radio ready with the ability to have mass appeal. I'm pretty hard to impress, but I am impressed with the guys I play with.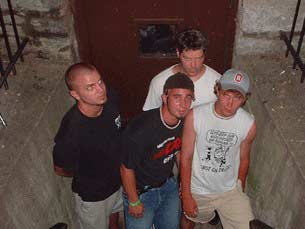 RNW: I noticed that unlike a lot of today's heavier bands, you are not afraid to actually play guitar leads and it really adds a lot to the music so it isn't simply just a bunch of power chords. I guess with the last name Beck people will expect a master guitarists. Do you think that most guitarist in today's hard rock environment are short changing the fans by playing it close to their chest and not breaking out with some killer leads? Or is it simply a matter that they can't play their instruments well enough to deliver convincing leads?
Joe: The ability to craft a good solo over a riff takes a musical ear and talent. I don't think there are a lot of popular bands out there today with that ability. I truly miss that in radio today. I grew up listening to Steve Vai, Joe Satriani, and David Gilmour so if a tune that we write has potential for a nice solo, then I'm going to put it in!! If done correctly, guitar solos add perfect emotion to a song and makes the song better in my opinion. I think most bands today are forced to write a 3 minute tune with 3 chords in it just so it will be radio friendly and get airplay. I think that's crap.
RNW: Has the internet helped you guys in anyway to reach new fans?
Joe: Definitely. Our website continues to grow with nearly 30,000 hits in the past half year. It provides a place for all of our fans to congregate and talk to each other while they learn the latest news of where we are playing next, where you can purchase merchandise, and where you can easily purchase our cd. Word of mouth continues to spread and we continue to get more fans due to our website. The internet is a dream come true in order to get exposure as well. It just takes the proper strategy to reach the right people who may be interested in your music.
RNW: Where do you hope to be five years from now?
Joe: Hopefully I will be making a living by writing music and playing guitar. That's what I believe I do best.
RNW: Finally, what do you want people to take away from your music?
Joe: Energy and emotion. I have people tell me all the time that a particular song moves them that we have written. If nothing else, I am happy that my artistic expression has touched someone else and made them feel what we feel when we play.

Ok now that you know a little about 8C8 it is time to go to their website and learn more, listen to some of their songs, buy their CD, check for concert dates and more!