Monster on a Mission . . .
a Rob Zombie Special by Debbie Seagle

Former White Zombie front man Rob Zombie is currently crashing through towns with Korn in their "Rock is Dead" tour, giving him a chance to showcase his platinum solo debut album "Hellbilly Deluxe." The disc was produced by Scott Humphrey (Metallica, Motley Crue) and Rob Zombie. Billed as "13 tales of cadaverous cavorting," it has spawned such hit singles as "Dragula" and "Meet the Creeper." While record sales and audience response have certified the CD and the sold out concerts as a success, there is much more to it than musical ability. Arguably, Zombie is not a deep musician or lyricist, but even more impressive, and perhaps more directly related to his success, is his sense of showmanship and his artistic vision for the Zombie road show.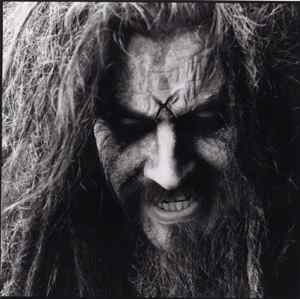 Every aspect of the Rob Zombie Monster show has been designed by Zombie himself, to give the fans the ultimate experience in dark fantasy and thundering music. A perfectionist and work-a-holic, the former Rob Cummings of Haverhill, Massachusetts has had previous success as an Art Director (porn magazines "Over 40" and "Tail End"), Illustrator (La Sexorcisto: Devil Music, Vol. 1, Astro Creep: 2000 - Songs of Love), Production Assistant (Pee-wee's playhouse) and Animator (Beavis & Butt-Head Do America). He was also slated to direct the third chapter of "The Crow" franchise, working with his own screenplay, before Miramax pulled out of the deal. Is it any wonder then, that a Rob Zombie concert is an E-ticket ride into the depths of horror film hell? "I never saw it as work; I love doing everything," insists Zombie. "How else can you realize a complete vision?"

The adventure begins with the album artwork on Hellbilly Deluxe, containing some 24 pages of original designs by Zombie and Marvel Comics legend Gene Colan. Next, don't forget your concert t-shirt. You'll never guess who designed those . . . Once you get to the concert you will experience sensory overload as you enter the dark dungeon of Rob Zombie's world. Believing in the total experience, Zombie designed the elaborate stage settings, which were built by a Hollywood special effects team at a cost of $100,000. Boasting metallic skulls, gargoyles and a video show case that flashes images of dragsters, vampires, historical villains and biblical hellfire, it sets the stage for a gothic nightmare. But wait, just in case your heart wasn't quite ready to explode from your chest from the imagery and rhythmic pounding of the music, add in the pyrotechnics, stereo go-go girls clad in black leather Nazi uniforms and a giant, menacing robot that chases Zombie across the stage during his performance of "Meet the Creeper."

Costumed in graveyard rags and sporting waist length dreads, this creepy crooner and his three piece band are a tough act to follow. Not wanting his fans to feel cheated, Zombie provides a bang for your buck by taking concert goers on a vacation from reality. When the "Rock is Dead" tour ends, Zombie will be hooking up with Ozzfest at the end of May for your listening and viewing pleasure!

Visit the Rock n World Artist Feature for Rob Zombie

Purchase music by Rob Zombie and Hear Clips from Hellbilly Deluxe