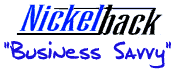 by Debbie Seagle
RNW: Are you all from Vancouver, or did you just kind of congregate there?
Chad: No, weíre actually from Alberta.
RNW: Oh really? My favorite hockey player is from Alberta.
Chad: Whoís that.
RNW: Heís a goalie actually, Iím a goalie girl. Chris Osgood of the Detroit Red Wings. Actually I think heís from Medicine Hat.
Chad: Is he? Our drummer looks exactly like Chris Osgood.
RNW: No way. Youíre lying.
Chad: No, Iím not. Its really funny because when we walk around in Detroit, everyone comes up to him right away and goes "Dude, you look just like Osgood." I mean, you can tell its not him, but he looks like him.
RNW: Okay, maybe youíre not messing with me.
I read in your bio that you blew through six drummers before you settled on Ryan.
Chad: Not true.
RNW: The bioís not true?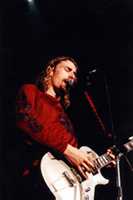 Chad: No, the bio is false in a lot of ways.
RNW: Is it stretched a bit? Were there, maybe four?
Chad: I donít know who came up with that, no, there were three drummers.
RNW: Three? Threeís a lot better than six!
Chad: My cousin was the first drummer. He found his replacement when he left the band.
RNW: He just wasnít into it?
Chad: He just wanted to do the family thing. He didnít want to pursue the whole rock and roll dream and then we knew the replacement was just a replacement. He wasnít going to be blowing anybodyís mind. But he was a good drummer and he was really dedicated to us, a really great guy, but you canít win the super bowl if you donít stack your team, so we had to let him go and we found Ryan Vikedal. Its not like we found him . . .
RNW: The one who looks like Chris Osgood?
Chad: Yeah.
RNW: Outrageous. Yeah, six drummers, I thought, are these guys hard to get along with? Whatís the story there?
How much different do you think the music scene is in Canada than in the US? Do you think thereís a big difference?
Chad: There is. Thereís a huge difference. The music scene in the US is far ahead here. We donít have Slipknot and Seven Dust and Coal Chamber and all these others, Papa Roach. They donít get played on the radio. We are one of the heavier bands in Canada.
RNW: Really?
Chad: Yeah, thereís not too many heavier than us that get played on the radio. Um, and thatís strange cause we come down here and weíre one of the lighter bands down here.
RNW: Well, in a sea of thrash and death metal, yeah, I would say you are, but I do think that you have a really hard rock sound.
Chad: Just because youíve seen a couple songs. You know, the record isnít as heavy as we are live.
RNW: Yeah, I would agree with that. Definitely, because I did think that you sounded, not a lot different, but different than you do on the CD. Its interesting that you say that some stuff doesnít get put on the radio in Canada. I understand that there are some laws in Canada that make sure that Canadian musicians have fair advantages on the radio. Can you tell me a little bit about that? I donít really know the details.
Chad: Its called Canadian Content. Thirty five percent of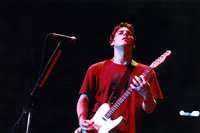 everything you hear on the radio or see on television has to be Canadian born, Canadian made. If it wasnít, we would pretty much have to call ourselves America, because weíd be so overrun. I mean, weíre already overrun with the music and the television and the movies and Hollywood. If we didnít have that, we would have no culture of our own. So thatís a good thing. A lot of music directors at radio stations disagree with it because they hate being told what to play. They hate being told that they have to play something, you know? But I definitely think its a good idea that somebodyís trying to preserve the culture of the country. If it wasnít for that Can Con law, there would be hardly any music scene in Canada.
RNW: It would give a lot of bands who were really trying to break in a lot harder time doing it. Probably a lot of them would never get radio play.
Chad: Exactly. If it wasnít for that we wouldnít be here because we broke in Canada and we sold a ton of records. We sold 10,000 records on our own and then thatís when the sharks start swimming around.
RNW: The good kind of sharks though . . . the ones with wallets and buses and all the other accouterments, so to speak.
Chad: There ya go.
RNW: Youíve been compared to Creed and Collective Soul . . .
Chad: Only in our bio.
RNW: No, Iíve heard some people say that too . . .
Chad: Well, youíve seen us live, what do you think?
RNW: I donít think so. So apparently you donít either?
Chad: Nope. Well, weíve been around longer than Creed, so anyone that says we sound like Creed, thatís silly.
RNW: So, for the record, Creed sounds like you?
Chad: No, not at all (laughter from Debbie). Its hard to say that somebody sounds like someone else when they were there first, you know? We donít sound like Creed. We have the same sort of influence that almost all the bands that are on the radio sell. Thereís this huge backlash right now of a lot of bands stemming from Pearl Jam, Stone Temple Pilots, Sound Garden, Nirvana, Alice in Chains. Those five. I mean, if you look at whatís on the radio these days, its like, a lot of bands sound very similar, and we are one of those bands that sound a lot alike. And its not until you actually get the record or come see us live and go, okay, now theyíre a little bit different. In the same breath, weíre not reinventing the wheel. Weíre just a rock and roll band.
RNW: Well, and everybody is pretty much driven by what theyíve heard growing up, what theyíve kind of latched on to. You know, "I kind of like that sound," and they get influenced by that when they are writing their own things.
Chad: Sure.
RNW: Tell me a little bit about your song writing process, your bandís dynamic for writing songs.
Chad: I come up with the riff, the main structure of the song. I come up with the melody, I write the lyrics and then I bring it to the guys and they throw their spice into the spaghetti sauce and what you hear is what you get.
RNW: So the music is first, or some piece of it?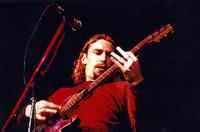 Chad: Yeah, the music will come first, just from me jamming out a couple of riffs on a guitar. Then Iíll hum some things and find the melody that I want and then Iíll start spitting out a few sentences here and there and it all starts to come together and then I find the direction of the song. I donít usually write the song, the song kind of writes itself, I guess. Cause Iíll just sort of be mumbling things and humming stuff and a couple of words will pop out here and there . . . and hey, that sounds kind of good . . . and Iíll jot that down. Then Iíll say something else and then Iíll have a couple of sentences and then the song just starts to take a direction and then I look at that and Iíll go, oh, I know what the songís about! I totally know what the songís about.
RNW: Then you can really fill in the pieces?
Chad: Yeah! Its like, the sculptor, you know? He just starts chipping away and its starts to form itself and then he looks at it and says "I know what this is!" And he just chips it all away and there it is. Thatís the way I sort of do it.
RNW: Well, Iím about ready to tear up your bio and throw it out but . . .
Chad: Its terrible.
RNW: You know, I hear more people say that, Iím telling you. Everybody I interview says "No, thatís not true. No, where did you hear that?" And Iím like, dude, its on your bio. Your record company is sending it out to everybody.
Chad: Youíve got to take about 60% of whatís in there and know that, okay, thatís probably correct and the rest of it is, you know . . .
RNW: Iím curious about one of your songs, "Not Leaving Yet." What was the inspiration behind that song?
Chad: Um, when I heard from my mother that my grandma wasnít going to be with us too much longer, I was just like God, right away, I just felt really hollow. And I just went downstairs and probably in 15 minutes, that one just came right out. When you hear the lines, "Come lie next to me Jesus Christ . . ."
RNW: That was the particular line that I was interested in, yeah.
Chad: "Hands where a cross used to fit just right," that sort of refers to her on her death bed. And "In the hall the familyís grieving, Iím the one who stays, Iím not leaving yet," thatís sort of me staying by my grandmotherís side and wanting to hold on to sort of like, the last of it.
RNW: Iíve been there, so definitely, when I hear that song again, it will have a lot more special meaning for me there.
How is "Curb" (their first indie release in Canada) different than "The State?" I havenít gotten to hear that yet.
Chad: "Curb" is raw Nickelback. Its raw.
RNW: That sounds interesting!
Chad: It is interesting. There Ďs a lot of good songs on there and . . .
RNW: Are you going to play some tonight?
Chad: No.
RNW: How long of a set do you have tonight?
Chad: Half an hour. When we get the full meal deal, we grab a couple off there and play them, but when weíre out with these guys, we just donít have the time.
RNW: Thatís a bummer, Iíd like to hear some of that.
Chad: Its heavier. Its a little edgier and on this record, the producer we used was definitely worried about getting us on the radio so he toned it down a lot. You can hear it in songs like "Diggin This" where it kicks into the heavy riff (Chad imitates the guitar riff), where I would have been really screaming, it was more like . . .
RNW: Do you do the primal screaming stuff?
Chad: Oh yeah, not primal . . .
RNW: Iím talking like, Staind, Korn . . .
Chad: No, nothing like that. No, Iím talking notes, but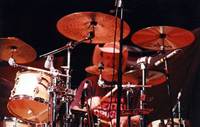 aggressive notes.
RNW: Oh, okay, notes.
Chad: I donít do the other.