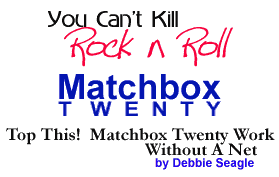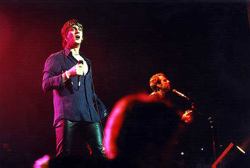 Picture yourself in this situation: It is 1996 and you have just gotten together with a handful of other guys to play music and write songs. You seem to be hitting it off pretty well and you are liking what you are coming up with. The songs start to fall into place unusually well and you have a good feeling about them. The ultimate happens and you and the guys get a record deal and the record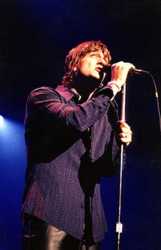 label puts out your first CD. You think it's a good one, and even though you haven't been together with these guys in the band for very long, you seem to have a chemistry and you think people will like the music.
So now the CD hits the stores and something really freaky starts happening. People are buying your CD like crazy – they love it! Before you know it, you've sold a million copies. You go out and start touring to promote the CD even more. You are putting out singles and as each one comes out, it gets absorbed into the pop culture as more and more people embrace the music you are making. You are in Heavy Rotation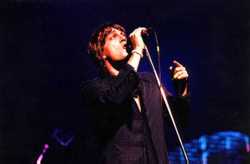 on MTV and VH1. Time flies by and before you know it, four years have past and you have four hit singles, you've won "Best New Band" honors in Rolling Stone's 1997 Reader's Poll, Billboard's "Best New Duo/Group" for 1997 and the "Favorite Group: New Artist" prize at 1997's Blockbuster Entertainment Awards. As if that weren't enough of a head trip, People Magazine names you as one of the 50 most beautiful people for 1998.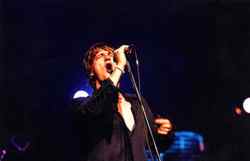 Sound too good to be true? A dream? matchbox twenty's Rob Thomas has experienced all of this and more with their smash hit "Yourself Or Someone Like You." This first effort by the band earned the RIAA's prestigious Diamond Award, marking certified US sales in excess of 10 million units and adding Matchbox Twenty's name to a very elite and short roster of artists who have reached this major career milestone. So how, you might ask, do you top that? How indeed! This was not a task for the meek or mild mannered musician. This follow up has been long anticipated by the minions of matchbox twenty fans, and at last, they present "Mad Season."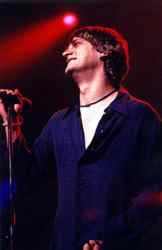 "When we made our first record, we hadn't really been a band for very long." Thomas says. "We hadn't had any really good fights, we hadn't had any really good laughs, we hadn't done much of anything together. But now, so much has happened to us that we've formed a character within ourselves. So this is really the first time we're saying, 'This is matchbox twenty making a record," because now matchbox twenty is its own entity. This is the first one where we can really say, this is our sound."
After what you might call a successful and slightly publicized collaboration with Carlos Santana on the sweeping hit "Smooth," which garnered Thomas three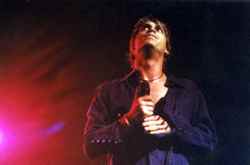 Grammys, it was time to join up with the band and get a foot hold on this monumental task. The rest of the band (which Thomas refers to as the "Paul Doucette Quartet"), consisting of Kyle Cook and Adam Gaynor on guitar, Brian Yale on bass and Paul Doucette on drums, spent 1999 vacationing, woodshedding and readying to record the second record. "We've matured as people, which I think is reflected in the music," guitarist Kyle Cook points out. "I think we took some chances, but not at the cost of the songs. The first record was more a straight-forward rock band record, and I think we've taken the next step."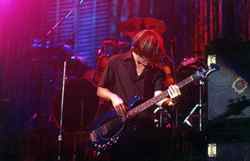 The result is a 13 song collection that lacks the desperation and bite of the first CD, but replaces it with a knowing, bluesy feeling that is accentuated with horns and bending blues riffs. Listening to the CD for the first time I felt like someone who goes to a party and meets up unexpectedly with an old friend that they love. You are used to this person, you have a history and you love to be around them. But they bring a new friend with them to the party and they want you to get to know them too. They seem nice enough but they aren't the same as your old friend. As the night wares on, you get to know the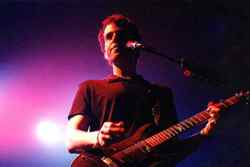 new person and you are able to enjoy both of them, with and because of their differences. So too with the new tunes of "Mad Season." I have been known, on occasion, to drive down the street singing "Push" or "Back To Good" from the first CD, with the same righteous indignation as Thomas. Perhaps one of the things that endeared that CD to so many was the opportunity to share in the indignation and the emotion of the songs. "Mad Season" projects less of that raw emotion and instead travels down the road of understanding life's turns a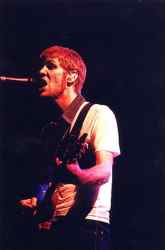 little better. Thomas also wrote the songs for this CD on piano instead of guitar, which he felt would avoid any repetitiveness of the songs on "Yourself."
What about the live performance? Currently winding up a theatre tour that stretches across the United States, did the band repeat their uncanny knack for selling out venues in a flash? If Los Angeles is any gauge of the country, the answer is yes! According to a local tour promoter, the tickets sold out within four minutes. You heard right, four minutes. So if you are planning on checking out a matchbox twenty show when new tour dates are announced, try not to get trampled in the stampede. The set list contains a mixture of 20+ songs from both CDs,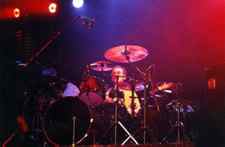 an interesting rendition of Willie Nelson's "Mamas Don't Let Your Babies Grow Up To Be Cowboys," and the same emotional delivery that Rob Thomas has become known for. He is, at times, an old time crooner, singing with soul and dripping his voice over the sounds of the horns. You can expect to find him exuding his trademark charisma and furiously flapping oversized sleeves, covering arms that never seem to be able to stress his urgency enough. The band is still tight and still has the groovy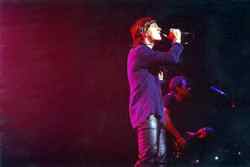 moves. The audience noticeably came alive and sang along when songs like "Push" and "3 a.m." were played. It goes back to my analogy of greeting an old friend at a party. The new friends were introduced with the same emotion and artistry and quickly fit into the mix. The most surprising occurrence of the evening – the absence of "Smooth" from the set list.
---

Visit the Official matchbox twenty website
---

Get Upcoming Tour Information
---

Hear samples from Mad Season and Purchase matchbox twenty music
---

Fan Speak