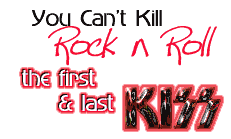 by antiGUY
Everyone remembers his or her first KISS. That overwhelming experience that takes you into a new realm of emotion, That fires your imagination, blocks out the real world and all it's cares and worries. I'm talking about the rock band KISS of course, not the first experience of sucking face with a girl who is in that awkward stage between being a girl and becoming a women.
My first KISS was when I was still just a kid, I had an older cousin who thought it would be cool to turn this little kid onto the world where hard rock collides with comic books. It was the 1982 Creatures of the Night tour, the last that KISS performed in Make up until reuniting in 1996. From the open chord on Vinnie Vincent's guitar and Paul stepping up to the mic singing "I feel alright on a Saturday night", I was mesmerized by the spectacle on stage. Gene spiting blood and breathing fire. Eric Carr's drum riser designed to look like a tank turret that swiveled and threw forth fireworks during the climax of "Black Diamonds".
No other concert since has lived up to the sure magnitude of that show in my mind. After that night it was all she wrote, I was an enthusiastic new recruit in the KISS Army. During the 80's I got to grow up with KISS. While most people abandoned them during their unmasked years, I remained a true believer. The message of some of the songs carried a powerful meaning for me as a teenager. With thoughts of believing in yourself, going for what you believe in, I was hooked. I was a KISS junkie. To me KISS was more than just a band, they were a way of life, a mindset that tells the world yeah I'm different and proud of it!
It is now the year 2000 and I am no longer a kid with visions of the star child, space ace, the bat lizard and the cat man firing my imagination. KISS had announced that they are putting an end to their almost 30 year reign as the kings of rockin. So it was not without a touch of sadness that I decided to go see them one last time. To witness the magic once again and to say goodbye to my rock n roll heroes.
It was March 18th the day after St. Patrick's day and KISS was playing at the Aerohead Pond in Anaheim California. The opening bands were great. Skid Row now carrying on without Sabastian Bach still knows how to please a crowd. Ted Nugent, a legend in his own right brought the house down with his motor city madman brand of rock n roll. But these two bands were no match for the sure spectacle that was about to take place.
The house lights dimmed and over the PA a voiced boomed.. "Alright Anaheim, You wanted the best and you got the best! The hottest band in the world, KISS!"
The band made a spectacular entrance by descending from the ceiling on a platform amidst dry ice mist and dramatic back lighting against their black costumes. Paul walked up to the microphone and said, "This is your night to say farewell. I know it's hard to say goodbye, but we're going to make this a night to remember, people!" and the band launched into scorching rendition of Detroit Rock City followed by unusually heavy performance of "Shout it out Loud!"
KISS performed a letter perfect "Deuce" and then Paul strutted over to the mic and said " I'm going to let Ace tell you about this next song." Ace sheepishly told the crowd in his awkward voice, "this song is about the time I was electrocuted" and then shouted "Shock Me!" He plunged into the familiar riff, not missing a beat. After "Shock Me", Paul waited for the crowd to quiet down and then said, "It's getting hot in here." He removed his shirt and continued, "Its so hot in here, we're going to have to call the 'Firehouse'!" then sirens and red strobe lights and smoke filled the stage as the band began the KISS classic. The culmination of the Firehouse included Gene's famous fire breathing. Sure, we've seen it a million times but it is still great to experience.
Next Paul announced to the crowd "I have a personal question for you." He placed both bands on the mic and asked, "Do You Love Me?" and Peter pounded out the familiar beat to the Destroyer classic. From there they played "Dr. Love" followed by "Psycho Circus." Paul announced the next song by telling the fans that there was a time when all four members weren't together. Gene and Paul carried on with other people and released several successful albums. He told the fans "This next song has a famous intro". And he sang the opening wail to "Heaven's on Fire".
The mayhem continued with Ace's version of the Rolling Stones "2000 Man". At the end of "2000 man" Ace played his one of his spacey extended guitar solos until smoke started coming from his Les Paul. He staggered around the stage with smoke filling the air until the guitar was lifted from his hands and levitated to the ceiling. Hard to top that, but they gave it a shot with a blistering performance of "Lick it Up".
Gene walked to the center of the stage and moved his head menacingly left to right, strumming power chords on his bass. Then blood began escaping from his mouth, he pounded out the bass chords and spit the blood into the audience. He was then propelled into the air like a bat and sang "God of Thunder" from a perch on top of the lighting rig. Unfortunately, something went wrong with the hydraulics and Gene was left suspended above the stage when they attempted to bring him back down. A roadie remedied the situation by bringing out a crate for Gene to stand on while they unhooked him. Then it was Paul's turn to have a hydraulic mishap. For "Love Gun" he was supposed to fly out over the audience to the center of the hall and sing the song from the sound booth. He made it about five rows out, when the hydraulics stopped cold. Gene carried on and sang the song, while the road crew worked feverishly trying to retrieve Paul. By this time fans were reaching up, trying to grab his boots and rip the spandex from his body. By the songs mid point he returned and signaled for the band to stop playing. Paul took it in stride and told the audience, "What a bummer, I really wanted to come out and sing for you. Pretend I'm out there with you, but I'm here." "Love Gun" came off with out a hitch on the second try.
Paul's intro to "Cold Gin "showed just how much times have changed. No longer asking the crowd "When your down in the dumps and you need something to bring you up. There's only one thing that's gonna do it for you…." This time he simply said, "We are real proud of this song, but things were different when we wrote it. We don't want any of you to drink and drive, because there's nothing cool about a drunk, dead corpse. We might come back through Anaheim some time and we want to see all of you alive." The powerful Ace Frehley guitar riffs of Cold Gin filled the hall and the audience screamed the words along with Gene.
For the first encore Peter came out from behind his drum kit and sang "Beth", which he dedicated to his late mother. Then the band played the song they call the national anthem of rock n roll.. "Rock n Roll all night". From the first note confetti exploded from the sides of stage covering the audience and continued flowing during the entire song leaving the hall filled with confetti from the first row to the nosebleed seats. Fireworks went off left and right and the band drenched in sweat gave it all they had one last time for this southern California crowd.
Almost thirty years of rock history will soon come to a close. KISS outlasted most of their critics, fired the imagination of millions of fans around the world. They left us a catalog of hundreds of great songs. Best of all, they left us with some great memories. Life can some times be a drag, but KISS has always been and will always be an escape from the rigors of everyday life. KISS is not just a band, it is an attitude, a belief that anything is possible if you work hard enough. These four guys from New York went out into the world and changed the course of popular music, with their dream. Just like there will never be another Beatles, there will never be another KISS. Thank you Paul, Gene, Ace and Peter for sharing that dream with us, we will never forget you.
On a personal note, the excitement of the performance was somewhat overshadowed by the sad realization, that this was goodbye. KISS had been a large part of my life. Now that they are saying goodbye, it might just mean I will have to finally grow up. Then again, I still have their albums and memories of a dozens of concerts…… The KISS ARMY marches on!
---
Visit the Official KISS website
---
---

Credits: Written by antiGUY and Keavin Wiggins with the aid of Debbie Seagle's concert notes.

---