John Mellencamp - Rural Electrification 1999
by Debbie Seagle
---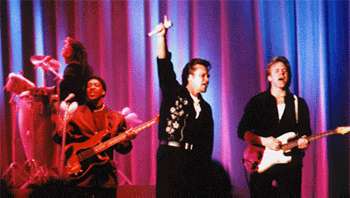 On May 5th in Houston, Texas, John Mellencamp and his seven piece band launched his "Rural Electrification Tour," in support of his self titled first release for Columbia Records. Explains Mellencamp, "In the Thirties, Rural Electrification brought electricity to farmers and other rural dwellers for the first time in their lives, and along with that electricity came radios and record players - Music! We're lucky enough that for the last 20 years, we've had the opportunity to play our own small part in bringing music to people; to entertain them and have a lot of fun in the process."

For years the former "Johnny Cougar" has been bringing his brand of rock Americana to the masses with a no-nonsense approach of solid rhythms, heartfelt lyrics and a dynamic and energetic stage presence. Throwing off the "Cougar" stage name that was given to him by his record label at the beginning of his musical career, he has thumbed his nose at the conventional wisdom of the music industry by sticking to his roots and remaining true to himself and his Midwestern upbringing. In the fickle and fad crazy world of music, it is an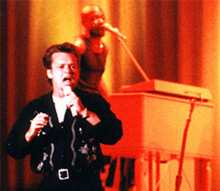 accomplishment to still be hitting the charts and rolling with the headliners after some 20 years, and he has done this while refusing to uproot and record or live in New York or Los Angeles, where the majority of today's artists and record labels congregate. Says Mellencamp, "New York is a drag, because if you go into one of those tunnels at the wrong time, your whole day is shot. And in L.A., there's too much sunshine and too many pretty girls. You can't work there."
If you are planning to catch a show in your town this summer, there is one thing you will not see. You will not see pyrotechnics or special effects of any kind. You will see (and hear) pure, honest rock and roll. The kind of music with a beat that makes your feet want to move and your fingers snap. Just four years after suffering a heart attack, Mellencamp is looking good, feeling confident and exuding a satisfaction in his music. He and his band feed off the good vibe they are getting from the concert audiences and give it right back, with some to spare. Songs from the earlier days of his long career drew the most reaction from a crowd that ranged in age from adolescent up. Rock anthems such as "Jack & Diane," "Hurts So Good," "Little Pink Houses," and the "Authority Song" are performed with touches of new paint, via fiddle riffs and innovative percussion, without losing the original passion with which they were created.
While they are only two weeks into their tour schedule, Mellencamp's rapport with his band was evident and added to the enjoyment of the performance. His fiddle player Miriam Sturm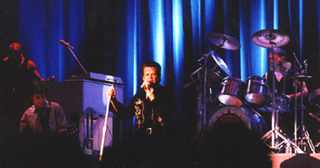 and his percussionist / back up singer Patricia Peterson alternately danced and vamped with him and teased the audience with sing-backs and na, na, nas during the "Authority Song," "R-O-C-K in the USA," and "Small Town." And most people in the audience danced, clapped and sang along. It appeared that for many people, John Mellencamp's music has been the backdrop for their generation, but it spilled over that evening and progressed to the next . . .
The current tour set list includes the single from the new CD, "I'm Not Running Anymore," and a touching acoustic performance of "Your Life Is Now." This latest effort experiments with sample loops, hip-hop, blues and rock tempos that create a quilted mixture of musical situations. Tracks such as "Where The World Began" sport an appetizing rock rhythm and "Miss Missy" goes in a country-rock direction. Although some tracks are not necessarily the style he is best suited to, he shows his love of the "art" of music by stepping out and daring to paint with different colors. This is not a concept album, it is a musical water color of varied textures and intensity. The project offers a glimpse into the variety of John Mellencamp's talents and showcases the progression of a much richer, conditioned voice.


To order or hear samples from the Columbia Records release "John Mellencamp," visit the The Rock n World John Mellencamp CD Store.
Visit the Artist Feature for John Mellencamp