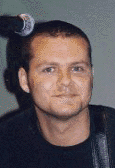 Shawn
Hello, My name is Shawn Eiferman. I play acoustic guitar and sing with Epstein's Mother. I have been playing and writing for fifteen years and have spent all of my twenty-eight years of existence surrounded by music and entertainment.
My mother, Tobi Kestenberg, was a world famous opera singer in the 1950's and 1960's. My father, George Eiferman, is one of the pioneers of modern bodybuilding. He was Mr. America in 1948 and Mr. Universe in 1962, guess it's in the genes.
I started playing guitar at fifteen years of age in Bellingham, Washington, a habit I am not willing to break. I also picked up drums, bass, keyboards, harmonica, etc... to quench my thirst over the years, but guitar is my main instrument.
I moved to Las Vegas to attend college in 1989 and jumped into the local scene with both feet. I had a solo gig for seven years in the University District and earned myself UNLV's college entertainer of the year honors two years in a row. In 1994 I won a battle of the bands by myself, against 11 other bands, performing with nothing but my acoustic guitar and a microphone.
Even with all of my achievements as a solo artist I was always questioned, "...why don't you front a band?" I answered with two acts...Knucklehead, a four-piece bluesy cover band and Bad Blood. Both bands were very successful in the local scene, but neither group had the synergy I was in search of. I wanted to be in a band, not the manager, agent, roadie, and babysitter for the other musicians I was playing with. I searched high and low for better musicians with better attitudes and better cohesiveness. What I found was the gentlemen you know as Epstein's Mother and I could not be happier. I love the music we make together and the direction we are taking. More importantly, I love playing with them. It is really cool to be a member of your favorite band.
g