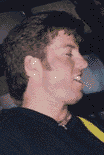 Marty:
g
My name is Marty Treider. I play guitar for Epstein's Mother. Although music has always been a part of my life, at age seven I got my first drum set. My father was my first influence, he was known as the "Country Soul Man", back in the mid 70's. He was signed to Rainwood Records. In my hometown of Lubbock, Texas, home of Buddy Holly, I performed in local bands at several concert halls and clubs by the time I was 19. Starting to realize my true talent and musical skills, I began to put together my own recording studio to record my original material. I wrote the music, sang the lyrics, played all of the instruments and produced the songs that were 100% me. I grew up listening to southern rock. Bands like "38 Special" and "Lynard Skynard" were always in my stereo, and of course, Eddie Van Halen came along and blew my mind.
In 1988 I moved out west in serious pursuit of my dream. I put together a band. We opened for popular groups such as "Toto", "Starship", and "Firefall". I began to feel my career take off.
Even with the success I was looking for a band situation where everyone can contribute. I found Epstein's Mother to be that situation. This gave me a chance to expand my songwriting and musicianship. Today, I write and record in my 32-track project home studio. In my ongoing effort to improve myself I have taken music theory courses and recently added the saxophone to my list of abilities. I also play the drums and keyboards.
It is my intention to continue creating the music I love. Now I get to do it with three of the greatest friends and musicians around. Epstein's Mother will someday go to places like Lubbock, Texas and hopefully inspire young musicians like I once was.