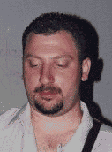 Geoff:
g
My name is Geoff Neuman. I am the bassist for Epstein's Mother. I am really excited to be involved in a musical situation that is this rewarding.
I chose music because of some friends I had in high school. They were all really good musicians and their drive to always get better hooked me into music. I was an athlete and all of my good friends were musicians so it was only natural that their influence would rub off on me. A major turning point that solidified my decision towards music was seeing bassist John Patitucci give a clinic at the Chapman College Jazz Festival. He was so inspiring then and continues to be today.
I graduated in 1988 from Villa Park High School in Southern California and enrolled at Golden West College in Huntington Beach, California. Music theory, producing, recording and jazz were some of the classes that I enrolled in during my tenure at GWC. After seeing some amazing players, I knew that I would have to get out there and play as well. I had a little bit of experience playing in a rock-n-roll band my senior year of high school but not anything more. I gave it a shot by auditioning for a jazz-fusion group that was making a name for itself around the Southern California music scene, Minimum 3. This band was made up of young musicians and was kind of a novelty because of their ability, but the fact that none of the members were over the age of 20 caught the attention of many promoters and other musicians. The audition was a success and not even a week after the audition I found myself performing as part of the opening act for jazz pianist Marcus Roberts. Other gigs that followed were with the likes of Chick Corea, Yellowjackets, Larry Carlton, Stanley Jordan, John Patitucci, Spyro Gyra, Rippington's and Eric Marienthal. I stayed with the group until 1991, when I felt like I had the playing experience but the formal training was still lacking.
A degree in Music was my next step. I enrolled at the University of Nevada, Las Vegas in the fall of 1992. Music Education was my chosen field of study. At this same time I began playing the string bass. After one semester, I realized the possibilities of a career if I could play both the upright (string bass) and the electric. I spent many hours in the practice room and got my chops together. In the summer of 1994, I was asked to play the electric bass with the Nevada Symphony Orchestra during their "pops" concert season. This eventually led to my appointment in 1994 as a regular member of the orchestra playing string bass, of which I am still a member. During my college years I also continued my studies in jazz. I was a member of the UNLV Jazz Ensemble, with which I had the opportunity to travel to Hawaii, Washington D.C. (to play at the Kennedy Center) and New York City (to play at the famous Village Vanguard). Playing in this ensemble really taught me the value of being in a group. I finally graduated in 1996, with a Bachelor's of Music Education degree. I immediately started teaching orchestra in Las Vegas, which I currently still do.
My playing experience since I became serious about music has grown. I have had the opportunity to play with some great artists, including Elton John, Celine Dion, Kenny G, Michael Bolton, Oltea Adams, Clint Black, Faith Hill, Wynonna, Tim McGraw, Babyface and Vanessa Williams. The drummer of Epstein's Mother, Chris Morrison and I, have also been playing in various situations since our days at UNLV.
Even with being so busy, something was missing in my world. I wanted to get back to my "roots", and have the opportunity to play the kind of music I was raised on...rock-n-roll. I met Shawn Eiferman through a mutual friend and after a few small "projects" we now have Epstein's Mother. We finally have a solid lineup, are writing some great tunes, and most of all I love hanging out with these guys. We have some big dreams, but I know that they will not be just ours. Soon we will be able to share our music with everyone, everywhere.
g