California Dreamin - The Next Generation!

What goes with summer like warm breezes, fruity drinks and sand between your toes? Sugar Ray! The punk/hip hop dudes from Newport Beach, California have been cruising across North America along with the Goo Goo Dolls and Fast Ball. Talk about a boys club! (a note to the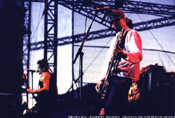 gals: I'll let you know where we sign up for that club as soon as I find out!)

Out promoting their third album, "14:59," Sugar Ray is bringing their energy, and their infectious rhythms to the masses through this collection of new tunes. The CD's title is a response to Andy Warhol's comment that everyone gets their 15 minutes of fame. "No one makes more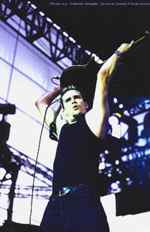 fun of this band than ourselves," says singer Mark McGrath of the record's title, "so we thought that we'd beat everyone to the punch. Everybody's put us on that one-hit-wonder cruise ship, so we just said, 'f*** it, it was a great run with Fly, lets name the record '14:59.' If the album fails miserably, it's genius, and if it succeeds, it's still genius!" "We just wanted everybody to know we weren't taking ourselves too seriously, and we were well aware it could all be over tomorrow," notes bassist Murphy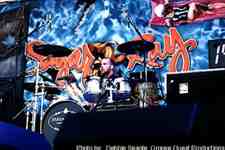 Karges. They prove themselves to be versatile by combining several different styles of music in this one project. At times their sound is reminiscent of the Beach Boys or the Beatles and at others they are funking it up with Boogie Down Productions' KRS-One.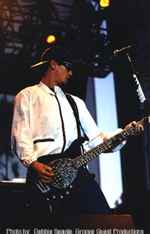 I caught up to them at a naval base in Southern California, which was one stop on their "Rock The Boat" series of Naval base gigs throughout the US this summer. There was no doubt in anyone's mind that these dudes were there to party. Their stage set looks like a beach club, complete with a grass hut bar, docks and fish net. With a massive crowd of people anticipating their arrival, DJ (Craig) Homicide came peddling out from stage right on his curb jumper. He carefully parks his transportation and assumes his station on the console platform. That was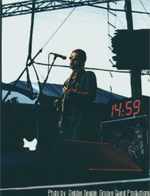 the last moment of calm for the evening. As the crowd began to cheer, the band exploded onto the stage performing Glory.
The energy level was electric charged. Mark McGrath paced the stage like a wild animal, then relaxed and worked the groove. He called members of the audience up on stage to do a Busta Rhymes freestyle. In between hits like Fly, Someday, Even Though and Falls Apart McGrath joked with the audience, asking them "How's my Ricky Martin doing?" After a short, hip rotating rendition of "La Vida Loca" he stopped and said "He's not here, all you get is me and my big beer bel-ly!" The cheers from the audience only encouraged him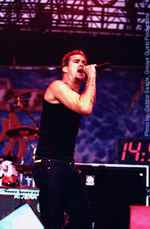 to go further. He stopped suddenly, turned on his heel and said "Hold it! I smell something in the air! What's up to the stoners in the back . . ."
Although their set had only eight songs, each one had people dancing, clapping and singing along. It was a real beach party with everything but the beach. Just before their encore performance of Every Morning, Mark McGrath proved that his momma taught him good manners and thanked everyone for coming to the show. "We hope you had a good time, we meant no harm to anyone, and I'll let you know how your girlfriend was when I'm done with her!"