Do Ya Wanna Get Dizzy?
By Debbie Seagle
The crowd of people at a recent open air Goo Goo Dolls concert were pumped up and on their feet when the Buffalo-based trio of rockers took to the stage. Third on a bill that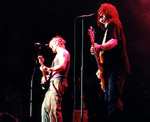 included Sugar Ray and Fastball, the band brought a whole new meaning to "Dizzy Up The Girl." In addition to that being the name of their sixth and current double-platinum CD, it is also a comment on the reaction of the crowds of girls (and dudes) dancing in the audience. This yearís stage show is pulling out all the stops and is a sophisticated production of lighting, effects and
atmosphere to back the groupís dynamic sound. The two hour show included a five minute short film entitled "Greed In Action," or in John Rzeznik's words, "a guide on how to be a good consumer" that consists of animation and stock footage.
John Rzeznik (guitar & vocals), Robby Takac on bass (who wrote and performs three songs on the "Dizzy" album) and Mike Malinin (drums) are joined on this tour by Nathan December on guitar and David Schultz on keys for a full, epic sound to go along with their super-show. Mike Malinin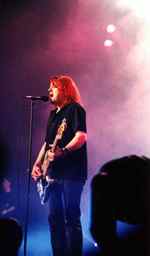 delivered a kick-your-butt drum solo during Bullet Proof and during hits like Dizzy, Slide and Iris, the crowd was a moving sea of people in an outdoor dance club. But, as the songs slowed down a little, the fans didnít. As John Rzeznik crooned the anguished words of Name and Black Balloon it was obvious that this rocker with movie star good looks had people in his grip. He spoke very little between numbers but did take the opportunity to joke with the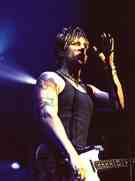 women in the audience. He quipped, "Some places we play, it looks like they let everyone out of the ugly asylum, but you folks are pretty!" The obligatory cheers and squeals followed.
Besides being a band with three number one songs and three Grammy nominations, the Goo Goo Dolls are showing their social conscience during this tour and hope to involve their fans in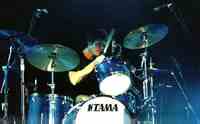 several pro-social efforts. First, the band is distributing MTVís Fight For Your Rights: Take a Stand Against Violence CD/Action Guide at every show. The CD contains music with comments by popular recording artists on ways young people can reduce violence in their communities. In addition, representatives from PAX, the anti-gun violence organization, will be on hand to gather signatures for the PAX Youth Petition

and to sell a special Goo Goo Dolls t-shirt. All proceeds will go directly to their effort to end gun violence.
The Goo Goo Dolls are also asking fans to bring non-perishable foods to their concerts, to be distributed to the needy. U.S.A. Harvest, the nationís largest food delivery organization, will pick up the food and deliver it to local shelters in each community. During the bandís spring tour, fans donated over 30 tons of food, an amount equal to 130,000 meals.
The band will be touring the US through September 18th and will be the featured artist of the month on VH1 for September. Check local listings for their "Behind the Music" special, launched on September 5th.

YOUR TURN:

What do you think of combining rock & roll with social causes?

Now is your chance to ask the questions! In the Rock N World, you are the armchair interviewer. Your fellow viewers have entrustred you with the job of going to a Goo Goo Dolls press conference to get the story. You enter the room full of reporters and trip over a microphone cord. But its okay, no one saw . . . In walks Robby Takac, John Rzeznik and Mike Malinin. They take their seats at the table just in front of you. The mic is on and its your turn to talk. Who do you want to talk to and what do you want to ask? What do you think your fellow viewers would like to know?