The summer concert tour circuit of 1999 included a star studded triple header that opened with the Austin, Texas trio Fastball. On a bill with Sugar Ray and the Goo Goo Dolls, this band with its catchy pop hooks and good ol'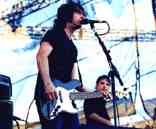 boy looks were the perfect choice to start the party. To some it may seem that Fast Ball were an overnight success when their song The Way became one of the biggest hits of 1998. They have actually been together since 1994, after having left other bands that had music biz war stories to tell. Even though they had paid significant dues in those days, there were still a few more hurdles to jump or crawl under before finding their way to the top of the heap.

Signing with Hollywood Records, Fast Ball (not named for America's favorite sport, but their favorite skin flick) recorded their first album Make Your Mama Proud. Due to record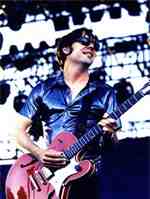 industry politics and a lack of promotion, the album sold only 600 copies. Having a much more punk sound than their platinum selling sophomore release All The Pain Money Can Buy, it was actually a decent effort with well written songs but a broken down vehicle. No singles were released and no videos made. Then something good happened - Hollywood Records reorganized, putting an industry vet in the front seat of the vehicle. Bob Cavallo was hired to head up Hollywood Records and after listening to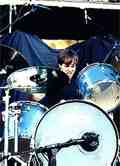 Make Your Mama Proud, gave the band the go ahead to record another album. This time, there was a support network to get the word out - these guys are good! All The Pain Money Can Buy found their sound changing slightly and settling in to something they were much more comfortable with - more of a pop sound with some incredible hooks.
There first single, The Way was written by Tony Scalzo (lead vocals, bass, keyboards) and was inspired by a true story of an elderly Texas couple who took off in their RV to go to a family reunion and never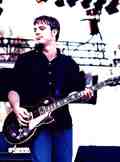 made it there. Tony's account was written before it was ever found out that the couple met their demise at the bottom of an Arkansas cliff and, decidedly his ending was a bit more romantic and carefree. The video and air play were behind the guys on this go'round and they started to see some of the fruits of their labors. A second single and video followed for Fire Escape, written by Miles Zuniga (lead vocals, guitar, keyboards). Currently their third single Out of My Head, also written by Tony Scalzo, is

getting respectable air play and making the VH1/MTV rounds. All the band's songs are written by Scalzo or Zuniga, but drummer Joey Shuffield shares evenly in the profits of their successes. Maybe its because of the mutual dues that have been paid, and maybe its because they realize that it took the team work of all three to pay those dues. "Both Tony and Miles were very gracious about cutting me in and splitting the money fairly," says Joey. "We were all very lucky that Tony wrote such a great song (The Way) and we've all benefited from it."
On this balmy summer day, Fast Ball are a long way away from The Hole In The Wall, a small Austin club they played at in the beginning of their journey. A platinum album, two Grammy nominations and one MTV Award nomination later, they are kicking off a night of partying. With over a hundred beach balls (provided by a local radio station) bouncing through the air and a television camera filming the concert to broadcast live to military service men throughout the world, they kicked off their set (ON TIME!) and from that point on, there was no turning back. Leave your troubles at the gate, the music is easy to become a part of. Their easy going manner on stage makes them feel like one of the audience instead of someone on a raised platform. As they went through songs like Make Your Mama Proud, The Way, and Damaged Goods it was like being at a backyard barbecue with your friends from school (well, maybe your entire graduating class, along with the ten classes before and after you). The band thanked Sugar Ray for taking them on the road with them and offered a song in tribute to them - On The Road Again. If their last CD is any indication, the road ahead of them will be paved with gold . . . or more platinum.

Your Turn:
What do you think it takes for a band to find success in the music business?