Hey, are you with the Crue?
By Debbie Seagle

Just between you and me, this band gets my vote for the band Iíd most like to party with. Some say Motley Crue helped define rock music and lifestyle in the MTV generation. One thing can definitely be said about them, these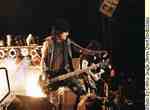 guys don't believe in doing anything half way. They have been, and still are one of the best rock & roll shows of our time. In keeping with that theme, the "Maximum Rock Tour" was launched in June of this year, and the Crue took to the road with the Scorpions and without Tommy Lee (but that's another story).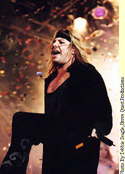 The boys are back in black (leather) and as wild as ever! They've got the moves, the grooves and the explosives to guarantee you 90 minutes of unbridled musical ecstasy. Vince paces the stage, singing in a voice that has weathered over the years but can always punch through the scream of the guitars. In songs like Dr. Feelgood and Hooliganís Holiday he has the mosh pit in a frenzy. All around there is smoke and confetti - just another day at work for this party dude.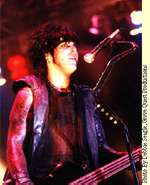 Nikki is always the rebel, griping between songs about the Back Street Boys and the lack of hard rock on the air waves these days. What would a Crue concert be without Nikki starting his own wet t-shirt contest by throwing cups and bottles of water out into the audience? (This reporter/photographer was doused while narrowly escaping the destruction of her camera lens - anything for you guys!).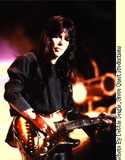 Mick Mars is ever the silent, dark guitar shredder. He plows through head banging solos or sinks deep into a beautiful 12 string acoustic intro to Home Sweet Home as if he is in an alternate universe - one where guitar gods rule.
The newest member of the Crue, Randy Castillo had some pretty big shoes to step into when he began the tour with the others. Let's face it, Tommy Lee is regarded as one of the best drummers in the hard rock/heavy metal genre. His antics on and off stage have gained him a very high profile and cemented him in the pages of the rock & roll history books. For reasons we may never know or understand,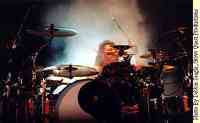 Tommy decided in April of 1999 that he would take a break from touring for a while and concentrate on different directions in music. The Crue has wished him well and support him in his decision. Randy Castillo was drafted by the Crue because of his skills and his body of work, including his ten years with none other than The Ozzman! Baby, if you can hang with Ozzy, you can hang with the best. Randy is a hard driving drummer who left no beat unturned and didn't lead the band into un-Motley territory. Congrats to Randy for coming into a hard place and giving an excellent performance.
Oh yeah, the lesbian strippers. I almost forgot to mention this non-musical addition to the show. These lovely ladies are said to be one of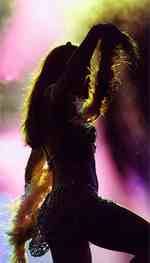 the contributing factors to our man Nikki spending the night in the pokey after the Las Vegas stop of the tour. Of course all details of that incident are sealed for legal reasons, but all will be told when Nikki is good and ready. Suffice to say these ladies provide some added color and a new dimension to the stage show.
This year the Crue re-released all of their albums after having regained the rights to their catalogue from Electra. Titled Crucial Crue, these releases have been digitally remastered with rare bonus tracks and new liner notes on each album, where band members reflect on the original works and the extra tracks. "We wanted to share with our fans the stories behind what was going on in our lives and how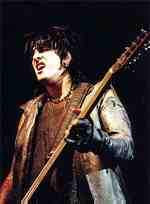 these times were reflected in our music," says Nikki Sixx. All controversy and colorful life styles aside, Crucial Crue offers some valuable insight into the musicians that sometimes gets lost in the excitement of a video or a live concert. A good example of this can be found on the Theatre of Pain re-release. It includes a demo of the bandís signature ballad Home Sweet Home that reminds you these guys are serious musicians. The track is an instrumental version that could be thought of as the birth of this unforgettable song. Allow yourself to drop out of warp drive for a minute and get lost in the addictive riffs that Mick Mars threads through the power chords.
Perhaps the best buy of this set of eight albums is the eighth in the series, "Supersonic and Demonic Relics." This is an entirely new collection of Motley Crue rarities. The 15 track collection includes re-mastered tracks from the Decade of Decadence album, Quarternary sessions, a live version of "Dr. Feelgood," an 11-minute industrial mix of "Hooliganís Holiday" and unreleased tracks and demos dating back to 1983.
Motley Crue and the Scorpions made their way across the US this summer and do a brief tour in Japan before getting back into the studio to work on their next album.

Nikki and Mick are already hard at work writing material for this next project and canít wait to start laying down tracks at Nikkiís Ranch recording studio. Motley fans will also want to keep their ear to the ground for the release of the bandís first live album in late November 1999. It promises to be a screaming scrapbook of Motley adventures in the rock n world.

YOUR TURN:
Let your imagination take you to uncharted territory for a while! The concert is over and you have been asked by Rock N World to snag an exclusive interview with the Crue . . . You have your press pass and your security escort motions for you to follow him back stage. Your legs are a little weak. You can hear your heart pounding in your ears but you have to get the goods for the fans who are counting on you!
Nowís your chance . . . remember, you are asking for all of us. Who do you talk to first, and what do you want to ask?
You never know, dreams can come true . . . in the rock n world!