Cruise On! - Blondie Takes Back Their Stage By Storm by Debbie Seagle

---
"No Exit" Tour - Summer of 1999
Click on Photo's for full image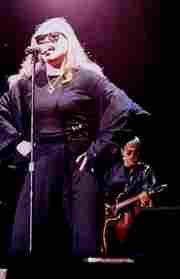 Good music, like good literature or good fashion, will stand the test of time. When you look at the bands who have headlined consistently for decades or are enjoying a resurgence with successful second careers, there are key elements present in each one of them. They have a formula that works, a chemistry with their audience and each other. More importantly, they are good, solid musicians and writers who have been able to grow and be a part of the natural progression of the musical culture. After 16 years without a new single, Blondie has reunited to recreate the magic they once contributed to the music of the late 70s and early 80s. Debbie Harry is joined by original band members Chris Stein, Clem Burke and Jimmy Destri, with side men playing additional guitars and base. The result: "No Exit," a collection of 14 new tracks that combine the successful Blondie "formula" with an evolution towards newer sounds and diverse styles. Songs such as "Forgive and Forget," "Divine" and the #1 single "Maria" are classic Blondie. But you may be surprised by the title track, with an intro of pipe organ music (ala Phantom of the Opera) that launches straight into a rap with Coolio! The genre train also makes a stop at SKA ("Screaming Skin," "Nothing is Real But the Girl"), 50's girl-group ("Out in the Street"), jazz ("Boom Boom in the Zoom Zoom Room") and an "Oh, what the hell" pass at a country waltz ("The Dreams Lost on Me"). The project was produced by Craig Leon, who worked on Blondie's very first album, and sold over one million copies worldwide in it's first month on the "Beyond" label. Earlier this year Blondie completed a sold out UK/European arena tour and is currently scheduled to perform in support of "No Exit" throughout the US and Europe through September of 1999.
At 53, Debbie Harry may not look exactly the same as she did in the early 80's, but the sexiness, the strut and the jazzy vocals are still in tact! Did they live up to the certified gold efforts of the past? Effortlessly, it seems. The punk/new wave band that first made the scene in New York in the 70s, had four number one hits ("Heart of Glass," "Call Me," "The Tide is High," "Rapture") and split in 1983 made it seem as though there was never any lapse in time, talent or ambition.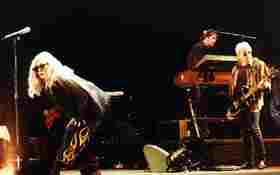 Their 90 minute set combined "No Exit" songs like "Maria," "Screaming Skin," and "Boom Boom in the Zoom Zoom Room" with greatest hits from the band's first life time. Opening with "Dreamin," Blondie delivered 15 songs with an energy and style that was infectious to the audience. Songs like "The Tide is High" reminded everyone that Blondie was doing SKA before SKA was cool, and giving today's SKA bands their inspiration. The ever stoic Chris Stein pumped out the power chords in "Rapture" while staying politely at the back of the stage - at least until Debbie Harry pushed him to the front to take his place in the spotlight. She playfully remarked that "Chris is the real blonde in 'Blondie'!" Drummer Clem Burke can still pound out an awe inspiring solo or a hypnotic jazz beat and Jimmy Destri was at home and totally in synch at the keys, at times throwing a leather clad leg over one side of the keyboard as he played (show-off!)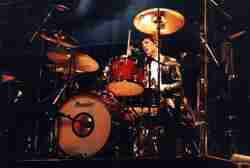 Looking more than a little pleased to be back on stage again with Stein, Burke and Destri, Debbie Harry oozed self confidence and sultriness as a spot light formed larger than life shadows on the stage back drop and she moved and grooved and posed for the encouraging audience. She talked coyly with them between songs, asking one blushing fan what he was doing for the long (Memorial Day) weekend. Giving him a backwards glance, she strutted back and forth across the stage and after receiving a bouquet of pink roses, devilishly chomped down on one of them and sent pink petals floating out over the concert goer's heads.
Debbie Harry seemed to vocalize a personal sentiment, that was shared by her audience when she ended the set with their hit "Heart of Glass." As she sang the words "We could've made it cruising, yeah," she looked at the capacity crowd, smiled and screamed "Cruise On!" And that's exactly what she intends to do!