Reinventing the Real: Alanis Morissette 1999
By Debbie Seagle
---
With the release of Alanis Morissette's second CD, SUPPOSED FORMER INFATUATION JUNKIE, she approaches her sophomore project head on and invites her audience to meet the more mature, spiritual, reflective Alanis. With JAGGED LITTLE PILL serving as the sound track for the red fury and betrayal of ended relationships, we once again hear and feel strong emotions winding themselves around the cuts of this latest work. However, the jagged edges have been worn and smoothed by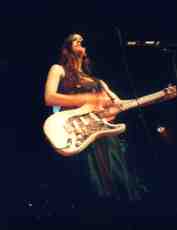 time, like a shard of glass that has tumbled in life's ocean. Notes Alanis, "In the past, when I felt infatuation with someone, I wanted to pass through that phase, if not skip over it entirely because I felt out of control and overwhelmed . . . relationships equated confusion and pain to me . . . upon realizing why relationships exist and understanding myself more, I can now enjoy the heart-palpitating phase of infatuation once again."
SUPPOSED FORMER INFATUATION JUNKIE is seasoned with Eastern spiritualism. The lyrics are at times basic, yet their delivery is spiced with exotic Eastern melodies and Morissette's intense, expressive vocals. This successful combination of characteristics lends itself well to the stage, which is where you will find Alanis at the moment. Currently on tour until the latter part of July, Morissette's stage presence is peaceful and gracious, yet fast paced and mesmerizing. Totally energized and confident, she is a consistent moving target as she spins, dances and struts from one end of the stage to the other, while still delivering each song with rich, sharp control. The set, which lasted almost two hours in San Diego, was a well crafted mix of both CDs and included a multi-media presentation of her latest video UNSENT and a beautifully dramatic piano intro (by Dean Johnson) for her contribution to the "City of Angels" sound track UNINVITED. Winding down after 90 minutes of unrestrained musical exorcism, the show was capped with an acoustic encore that brought the audience back to reality and a normal heart rate.

Alanis recently shared some of her thoughts about the new CD, her travels and her inspirations in this revealing question and answer session:
Q: How can you be so revealing in your songs?
A: "Since writing JAGGED LITTLE PILL, I have felt the empowerment and healing that comes from being vulnerable and of speaking as truthfully as possible. I write from a subconscious place whether it's about my own experiences or my observations. Everything I've created since I was nine years old up, up until this point has been an extension of where I was at that time. It was also a reflection of how much I was willing to reveal at that time."
Q: On SUPPOSED FORMER INFATUATION JUNKIE you go emotionally deeper than you went on JAGGED LITTLE PILL. Can you talk a little bit about what triggered your mind to plumb the depths even further?
A: "On this record, song writing is a very cathartic experience for me. Dissolving what has been holding me back or confusing me by facing and writing about it allows me to move beyond it. I still allow myself to viscerally react to people and situations - I then take responsibility for my role in it. My having written in a reactionary way resulted in a sense of release (which I think was very important). Taking responsibility for my actions and not hiding behind my own songs has resulted in my feeling a sense of closure."
Q: As empowerment as you say it, is to be vulnerable, is there ever a concern that you might be revealing too much in your songs?
A: "There really is no emotion or part of myself that I'm afraid to write about. The challenge is to be specific enough that it resonates for me on an emotional level, but not so specific that it disrespects anyone's boundary or privacy. I have also, particularly on this record, played certain songs for people that I've written about, all of whom understood the spirit in which the songs were written. Unwittingly, this records encouraged me to connect directly with people."
Q: Can you reflect about the mind set you were in that brought about your new songs?
A: "After having gotten off the road, I took a year-and-a-half off and processed a lot of what I had been forced to put on the back burner during the tour. I traveled a lot. I made up for a lot of lost time in many different areas. I nurtured relationships that I hadn't been able to nurture. I took the time for painting, writing and photography. I snow boarded, played sports and did three triathlons. I wanted to understand the truths and illusions in my life in general, including those that lay within the music industry and everything that I had been through. I started from scratch in so many ways. Stopping was both exciting and terrifying, due to the fact that I had never truly done it before. I had been taught to keep running at all costs, for some elusive, ultimately unfullfilling reward. Stopping resulted in my realizing that this reward was not something I had to search for. I already was it. And what I was left with was an overwhelming sense of wanting to create again and a large amount of gratitude and compassion. I feel very connected to God in this stillness. I really didn't want to write this record from a place of fear or pressure. I wanted to write it from a place of being inspired. Even if I'm writing about difficulties or pain or confusion, I want it to come from a place of love."
Q: Can you talk about some of your travels? We're aware that you went to India and Cuba.
A: "My aunts, mother and two girlfriends were with with me from the first part of the trip to India - my girlfriend and I continued on when they left to go back. We started off in Calcutta and did some volunteering for a few days, traveling up north, then into Nepal and eventually down to the south of India. What I remember most about having gone to India was the openness that was required to go there, the letting go of control. I was able to look at our Western culture with a sense of objectivity and be humbled by immersing myself in another culture that is drastically different from the one I was born in. It enabled me to step away from a lot of things and look at my life in a way that I had never been able to before. There was richness and simplicity that was paradoxical and inspiring. I also realized that the Eastern world and its philosophies are often idealized. Being there prompted inquiries about myself, God, illusion, conditionings, death and materialism, among other things. I realized I didn't have to look outside myself to see who I was. I also enjoyed the eye contact with the people there. It was a very introspective trip."
Q: Did anything happen in Cuba that served as an inspiration for the new album?
A: "I saw this as the last trip that I would take before the writing of this record. A group of us went on what was a cultural exchange. We went to different schools and hospitals, art galleries and restaurants. We also visited a music boarding school. I was alone in a music room there and I started to play piano when a woman with whom we were traveling started to dance. I was playing a very modular, stream of consciousness song. When I finished, I looked up and there were other people in the room. I was so deeply inspired. I know that it was time to write again."
Q: One of the first things we've heard from you before the release of the album was UNINVITED, which you wrote. Walk us through that process a little bit. What happened? Did you see the movie? How did the inspiration take hold?
A: " I saw a screening of 'City of Angels' and had been going through something at the time that I felt very compelled to write about - it very much applied to the story."
Q: You've talked about starting from scratch. Can you tell us a little bit about, artistically and musically, what you wanted to achieve on this record that we didn't hear from you last time around?
A:" I guess what I wanted to achieve for this record was to feel I had nothing to achieve. It is a snapshot of where I'm at with less regard for structure, experimentation with different instruments, plus even more stream of consciousness writing perhaps than before and writing about conversations I have with people. I wanted to produce it with Glen this time and write some songs alone. There was a point in time when I wasn't sure I ever wanted to do it anymore. But once I had taken enough time off and allowed myself the freedom to not 'have' to, I was ultimately left wanting to."
Q: There are vocal stylings that have an Eastern flavor. How influenced do you feel you've been, musically, by your having traveled there?
A: "I very much enjoy minor, augmented and diminished chords. I've gravitated to them more and more over the last few years. And then with having been around Asia, I'm sure that sort of filtered into my subconscious and confirmed it, if nothing else."
Q: On this album, you interestingly blend melody with language, enunciating words in a different way. You also, at times, fit a lot of words into a measure.
A: "What I'm saying is more of a priority than whether it 'fits.' I adore language and different forms for communicating and expressing. It was such a priority to sing what I had to say that even if it resulted in having to fit sixteen words into a two bar area, it would be done (laughs). I don't believe the structure of a song has to require lyrics or melody to conform to it.
Q: On this record you serve as co-producer. What did that involve?
A: "For me it entailed applying and equally adjusting and personalizing what I had learned from people with whom I had worked before on a technical level and trusting my intuition. Producing, for me, is very intuitive in that the emotion takes precedence over 'sonic quality' or 'perfect' pitch, etc. I was able to better communicate what I wanted."
Q: Can you walk us through your song writing process and your collaboration with Glen Ballard?
A: On this record we wrote songs much in the same way that the songs for JAGGED LITTLE PILL were, in that it was very stream-of-consciousness. Glen and I would write the music and I'd write the lyrics at the same time. When I wrote alone, music and lyrics were written at the same time as well. All the songs were written in a day and recorded that same night in order to capture the spirit on tape. It's my favorite way of creating. There were a few songs this time around, like in the case of 'That I Would Be Good,' and 'Would Not Come,' where I wrote the words first and then wrote the music alone or with Glen later."
Q: In looking at your lyrics and listening to them, it seems sometimes like there's no real editing of the lyrics from their creation in your mind to their journey onto tape. Can we talk about that artistic process?
A: "Songs, or any form of expression, are unself-conscious moments or snapshots captured on film, tape or canvas or paper. Even if it may change in a week or in an hour or in ten years, it will remain a representation of that moment."
Q: When you're in the studio creating, are there any things that are trying to distract you from that purity?
A: "That which distracts is that which usually inspires me."
Q: Let's talk about your connection with your audience.
A: "I think the charm of doing what I do - and the reason why I could do it for as long as I did - was seeing people take what I wrote and have it inspire them, repulse them, or validate them in some way. It became an opportunity for them to define themselves in accordance. I would watch people in the audience and know that they were not solely there for me. They were there for themselves as much as if not more than they were there for me, which is the most heartening part of all this."
Q: When did you know you had finished recording the album?
A: "The moment I feel the songs truly reflect that particular time in my life is the moment that the record is done. In the case of this record, we were technically 'done' at one point. But I felt intuitively that we weren't and I wrote 'Sympathetic Character.' When we completed recording it, there was a resounding 'you're finished' in the air for me."
Q: What instruments did you play on this album?
A: "When I was writing alone, I played guitar and bass and piano. On the record I played flute, piano and harmonica. On stage I play the flute, harmonica and guitar."
Q: Is there anything on this album that you feel that you've never done before?
A: I had never expressed what I've written about in a way that I did on this record. I enjoyed playing with my voice and feeling how it had strengthened from having heavily toured and rested . . . Playing flute, new instruments, producing formally, stretching, less structure, writing more about other people. More responsibility, less fear, exploring."
Q: In your songs, there are other people's experiences - and your conversations with them - that have been weaved in here. Can you reflect on this process?
A: "People fascinate me and I enjoy observing and writing about them and recounting conversations, delving into their perspective and honoring them in doing so."
Q: Why did you decide to do a warm-up club tour before "officially" launching your world trek in January 1999?
A: "I wanted to start intimately and very much wanted to connect with people in a close way, start from scratch again, live in the moment and not base this tour and record on anything from the past. Letting it be what it wants to be today, on every level."
Q: O.K., if the new record were an actual food, which one do you think it might be?
A: "It would have to be a food that at times can require something of you (like corn on the cob) and at times be easily eaten (like canned corn). You can cook it (or not) and then when you eat it, it's messy - whether you dress it or not. And there are more kernels than you sometimes can stomach."
Q:There's a real intimacy going on throughout SUPPOSED FORMER INFATUATION JUNKIE. On "That I Would Be Good," when you play flute, you really can hear your breathiness on it. There ws no need to go back and make it "the perfect flute performance."
A: "I love something being real and to me that's perfect, whatever that is."
Q: You were on a treadmill. What was it like to realize that you could actually get off of it?
A: "It was liberating, exciting and terrifying. I've begun laughing again, making up for a lot of lost time on emotional levels, on traveling levels, on relationship levels, physical levels (sports), exploring my own spirituality. I felt humbled, inspired, afraid and grateful. I feel younger now than I ever have in my whole life. When I was 14, I felt 40 years old and now I feel both eight and 80. I discovered the world on many different levels with the energy that had always gone solely into my 'career."

Alanis Morissette Cd's and Cassettes are available from Maverick Records.

Both Titles are on Sale now at Cd Universe.
For More on Alanis

Debbie Seagle is a veteran music writer and Rock n World Contributor. Send feedback to dseagle@rocknworld.com