Long Beach Invades LA - Bird, Chris Paul Overall, Low-five, Johnny Jones, Twelvehourmary - Oct 13, 2002 @ The Cat Club in Hollywood
Best Concert
The following was originally published in our Live! section.
Review by Keavin Wiggins
It was a night of music that those in attendance will not soon forget. The event was a special Happenin' Harry's Hellhole sponsored by antiMUSIC. Every Sunday night Happenin' Harry brings together 6 to 8 bands to rock the Cat Club in Hollywood and ends each week with an all star jam called Happenin' Harry and the Haptones, which features a revolving roster of stars that is a "who's who" of rock. The bookings vary from week to week. One week you will witness some promising up and coming bands and others you get to see well known national and international acts perform. In just the past few weeks the Hellhole has featured shows from Joe Lestat of Beautiful Creatures and Bang Tango fame as well as the debut of Buckcherry frontman Josh Todd's explosive new band, Shotsfired. So when you head out to a show put together by Happenin' Harry, you know you are going to be in for a memorable night of rock and the show we are going to be talking about today ranks right up there among one of the most memorable for this rock critic.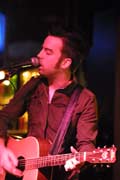 On Sunday October 13th some of the best bands from the Long Beach music scene invaded Hollywood! The night started off just after 7PM when Chris Paul Overall of Wonderlove took the stage for a solo acoustic set. Wonderlove is known for their high energy live show and melodic and guitar driven rock. In fact, they took away "Best Live Band" honors at this year's Orange County Music Awards. At every Wonderlove show I have ever attended they have brought the crowd to their feet from the second they hit the stage and if you want to see Wonderlove in concert, the smart people get to the venue early since their shows tend to sellout fast. Once you witness them live, you understand why. They not only rock, they have great music!
On this night we got to see a different side of Chris Paul Overall then we usually get when he performs with his band. Though a strong vocalist, you really don't get to hear the full measure of his talent until you hear him play with only his acoustic guitar to accompany him. On this night he played a short but unforgettable set that included "Free," the hit ballad from Wonderlove's debut album. He also broke out some of his solo songs like "Pendergrass" and a letter-perfect rendition of "Porcelain". By the time he finished his set the Cat Club had filled up and CPO walked off the stage to a loud chorus of applause. It was an added bonus for those who made it to the show early.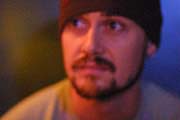 The next performance was extra special because it marked the return of one of Long Beach's most gifted and prolific songwriter's Bird. This was Bird's first appearance since Bird3 broke up earlier this year and the crowd waited with eager anticipation for Bird to take the stage. You didn't have to look far to spot someone wearing a Bird3 t-shirt and a crowd at the Cat Club once again got to witness the start of a new chapter for a star musician.
With Bird3, Bird was able to win over fans from across the world with a critically acclaimed debut album and successful tours supporting bands like Veruca Salt, The Cult and Stabbing Westward. In fact, when the Veruca Salt tour landed at the Hollywood House of Blues more people turned up to see Bird 3 than the headliner. The band had a lot of momentum behind them and the music to make them stars but their record label just didn't have what was needed to take things to the next level. So the group disbanded earlier this year and the members went their separate ways (you'll hear more about one of them later in this review!)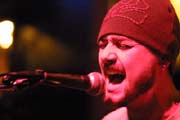 Now Bird is ready to jump back on the rock n' roll roller coaster with a new band simply called Bird and a wealth of new songs to win music starved fans over with. Incidentally, Bird's new group does include Bird3 drummer Michael Miley. The full band will make their debut at a special showcase at the Whiskey on Oct 22nd, Josh Todd's new band Shotsfired is opening for them.
But back to this show! Bird didn't pull any stops with his performance, he debuted a lot of new material; in fact with the exception of "Glow" the entire set consisted of new songs. Once the first notes escaped Bird's lips, a hush came over the Cat Club. Not to blow smoke but this guy's talent is amazing, his rich vocals are only topped by the melodic genius of his songwriting. Unlike many club shows where an unplugged performance is happening on stage, there wasn't the usual chatter in the background, Bird had caught the undivided attention of everyone there, even the bartender stopped what he was doing to listen. There was a strange couple of moments after Bird finished one of his songs where the crowd stood so silent you could hear a pin drop; the silence wasn't brought on by the fans not liking the music, it actually seemed as if Bird had rendered them speechless. After a few moments of this silence Bird looked up at the crowd, smiled and said, "that's the end!" and that seemed to break momentary trance that had overcome the crowd and they roared with applause and laughter at Bird's little joke.
I was among the many fan who were saddened by the breakup of Bird3, I couldn't believe that I would not get to see their unforgettable live shows again. But after seeing Bird on this night and hearing his new material, it appears that he is not only back but better than ever!
The next band up, Paint, was one of two special guests; in other words bands that didn't come from the Long Beach music scene. Paint is a power trio that features former Imagine World Peace vocalist Theo Love on drums and they take the "power" in power trio seriously. Their brand of raw punkish rock and the insanely high volume in which they played was actually a bit out of place on this night after witnessing two exceptional unplugged performances. It was really hard to judge them based on the general musical atmosphere of the evening to that point, if you put them in a lineup with a few notable punk bands, it would be easier to judge their performance, so I will just leave it at that.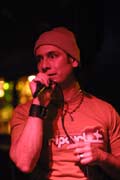 GM took the stage next; they were the second "special guest" that night as they are based out of Santa Monica not Long Beach. Musically GM lands somewhere between Pearl Jam and Incubus with a distinctive modern rock feel that fits right in with what's happening in music right now but was a little bit of a mismatch with the other bands performing that night since they doesn't really fit in with the overall Long Beach music vibe.
At the core of the band is lead vocalist G.M., guitarist Guy Keefer and drummer Stone Shelton who have been playing together for a little over a year. Their 45-minute set was well received from the crowd and "Shift", "Face of the Earth", "Energy", and "The Cutting Edge" were some of the standout songs they performed. The band is currently auditioning bass players and are about to head into the studio to record their demo to shop to record companies. In fact, at this show the band performed without a bass player but they still managed to deliver a full powerful sound, much to their credit. You can check them out for yourself if you're in the LA area, they will rock the Cat House again on November 10th.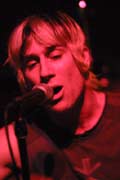 Lowfive was up next with a rare unplugged set. The Long Beach connection with Lowfive is bassplayer Greg Coates, who has been one of the most respected bass players on the Long Beach scene for years. Prior to joining Lowfive his previous Long Beach credits included playing with twelvehourmary and Bird3. He is one of those rare breed of bass players who approach the bass as a lead instrument. One thing I love about this band is that every time you see them, they sound a little bit different from the last time. That's a sign of them growing together as a band and constantly expanding their horizons as songwriters. It's difficult to describe their sound since it is constantly evolving. The first time I heard them play, they reminded me of The Cult meets Tool. There is a definite progressive nature to their music with Greg's technical bass-lines, former Queens of the Stone Age drummer Nick Lucero's heavy hitting drums and lead guitarist Peter Perdichizzi's memorable leads. Frontman Nick Frost has a distinctive tenor voice that ties it all together. It's the melding of Nick's vocals and Peters guitars mixed with the progressive rhythms supplied by Greg and Nick Lucero that set Lowfive apart from other emerging bands. Their music appeals to musicians but at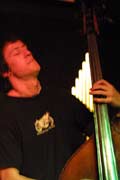 the same time it is melodic with enough hooks to capture a mainstream audience. Unplugged they take on another personality all together. With drummer Nick Lucero and vocalist Nick Frost playing acoustic guitar along with Peter and Greg on on his standup bass, the music has almost a symphonic quality to it. Some of their most memorable songs such as "Life So Far," "Against Me" and "Take Me Down" really shine in this format. I expect great things from this band. As I write this Lowfive is secluded in a recording studio with producer Chris Goss (Queens of the Stone Age, Stone Temple Pilots, Kyuss) recording their debut album. This is definitely a band to keep an eye on that brings something new and exciting to the music scene.
After a brief intermission, Long Beach favorite's Twelvehourmary took the stage as the first headliners of the night. The first time I ever saw 12 play they blew me away with their first song "Snowshaker." With it's airy feel and visual lyrics, I was hooked from the first song of the first show. That was the song they decided to kick off this set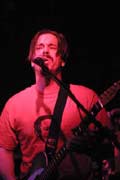 with and it really set the mood for the rest of the night. Frontman Brett Bixby lead the band through an amazing set of crowd favorites including "The Final Idiot," "Simultaneous," and "Blowing Over". The crowd ate up every minute of it. In fact, I ran into Billy Sheehan at the bar while 12 was performing and asked him what he thought and he simply replied, "they're amazing!"
Twelvehourmary's music is hard to describe, like I wrote in the "on the scene" special on the Long Beach music scene, you can ask twenty different people which bands twelvehourmary sounds like and get twenty different answers. The closest fit, which is actually a very loose comparison, would be Radiohead but that still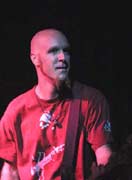 doesn't quite capture what 12 is all about. They are one of those rare bands that have a sound all of their own. Brett Bixby's thought provoking lyrics and melodic vocals mixed with Marc Roman's intricate drum beats, Stu Richardson's multi-textured guitar leads and Bill Lanham's powerful basslines create an exciting sound that rocks but at the same time has a cerebral and progressive feel to it. Twelvehourmary is another band that has an instant appeal to musicians but also has such well crafted and melodic songs that if given the chance to hear them, a mass audience is sure to instantly catch on to the musical magic they create. This night was no exception, 12 took command of the room from the first note and held the audience capture for just over an hour. I've seen a lot of shows put together by Happenin' Harry and twelvehourmary is the first band I have ever seen him call back onstage for an encore, which was something he did not only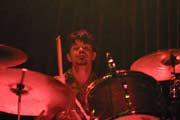 on this night but also a few weeks previously when 12 made their debut at the Cat Club. If that doesn't tell you great things are in store for this band, I don't know what does! Remember the name twelvehourmary, I suspect you will be hearing a lot more from them in coming years.
The final headliner of the night was none other than Long Beach's Johnny Jones and the Suffering Halos, who were on hand to bring their brand of big guitar rock to the Cat Club. The multi-talented frontman Johnny Jones has been rockin' Long Beach and surrounding areas for years with his hard-hitting rock sound. Think Neil Young kicked up about a hundred notches and you'll get a bit of an idea of Johnny Jones sounds like.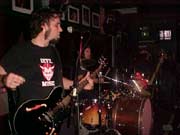 Sadly, you just don't hear music like this these days, which makes Johnny Jones and The Suffering Halos that much more appealing. Johnny's rockin vocals are only topped by his mind-blowing guitar leads. Every time I hear Johnny Jones play it reminds me of that line from "Almost Famous," where the young William Miller tells Stillwater's Russell Hammond "Your guitar parts were incendiary!" That's the perfect description of Johnny's leads. This band is a power-trio that is to be reckoned with and they refuse to let anyone leave the venue without being rocked out by their hard-hitting sound. Johnny Jones is just another reason to love the Long Beach music scene!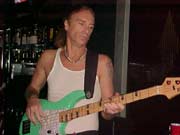 The night was capped off by Happenin' Harry and the Haptones, the weekly all star jam with Harry on lead vocals and a rotating roster of guest musicians that is a "who's who" of rock. Harry and Haptones regulars guitarist Mark Zavon (JRZ System) and drummer Tiny were joined by Billy Sheehan to crank out killer covers of AC/DC, Black Sabbath, Deep Purple, Alice in Chains and more. It was the perfect end to a great night of music.

tell a friend about this article


What Do You Think?


Fan Speak:

---