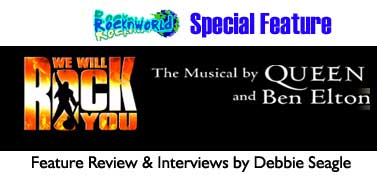 Show Review | Paul Crook Interview | Ty Taylor Interview | Photos | Links



What Do You Think?

Fan Speak:

Posted by Chris:
I really had a great time at the show and thought the production was great. A few more props would be nice and some updated videos. What made up for that was the live band and especally the guitar players that had to sound like Brian May.(Not so easy) They sounded fantastic and at times sounded just like Brian after a few shots of tequila!! I would go again
---
Posted by DragonEyes:
I have seen WWRY in Vegas 3 times (so far) And I have to say it is By far the most amazing production I have seen... The Cast has such an electric & sexy chemistry together you cant help yourself from wanting to go see it again & again. "No One But You" will bring a tears to your eyes..
---
Posted by grubba:
Great interview with Paul Crook. I've seen the show once and I hope to see it again soon. God save the Queen!
---
Posted by Paul:
I was so lucky to score tickets for this very show and as the review said it was really amazing. I was skepticle but it really is something even the casual Queen fan should check out. I know Freddie is looking down with pride everynight on the Paris.
---
Posted by Trish:
Excellent interviews with the guys!! I've seen WWRY in Vegas 9 times since the Premiere in September, & all's I've got to say is *WOW*!!!! I've been in love with Queen for over 24 years, but never got to see them live (although I've seen Brian 3 times, including once in the UK), so this show really means a lot to me. And I think a Dimebag tribute during "No One But You" is a terrific idea! I hope they add it.... Rock on!!
---
---
--

. .