Alien Ant Farm - TruANT
by Linda Spielman
It's been over two years since Alien Ant Farm's debut CD "ANThology" launched the band from obscurity into the public eye with the punk/pop remake of Michael Jackson's "Smooth Criminal". The Southern Cali alternative band is back with their newly released sophomore effort entitled "TruANT". The quirky quartet, known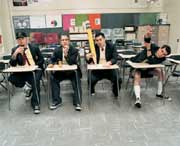 for their diverse musical influences and self admitted goofiness, have developed into a stronger band both on the record and as individuals. With the fatal bus accident in Spain of 2002 which killed their driver and seriously injured many of the band and crew, a much longer hiatus for the band was planned. However, when a routine band meeting was scheduled, frontman Dryden Mitchell (who sustained a broken neck in the accident) eagerly brought many newly penned songs to the meeting, which proved you can keep a band down but not down for long.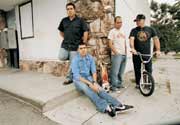 With new enthusiasm, and healing physical wounds the group enlisted the help of Robert & Dean DeLeo, best known as members of Stone Temple Pilots, as producers on the project. As the band strives to make their songs timeless in nature, "TruANT" yields itself a majority or strong tracks which deal with betrayal of loved ones and the realization that life is going to get really bad every so often, but it could be a lot worse. Working those occurrences and realizations into an "ANT"-friendly formula was helped along by the DeLeo brothers. Mitchell's seemingly melodic screaming on the tracks was helped an enhanced by Robert DeLeo's ritual of preparing Mitchell for the daily dose of cayenne pepper on the lower extremities of the singer's body. Yes, it is a bit bizarre, but the vocal quality and strength in Mitchell's performance on the CD is very evident.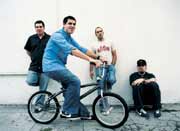 For the most part, the CD is relatively strong in content. From a listening standpoint of someone who may not be familiar with the band, every other song seems to be where the band is their most unique and ear-captivating. "1000 Days" blends a ska-influence with heavy guitar rock. With "Glow", the quirkiness of the lyrics and the melodies is very reminiscent of classic Jellyfish songs. The CD's first radio release "These Days" is what many AAF fans are familiar with from the first CD, and undeniably recognizable when hearing it on the radio. There are no returns of Michael Jackson remakes on the CD. So, I am guessing the pets at Neverland Ranch won't be eating filet mignon this year. But a nice surprise of the Spanish infused track "Tia Lupe" shows that the band not only has the vast musical influences behind them, but they know how to incorporate them into a great song that the fans will embrace.
For the record, "TruANT" is a good listen. It is very rare to listen to an album and it be a good listen from start to finish. And in some cases, either all the strong material is concentrated in the front or the back, which leaves the middle tracks in limbo. However, with the strongest of AAF material evenly spaced through the entire CD, a first-time listener is more open to give all the tracks a fair shot when hearing it for the first time.


CD Info


Alien Ant Farm - TruANT
Label: DreamWorks



Want More?


Listen to samples and Purchase this CD online
Visit Alien Ant Farm's official homepage for more info on this CD and the band.
Album Player - freeview trueANT


What Do You Think?


Fan Speak:

Posted by Colce:
Heh, heh. Friggin' sweet!
---
Posted by MR Sean:
they F***ing rule
---
Posted by Tits:
AAF is so cool they will make you pregnant with there coolness
---
Posted by Dr Pain:
A lovely lovely cd
---
Posted by hey you:
Ive loved alien ant farm since i burned my bros Cd three years ago. They are a phenomenal band that often get underated. People really need to get the word out and get people buying the incredible new Cd. My face song rite now is Quiet. AAF is THE best.
---
Posted by mills:
this album rocks...1000 days is my fav it has a sweet bassline-tye is amazing
---
Posted by Smooth Criminal:
This album ROCKS!!!!AAf kicks ass!!!
---
Posted by eric:
i think this album rules and zzz your a real fag you know haha id kick your sorry ass right now haha but anyways aaf is a sweet ass band
---
Posted by Brik Himhum:
Yeah, this cd is ok
---
Posted by LeBy (le-bee):
Alien Ant Farm kicks so much ass!
---
Posted by Nova:
If you don't like this album, you need taste mate! This album rules, Dryden rules, AAF, well, rules?
---
Posted by by the name:
alien ant farm is the best! the musics its very col
---
Posted by hawaiicanal89:
AAF is definatly the best band out there. truANT further proves my statement.
---
Posted by kelthespooky1:
one of my fave albums, but not as good as ANThology. SS REC. Rocks!!!
---
Posted by Cas:
Amazing album, I was waiting for it to be released from the moment I heard there was going to be another! AAF is my favourite band, I love their music and Dryden is a god. I can't be too sure which I prefer out of ANThology and truANT, they both rock. I was especially pleased to get the DVD with truANT :). Fave song on album: Quiet Least fave: not possible.
---
Posted by RJ:
Not as good as ANThology, but still amazingly good. If you haven't heard what AAF can do then you are seriously missing out.
---
Posted by Nonentity:
Fresh!!! oh yea and zzz can kiss my ass
---
Posted by E-l:
I LOVE Smooth Criminal! :)
---
Posted by rae:
hey-my name is Sarah Wynn..crazy huh!
---
Posted by Fibbles:
alient ant farm is corporate rock with standard 4/4 timing and chorus,verse,chorus structures. Personally i would have like to have seen some diversity this time around as this cd sounds very familiar.
---
Posted by Spectre:
Even better than ANThology. It is an amazing, catchy record. It is diverse too. My personal favorites are 1000 Days, These Days, S.S. Recognize and Hope. They are now one of my favourite bands.
---
Posted by yo daddy :
it rocks ass
---
Posted by Loree:
I loved their first CD and I love this CD. They've become one of those bands where you don't have to listen to any of the songs to buy it. You know its gonna awesome.
---
Posted by karen:
WOW, i was so impressed apon hearing this album. AAF truly is my favorite band, and they have earned this title fair and square. What I love most are the creative and so symbolic lyrics. Every song tells a story with an even deepr meaning. I can't wait for their next album!!!
---
Posted by asia:
i think that they're the best band ever!!!i hope that some day theyre gonna rock Poland :)) (sorry for mistakes)
---
Posted by kyle:
some kid say you guys suck
---
Posted by kyle:
I like your songs
---
Posted by JustMe:
TruANT is such a strong album, you would have to not like music in any sense, not to like this album, I like Rap, Punk, Heavy Metal,Country, Opera, Etc., I like good music in all form and Alien Alien Ant Farm is some of the BEST. If you have a ear for music Listen to the music and not just what everyone else thinks it cool at the moment.
---
Posted by Wendi:
After the bus accident in 02', this is such a strong album. They're MEANT to be doing this and they're still here for that reason. I just hope it all stays together after dreamworks bites it in early 04'. I would hate to see them fade after all they've been through.
---
Posted by Wendi:
AAF is the absolute best band out there! SO MUCH talent - Great guys to hang around with. I LOVE THEM!
---
Posted by ERIK:
DOPE!
---
Posted by kovac:
ALIEN ANT FARM is the best band that ever came together and i'll be rockin there stuff tell the end
---
Posted by Me:
This is an awesome cd that you have to appricate and be well a nerd to like it.
---
Posted by Cindy:
This is one of those bands that you have to be a nerd to like
---
Posted by girl:
is such a good cd... i loved it since i had it in my hands, my fvrite is HOPE... is so sweet
---
Posted by margot:
glow is my favourite one:)
---
Posted by ANNIE:
AAF only rules... more i havn´t to say ;-)
---
Posted by diek:
Great album, there are not many bands that play on this level. They switch from time signature, for instance Tia Lupe is in 7/8. I am looking forward to they're next album!
---
Posted by brando_43:
I thought the CD was really bad and I didn't even listen to the whole thing. It started to hurt my head and body after about the third track so I had to take it out. I really wanted to like this CD, but it just wasn't going to happen. I'm sorry but it was really bad!
---
Posted by Kt:
I think that Dryden has such a voice. His voice is so strong. These guys are true musicans.
---
Posted by Hulk:
Alien Ant Farm needs more music.
---
Posted by hulk:
Not to bad.
---
Posted by zzz:
Alien Fag Farm sucks
---
Posted by mollie:
I agree with the review of this CD. truANT is one of those rarre CDs that you can listen to without skipping through weaker tracks. I'm pretty happy that AAF remade 'S.S Recognize', I love that song. 'Glow' is also becoming one of my all time faves.
---
Posted by mya:
u suck like crap
---
Posted by Eggy:
1000% better than the first, they have progressed in the right direction, away from numetal. love the time signatures tai lupe is my favourite.
---
Posted by marta:
i think this album is def worth buying. lked the first one but you can tell they have grown with this one. I can listen to the first album all the way through wihtout skipping through and it looks like they have done it againl. very rare that a band can pull this off.. not to mentiont hey are awesome live and have great chemistry together. if you basically liek evrything.. this is prob an album youll enjoy :) seriosuly worth it!
---
Posted by allofnothing:
no,really?
---
Posted by Hobo:
My favorite band!
---
Posted by :

---
Linda Spielman is a veteran rock journalist and feature writer for the antiMUSIC network.