by antiGUY
RNW: "Hangnail" ?
Mike: "Hangnail" is one, I remember when that one came up because that one was.. I don't know how the lyrics tie in but it came from this one journalist in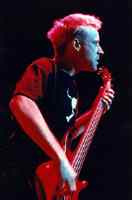 Vancouver who panned us so hard on a show that we read it and you know every artist is going to get some negative feedback or criticism right? That's just to be expected. We read this though and this guy was so out in left field that we were almost positive that he wasn't even at the show.
RNW: Yeah I see that a lot
Mike: At the same time it was obvious that he couldn't find his ass with both hands, he didn't know music at all. And second he couldn't have been at the show because he made references to things that just couldn't be, you know what I mean, like the kind of comparisons he was drawing are not possible.
RNW: I've seen reviews of shows that I've covered personally and I don't know where this other writer is coming from.
Mike: Exactly and you can kind of attribute some of it to them not knowing anything about music or not even liking music because I find a lot of the people in the music press are not music fans
RNW: Yeah, yeah!
Mike: You know what I mean? They have kind of a almost hate on for music or maybe just a hate on for musicians, maybe that's more like it. It just seems like an odd profession to be in if you don't love it. There is always going to be those kind of people whether you are a musician or a construction worker or whatever. There's always gonna people you meet with their head up their ass. The music business is no different.
RNW: Exactly. Ok what about "Good Times Gone" ?
Mike: "Good Times Gone". I'd say it's easily drawable from the lyrics. I don't want to keep anyone is suspense but I'm gonna. One more week and you will find out what I'm talking about.
(laughs)

RNW: What are your favorite tracks from the new album?"
Mike: I think that the whole band is on the same page and that is that there are two songs that just sort of like happened. They were basically done and we learned how to play them. I mean like the songs taught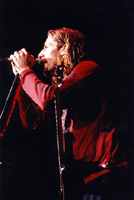 themselves to us. One of them being "Too Bad"; another one being "How You Remind Me", both songs were written in a matter of a half an hour. They just sort of happened and I don't understand how it happened but it happened this way. It was very much a, I don't know, it was like channeled through us. I can't imagine how to communicate this to you. It was something that was just a, it was already done and we just had to put it to paper, put it to music or whatever. It was already done it was just given to us. You know what I mean, it sounds really nebulous and weird but those songs just came out of us.
RNW: Ah very cool
Mike: Yeah if you listen to "Too Bad" it starts out with a guitar part and that guitar part was, you haven't heard it yet so it's hard for me to tell you this but the opening guitar part for "Too Bad" is what we based the song on. When you hear how ridiculously simple that part is, you can see what I mean when I say that there was a lot of intuition that took place when we began putting that together. Because that opening guitar part could not be any simpler but we were all so focused on the same exact direction that it just unfolded to us and it was like "this goes here", "this goes here", "we're gonna put a stop there" and this is it once it was done. Rick was there and he was like, we were playing it for him and we asked "What do you think we could do?" and he was like "Nothing, it's done!"
RNW: Is that how you write most of your songs? You just get together and jam or ?
Mike: Umm we do collaborate but usually Chad brings… like sometimes with like "too bad" where sometimes it just sort of came to Chad just playing this guitar part, this opening guitar part and then everything fell into place. He had some ideas and he just brought them in, little by little. But usually the way it goes is Chaddy writes the initial skeleton of the song and he takes care of the lyrics and we come together, all of us and complete it.

RNW: You don't have to answer this but I'll ask it anyway. Did the fact that a Beaver is on the back of the Canadian nickel have any subliminal influence on you guys selecting your name? You know the sexual connotation?
Mike: (laughs) what the hell are you talking about?
RNW: you know beaver?
Mike: (laughs) oh I see where you're going… No, No.. I have had people ask what's on the back of a nickel in Canada.
RNW: Do you know what's on the back of a nickel in America?
Mike: Someone just ask this the other day. I told him I didn't know and they said they didn't either but they thought it was the Lincoln Memorial.
RNW: Nope..
Mike: (Laughs) Ha Ha an American was wrong about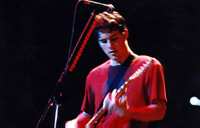 their own nickel!
RNW: It's actually Monticello, Thomas Jefferson's home.
Mike: Oh, Ok.
RNW: So you learned something today!
Mike: Shame on that American I was talking to!
(laughs)
RNW: One final question for you… What do you want people to take away from your music?
Mike: Ahhh …. I just want them to feel it. I want them to come to the show and to feel it how we feel it and the people close to us feel it. I want people that when they see the show I want them to get Goosebumps. I want them to feel the chills because we do! And there is something magical about that, when music can do that to you.
RNW: Alright that's all I have, Good luck with the new album, I'm sure it's going to do great! I'm looking forward to seeing you guys in October here in L.A.
Mike: Thank You. You're in Los Angeles, are you?
RNW: Basically.
Mike: Well we'll have a good time there. We always have a goodtime in L.A. it's gotta be one of the craziest towns in the world.
(laughs)
RNW: that's a headlining date so it will be doubly cool.
Mike: Yeah, doubly crazy!



Want more?
Photos by Debbie Seagle. Originally appeared as part of our Nickelback - You Can't Kill Rock n Roll special. Copyright 2000 Iconoclast Entertainment Group - Groove Quest Productions. All Rights Reserved