by antiGUY
When I first heard Nickelback's US debut "The State" I was immediately impressed with their brand of hard edged mainstream rock. After sitting in on an interview our special features editor Debbie Seagle conducted with their lead vocalist/guitarist Chad Kroeger, I gained a whole new respect for the band. You see, Nickelback is one of those rare bands that strived to reach their dream of stardom on their own terms. They started out by recording, producing, releasing and promoting their own CD in their home market of Canada. When they weren't on the road taking their music to fans, they were working the phones, trying to get Canadian radio to take notice. Knowing a good thing when they heard it, Canadian radio did take notice and thus began a string of hits on the Canadian airwaves. From there the band looked south to the prized American music market. They were offered deals from major labels but the band took a gamble on the independent record company, Road Runner Records. They saw that Road Runner was really enthusiastic about their music and would put everything they had behind the band to help them break in America.
In March of 2000 Road Runner released "The State" in America. From there the band hit the road with bands like Creed, Sevendust, Finger Eleven and 3 Doors Down. Their hard rocking live show won over fans from coast to coast. "The State" made a big impression here at Rocknworld.com as well. In our best of 2000 wrap up they walked away with not one but two awards; Best New Artist and Best Indy Modern Rock Album of 2000.
Now here we are in early Fall of 2001. Nickelback's fame has only increased since the release of "The State", modern rock fans across America and Canada helped the band's latest single "How You Remind Me" land the number one spot on rock radio in both countries. As this is being written, Road Runner Records is preparing to release Nickelback's second US album "Silver Side Up" on September 11th. The buzz surrounding the band and their current hit single has pushed "The State" back onto the charts which means that Nickelback could have two Gold-certified albums on the shelves within weeks of the release of "Silver Side Up".
During the Labor Day weekend I had the opportunity to speak with Nickelback's bass player Mike Kroeger about the band's history and the new album. With a week yet to go before the release of "Silver Side Up" Mike gave us a track by track run down of the album. He also shares some of his favorite stories from the road and gives us the inside story of Nickelback. If you already have the new CD, pop it in and find out more about the band and the songs. If you haven't purchased "Silver Side Up" yet, read on to find out why you should!


Interview with Mike Kroeger
RNW: Thanks for taking the time to talk with us.
Mike: My pleasure
RNW: The last time we caught up with you guys we spoke with Chad while you were on tour with Creed and Sevendust. We're basically going to pick up from there and talk mostly about the new album. But before we get into that I wanted to ask a few background questions.
Mike: OK
RNW: You guys have been on the road nonstop for the past couple of years promoting "The State", what have been your favorite band to tour with so far?
Mike: Actually the two bands that you mentioned Creed, Sevendust; we forged some really good friendships out of that. And also 3 Doors Down with whom we are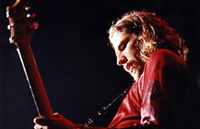 traveling right now. We've become really really good friends with them.
RNW: I saw you guys with them about a year ago.
Mike: Yeah we're traveling with them again right now. Actually we're in Cleveland, Ohio.
RNW: Least Favorite band to tour with?
Mike: Least Favorite band to tour with? Can't really think of one. That's the diplomatic answer isn't it?
RNW: Yeah (laughs)
Mike: I can't really think of one. To be honest with you all the bands have been really cool the only time we've every really had a problem or it's been difficult is with crew. Like the bands themselves have been really cool. We haven't played with any real a**holes.
RNW: Not yet!
(laughs)
RNW: Any favorite funny stories from the road?
Mike: This is an online thing right?
RNW: Yeah
Mike: Is this a PG13 online thing?
RNW: We can make it R, it doesn't matter
Mike: (laughs) Well Ok. Just recently we were in Germany. I don't know what it is in German beer. Have you ever seen any of the Pantera home videos?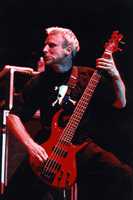 RNW: Sure have.
Mike: You know how they pay their crew guys to do ridiculous things? We do that too. For six hundred Deutch Marks we got one member of our crew, who shall remain nameless, to place one piece of his anatomy into a tabletop fan to stop the fan.
RNW: Ouch!
Mike: It was a piece of one's anatomy, if one were a male.
RNW: Oh my God.
Mike: It's the piece of one's anatomy that you wouldn't want to go into a fan.
(laughs)
Mike: It was six hundred bucks and apparently that is the price of that.
RNW: I don't know if I'd do it for six hundred bucks.
(laughs)
Mike: Well it's about three hundred U.S. That's one of the most recent things..
RNW: We're heard horror stories of other bands featuring brothers. Oasis, Black Crowes
Is there any kind of sibling rivalry between you and Chad?
Mike: No I think we both know what we are both doing. We're not really like fighting over control of this band. We're a democracy; a four-way democracy not just a two way one. It's not like we have two brothers who are fighting over the leadership because it's pretty clear that the band leads itself with all members concerned. So we really don't have to worry about that.
RNW: We know how you and Chad hooked up but how did you guys team up with the Ryan's?
Mike: We went to school with Ryan Peake, the guitar player. I met him when I was in like grade 7 and he was in grade 6. We met then for the first time. Actually, that was when he moved from this one town called Brooks. He moved to our town called Hanna (sp?) in grade 6. Where he moved from is where Ryan Vikedal, the drummer, is from. And they were friends there.
RNW: Small world
Mike: Even weirder yeah.
RNW: The following question comes from our special features editor Debbie who interviewed Chad last year. Chad told her that in the States Nickelback wasn't considered to be a really HEAVY band, but in Canada, they were about as heavy as it gets.
Mike: Yeah
RNW: In the past year or so has that changed any?
Mike: Um, No I wouldn't say so. I'd say that the climate of music in general is still consistently getting heavier. Where we have big bands like Slipknot releasing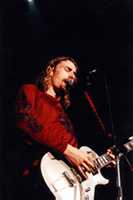 records now. Slipknot had a new record come out and it's going huge. We're obviously light compared to Slipknot but I guess everybody is. In Canada it's very much the same as it was. It's a lighter, more conservative, radio atmosphere in Canada.
RNW: More along the lines of Our Lady Peace as apposed to Slipknot.
Mike: Yeah, more straight ahead rock leaning more over to the lighter side rather than heavy. But it's getting better. As far as I'm concerned, heavier is better. Not everybody holds that view, but that's my view.


Continue