Lit
by Keavin Wiggins
Lit - Atomic
Label: Dirty Martini / RCA
Rating:




Tracks:
Something for Someone
The Last Time Again
Addicted
Lipstick and Bruises
Everything's Cool
Happy in the Meantime
Drop D
Sunny Weather
Next Time Around
Slip
She Comes
Live For This
Over My Head* (bonus track)
Listen to samples and Purchase this CD online
Lit will always hold a special place in Rocknworld.com history. They were the first band we ran a special feature on. In fact, that special feature was our very first artist of the month special way back in August 1998.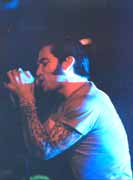 Rocknworld.com was just four months old at the time and a small shell of what it has become over the past 3 ½ years. Back then it was just my buddy Brian Aguilar and I trying to launch a website that would expose the masses to great music. One night Brian talked me into going out to a local club (club 369) and seeing this band called Lit. I'd seen their stickers plastered all over cars throughout Orange County, so I knew there was a tremendous buzz surrounding the band. That night I discovered why, they burst onto the stage with such a ferocious energy that I, like the rest of the sold out crowd, was blown away by their explosive high velocity hard rock. They were simply amazing. Even back then they were showing up the rest of the local bands, that show in particular was supposed to be a "record signing" party for thier friends Zebrahead who just inked a deal with Columbia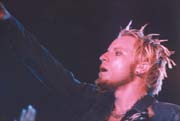 Records, but Lit stole the show. After the band left the stage, with the members and the audience drenched in sweat, Brian and I approached their manager and asked for a presskit. She kindly provided the full presskit and a copy of the band's indy debut CD "Tripping the Light Fantastic", and the album was no less explosive then the band's live show. These guys seemed destined for greatness!
A lot of things have changed since then, for both Lit and Rocknworld.com. Shortly after that show Lit completed work on their second album and then signed to RCA Records. That second album, "A Place in the Sun"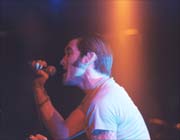 became their major label debut. While the music on "A Place in the Sun" was a grand departure from the raw energy of "Tripping the Light Fantastic" it showed the world a more polished modern rock band then the hard rocking local Orange County heroes. The rest is history; "A Place in the Sun" hit the streets and immediately became a smash-hit on the strength of their powerful singles "My Own Worst Enemy", "Zip-lock" and "Miserable". The band hit the road with other notable Orange County bands No Doubt and The Offspring and before you knew it "A Place in the Sun" had gone platinum and Lit was no longer a local phenomenon but international stars.
Now Lit have returned with their third album and major label sophomore release "Atomic". With "Atomic" Lit completes their transition into a power-pop laden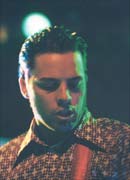 modern rock band. With this album we once again get a more polished and mature Lit than we heard with "A Place in the Sun". They have honed their songwriting skills to razor-sharp precision. This time around they take their exquisite harmonies to the next level as A.Jay attacks the high-energy songs with his distinctive vocals. Jeremy Popoff's patented guitar chops abound throughout the album, giving us that key Lit guitar sound. What marks most of Jeremy's guitar lines and sets him apart from other guitarists is not only his unique tone and phrasing but he tends to play descending scales as apposed to the more widely used ascending scales. The world got a taste of that with the riff in "My Own Worst Enemy", most guitarist will start with a low note and end on a high one, Jeremy typically will start on a high note and end on a lower one, or start in the middle, go high and then lower.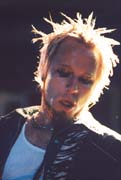 That's style has given Lit their distinctive guitar sound that makes their music so readily recognizable even before A.Jay comes in with his vocals. You can hear it on the guitars during the chorus on the band's current hit single "Lipstick And Bruises". While Lit has become what is known as a Modern Rock band, you can still hear their metal influences especially during Jeremy's guitar solos. Just goes to show you that you can take the boy out of metal but you can't take the metal out of the boy.
Now don't get the wrong idea, when I say Modern Rock, I am talking about high-energy guitar rock that falls somewhere between hard rock and power-pop not the subdued styling of say Matchbox Twenty. Lit still packs plenty of punch with the music on this album, so don't worry they haven't sold their souls for records sales and gone "pop" like their fellow Orange County brothers Sugar Ray. Lit is still Lit, just further down the road.
Let's face it, the songs reflect a different band because they are different people now. No longer are they a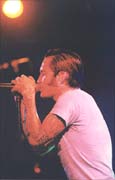 local band paying their dues playing the club circuit to build a local following and hoping to land the record deal that would make all their dreams come true. They've accomplished that dream, found international fame and recognition but in the end they have remained Lit. That fact is evident on "Atomic" as well as at their live shows, which are still sweat-drenched high-energy showstoppers as I witnessed recently at a sold out show the band played at the Roxy in Hollywood with their protégés Handsome Devil and The Color Red. Have no doubt, Lit still knows how to bring a crowd to their feet and deliver high-caliber rock n roll. With Atomic, the local boys have made good once again.
More Live Lit Photos
Photos from Lit's show at the Roxy- Hollywood, Ca 10-01

Past Lit coverage on Rocknworld
Read the original Artist of the Month article from August 1998
Read the CD review for "A Place in the Sun".


Want more?
Listen to samples from the CD and Purchase Lit music online
Visit the Official Website for all kinds of stuff

Keavin Wiggins is the Founder and Managing editor of the iconoFAN Network.
Live Photos by Keavin Wiggins - Copyright 2001 Iconoclast Entertainment Group - All Rights Reserved.