Slash's Snakepit
by antiGUY

While Axl Rose whittles away in some secluded Los Angeles recording studio trying to morph himself into Trent Rezner, former Guns 'N Roses guitarist Slash is sticking to good old fashion hard rock n roll. The second release from the Snakepit finds the top hatted guitar god scaling new heights.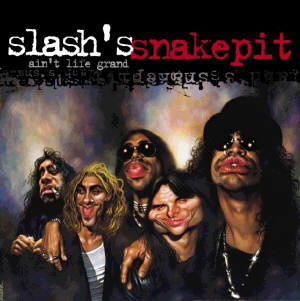 Before you delve into the second CD from Slash's Snakepit you must forget all about Axl Rose. Snakepit vocalist Rod Jackson has his own style and flair that is about as far removed from Axl as you are likely to get. Taken on his own merits Jackson is one of the most dynamic new vocalists to appear on the scene in years. He flexes his vocal muscle on the 12 tracks featured on "Ain't Life Grand" and comes across with his own style reminiscent at various time of vocal greats like Ian Gillan from Deep Purple, Kiss's Paul Stanley and even the soulful sound of Paul Rodgers. Jackson's voice comes out at a lower register than Axl's, so some people who are expecting an Axl Rose clone will be sorely disappointed. On the other hand, if you can listen to Jackson as his own man you just my come to love his captivating sound and style.

Now on to the star of this band, Slash. The man behind the magical six strings found on GNR's albums hasn't changed form. But he has expanded his style a bit to accommodate the more classic hard rock fueled music present on this disc. The sweet tone millions fell in love with from Slash are ever present on "Ain't Life Grand", and to good effect. Never fear, all of you Slash lovers will get your fill and then some!

Overall the album is a breath of fresh air after spending most of the 90's hearing most bands pound out power chords galore while forgetting the ever important guitar leads! Slash delivers with the aid of an exceptional band of musicians who come together to showcase a collection of soon to be classic hard rockin' songs.

"Ain't Life Grand" is just what the year 2000 needed to kick its rear back into gear and get the world back to the business of rocking!

"Ain't Life Grand?" It sure is and it can be even better with this CD in heavy rotation. What else can you ask for?


The Band

Slash - Lead Guitars
Rod Jackson - Vocals
Kerry Kelly - Rhythm Guitars
Johnny Blackout - Bass
Matt Laug - Drums


Want more?