The Wide Open Bluegrass Festival

Pickin' and Grinnin' in Raleigh, North Carolina
The Wide Open Bluegrass Festival just took place in Raleigh, North Carolina Oct. 2-3 and bluegrass fans were treated to non-stop pickin' while artists like Flatt Lonesome, the Steep Canyon Rangers and Alison Krauss and Union Station enjoyed plenty of grinnin' that was beamed back at them from elated audience members.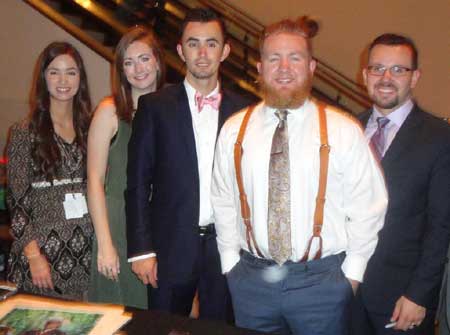 Flatt Lonesome
This year's festival took place in downtown Raleigh but for tens of thousands of adoring bluegrass fans the multi-level Raleigh Convention Center could have passed for heaven itself as everywhere you looked there was music to be heard, musicians to meet, instruments to gawk at and a general sense of fun that made the whole affair seem like a big family-and-friends party.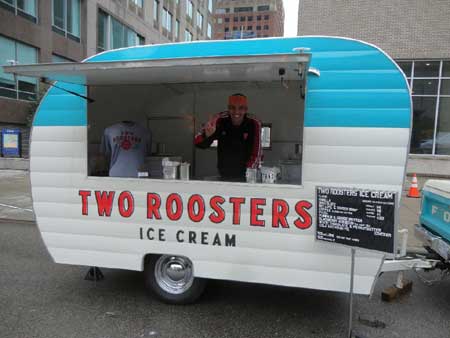 Two Roosters ice cream
Fans needed to purchase tickets to see shows by the stars such as the above named acts and the Earls of Leicester, the O'Connor Family Band, the Infamous Stringdusters, the Claire Lynch Band, Jerry Douglas, Band of Ruhks and numerous others including the Kruger Brothers who were joined by surprise guest Branford Marsalis. But otherwise entry to the festival was free and fans didn't have to spend a penny to see performances by the likes of the Hinson Girls, Johnny & Jeannette Williams, Volume Five, Tony Williamson, Rob Ickes, the Kansas Bluegrass Association Treblemakers and countless other local, regional and national performers.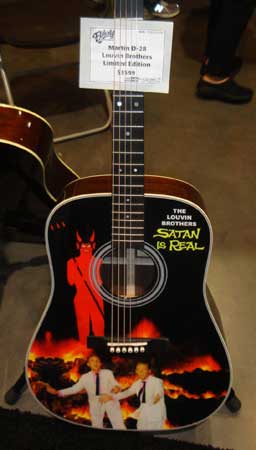 Louvin Brothers guitar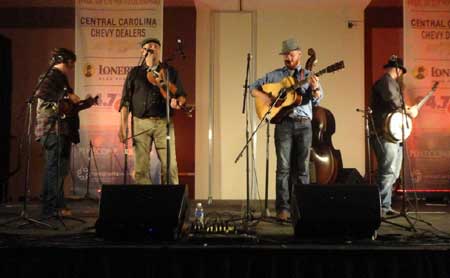 Volume Five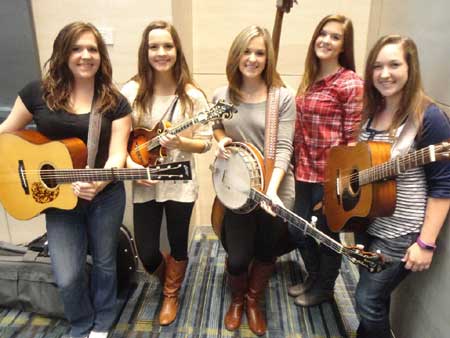 The Hinson Girls
Adding to the fun were spontaneous jam sessions in the convention center hallways; these took place constantly in every nook and cranny and you might catch the Hinson Girls pickin' and singin' in one spot while mere yards away you'd find Buddy Robertson of Flatt Lonesome jamming with a few of his fellow guitarists. Another good place to run into musicians was the Wide Open Expo, a large exhibition where banjos, guitars, fiddles, Dobros, mandolins and more were on display and for sale and where places like the Carter Family Fold also had booths.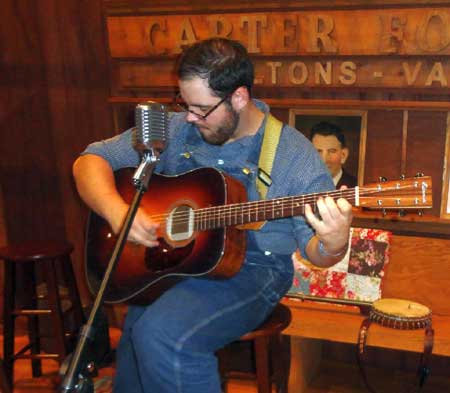 Carter Family Fold booth at Wide Open Expo
The festival paid homage to where it is held by setting aside a large area just for vendors of products made in North Carolina. While there were all sorts of things on offer, fans flocked to the food vendors to sample locally made barbecue sauces, ice cream, honey products, cookies and lots more (those who couldn't quite get their fill here could order from the dozen or so food trucks parked just outside.) And of course there was a beer garden where cups of local craft beer disappeared as if by magic.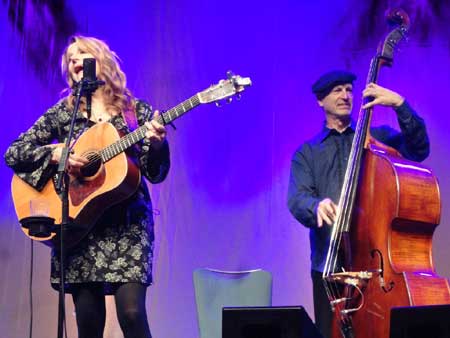 The Claire Lynch Band
A stage set up just for young players, a dance tent, a film festival showing titles like "The Last Barn Dance" and "Give Me the Banjo," and an arts-and-artisans area were also on hand. And the coolest thing ever: the festival's logo is a squirrel playing a banjo and the cute little critter could be found adorning souvenir T-shirts available at various spots throughout the festivities.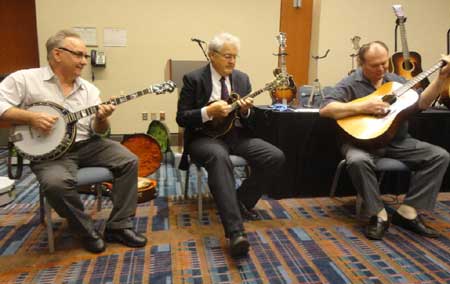 Vintage instruments session
Extra-special treats for those who paid to see the big shows included meet-and-greets with some of the bands at the merchandise table, and those who popped for VIP tickets had a special place to hang out where lots of food and adult beverages were included. But really everybody in attendance was treated like a VIP by the players, who took every chance they had to make new friends and spread cheer through bluegrass music.
The Wide Open Bluegrass Festival will return to downtown Raleigh Sept. 30 - Oct. 1, 2016. Information will be posted here.
For info on other fun things to do in Raleigh go here.
To plan a trip to North Carolina go here.

.

---
...end