A Visit to the Birmingham Civil Rights Institute


Birmingham, Alabama has a few nicknames. Some affectionately refer to the city as "The Ham," and long ago, back when the area's steel industry was booming, Birmingham became known as "Magic City" because it was growing so fast it was as if it was happening by magic. There is another nickname that Birmingham will never forget, but thankfully has been consigned to history: Bombingham.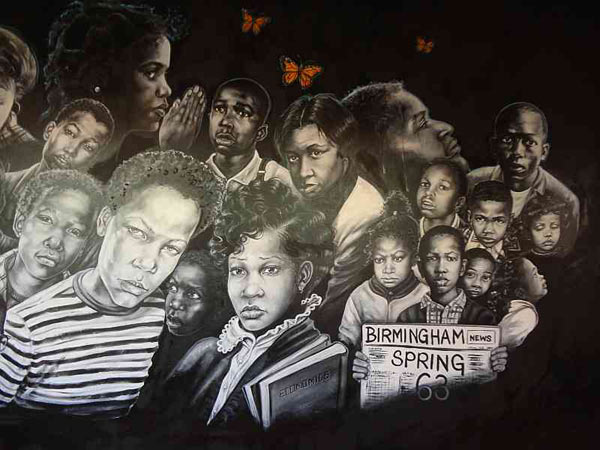 Mural
Of all the violent things that happened during the Civil Rights Movement, perhaps the most horrendous was the murder of four young girls in the bombing of Birmingham's Sixteenth Street Baptist Church in 1963. The church, still standing and holding services today, was a target because it was a known meeting place for movement leaders like Martin Luther King, Jr. who used the space not only for worship, but also to plan peaceful protests and other actions. Today visitors to Birmingham can take a tour of the church that includes the viewing of a film that documents the bombing, what led up to it and its aftermath. Fittingly, the Birmingham Civil Rights Institute is located right across the street from the church.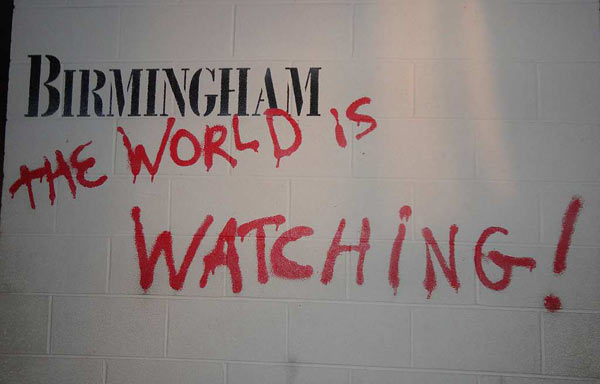 Grafitti
The Birmingham Civil Rights Institute is necessarily filled with stark imagery from the city's late '50s and early '60s history, such as displays showing how things as mundane as drinking fountains were segregated, and how classrooms for white kids were well-lit and well-stocked with books and equipment while classrooms for "colored" kids were just barren, bookless spaces. Hundreds of photographs mounted on the walls portray the violent horrors of the movement while some of the larger exhibits, like an actual Ku Klux Klan robe and hood and a statue depicting Rosa Park's courageous "back of the bus" protest, bring the struggle to vivid life. The era is very thoroughly depicted, including the positive changes that came about. At the end of the Institute's extensive chronicling of the American Civil Rights Movement there's a substantial space dedicated to significant moments from other civil rights struggles going on around the world, such as the infamous Tiananmen Square protests in China.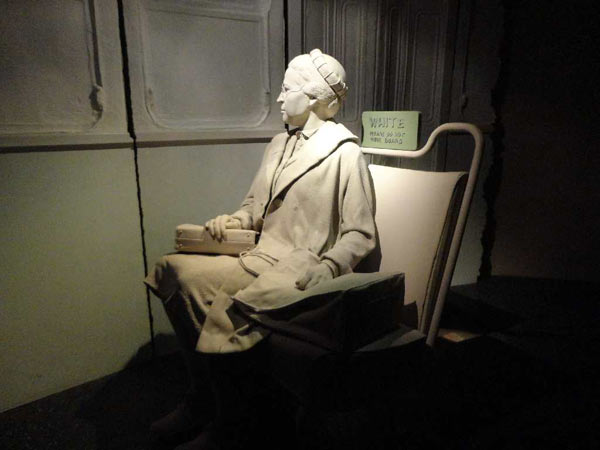 Rosa Parks statue
Also on the same block as the Birmingham Civil Rights Institute is Kelly Ingram Park where there's more Civil Rights Movement history depicted through statuary. Some of the statues are symbolic while others depict people and appropriately enough in the middle of the park, a statue of Dr. Martin Luther King, Jr. stands tall.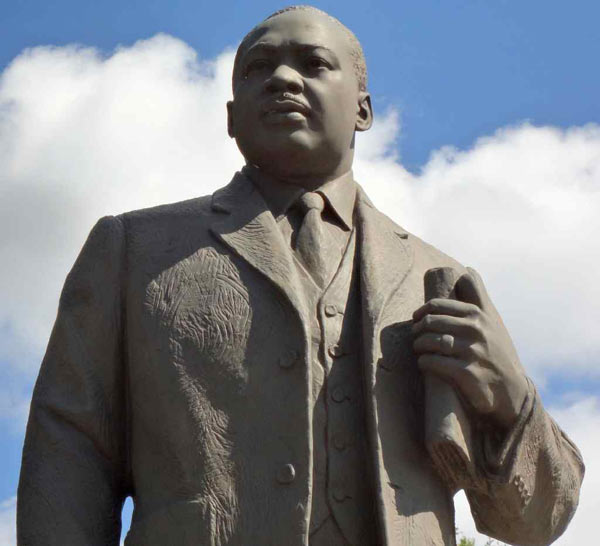 Dr. Martin Luther King, Jr. statue at Kelly Ingram Park
If you want to visit the church, park and Birmingham Civil Rights Institute and see everything, plan on spending at least several hours. For more information on the Institute visit www.bcri.org and to plan a trip to Birmingham visit www.birminghamal.org.

.

---
...end