Styx Rocks Cozumel, Mexico Aboard The Carnival Breeze


If you know all the lyrics to "Come Sail Away" by Styx, you know that the classic rock hit ends with spacemen sailing away in their starships. Styx fans who recently saw the band perform the song aboard the Carnival Breeze cruise ship didn't get whisked off into the ether but they did get to go somewhere heavenly: Cozumel, Mexico.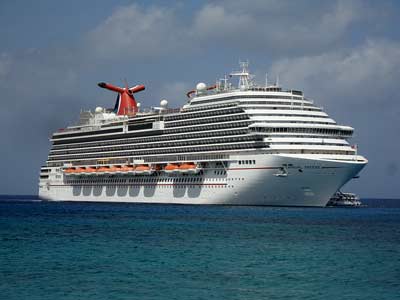 The Carnival Breeze
What was a huge, superstar band like Styx doing aboard a cruise ship? The hit makers are one of the more popular acts participating in Carnival Cruise Lines' Carnival LIVE Concert Series whereby a special one-night-only concert takes place while the ship is docked in a particular port, in this case Cozumel. Designed to be a special treat for music fans, the Carnival LIVE Concert Series kicked off earlier this year and so far big name acts like REO Speedwagon, Lady Antebellum, Foreigner, Kansas, Jewel, Daughtry and Trace Adkins have wowed fans aboard various Carnival ships in numerous ports.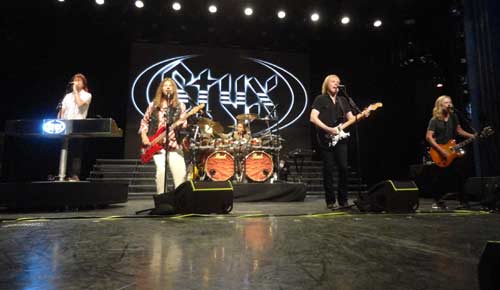 Styx
Here's how the Carnival LIVE experience works. Not all Carnival sailings feature the concerts, so fans need to check the list of itineraries and sail dates on the Carnival website where next spring's dates with Journey, Styx, Rascal Flatts, Smokey Robinson and Little Big Town have just been announced. Once a cruise is booked, concert tickets are purchased separately, and these are generally a bargain priced at $60 and below (VIP meet-and-greet packages are more.) Then at some point during the cruise the performers will come aboard to play a full show then leave before the ship sets sail. Next year the Journey shows will take place in St. Thomas in the U.S. Virgin Islands while others will take place in Cozumel and Nassau in the Bahamas.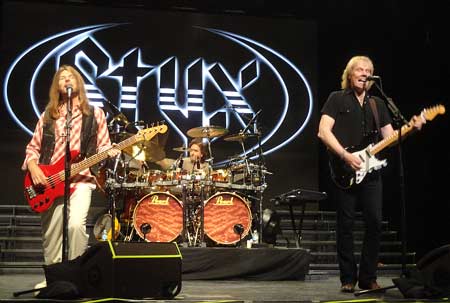 Styx
The Styx show aboard Carnival Breeze was a real fan pleaser that began with "Too Much Time on My Hands" and included hit after hit like "Foolin' Yourself," "Lady," "Miss America," "Blue Collar Man" and of course "Come Sail Away." The band took a quick breather while singer Tommy Shaw introduced "Crystal Ball" by talking about how the band used to party hard in the old days; ironically it was during breaks like these that band members used to race off stage to do naughty things. During a second band break it was singer and keys man Lawrence Gowan's turn to stay on stage and he kept up an amusing running patter as he sat at his spinning keyboard playing snippets of songs like "You Can't Always Get What You Want" by the Rolling Stones, Paul McCartney's "Live and Let Die," "Sweet Dreams" by the Eurythmics and even a bit of Queen's "Bohemian Rhapsody" which elicited massive audience participation. Gowan teased the crowd with an excerpt of Styx's own "Mr. Roboto" but the song was not played in its entirety. The show finished big with lots of rock 'n' roll posturing as Styx ripped through "Rockin' the Paradise" and "Renegade."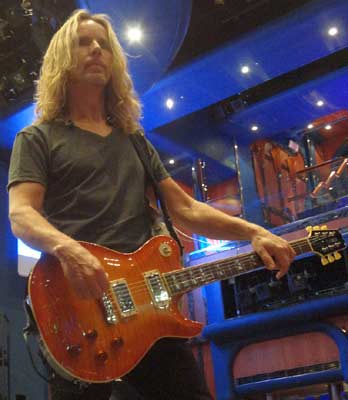 Tommy Shaw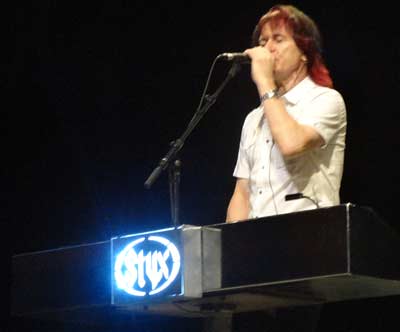 Lawrence Gowan
The show took place in the ship's Ovation Theatre, a venue that only holds 1350 people, so no one was too far away from the stars. The first few rows of the theater were reserved for those who bought the VIP package; besides the prime seating the VIPs also had their picture taken with Styx prior to the show. The Carnival LIVE dates featuring Styx next year will take place aboard various ships in Nassau on June 16, 17, 18 and 20.

.

---
...end