Mudbug Madness- Shreveport, Louisiana's Salute to the Crawfish


There's no stopping it; it happens every year in late spring in Shreveport, Louisiana, right around Memorial Day. Mudbug Madness! The whole city comes down with it, and folks in the outlying regions too. And visitors? Well they're especially prone to catching Mudbug Madness, a condition marked by symptoms such as a strong craving for Cajun food, a desire to dance to zydeco music and a general feeling that fun must be had at all costs. Fortunately there is a cure.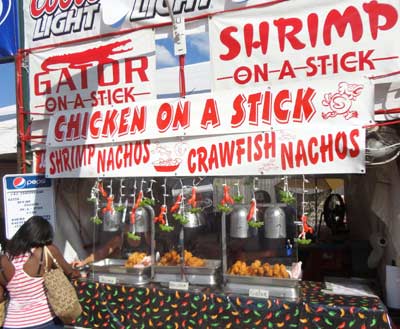 Let's eat!
"Mudbug" is an affectionate nickname for the crawfish, the little bayou critter that is the highlight of so many snacks and meals in Louisiana. They're gobbled up like crazy when the Mudbug Madness Festival comes to Shreveport, where for a long weekend there's no question that crawfish is king. The food vendors at Mudbug Madness deal out more plates of 'bugs than anything, but lots of other delicious edibles are also available including another local delicacy, alligator meat, which is available deep fried and on a stick. And on a stick is a good thing at Mudbug Madness because you won't be staying in one place for very long.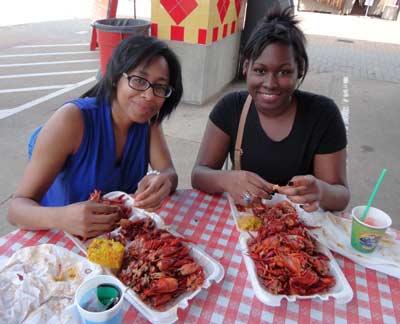 Crawfish Cuties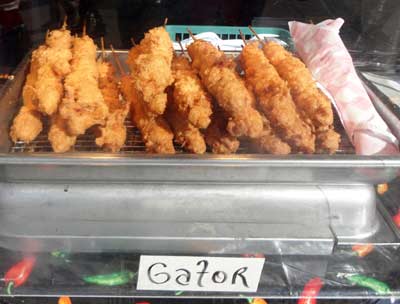 Gator on a stick
Shreveport loves festivals so much that they have a special place just for events like Mudbug Madness; Festival Plaza. The plaza is large so there's plenty of room for dozens of food vendors, three stages for live entertainment (one for kids) and a section for arts and crafts vendors. In the art area you'll find places selling typical small pieces and souvenirs as well as fine pieces of art, like those of painter C.S. Ellington.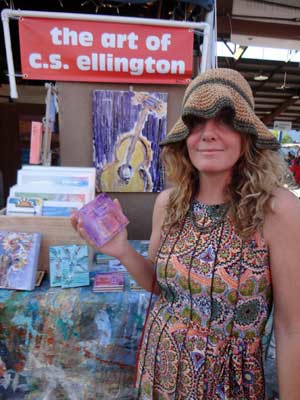 C.S. Ellington shows her art
And this year the festival concert stages featured shows by all kinds of acts, including '60s-leaning psych jam band Dirtfoot. But to go along with all the crawfish eatin' there was plenty of Cajun and zydeco music from acts like Dikki Du & the Zydeco Krewe, Chubby Carrier & the Bayou Swamp Band, Cody Cooke and the Bayou Outlaws, Mudbugs Cajun and Zydeco Band and GRAMMY Award winner (and native Louisianan) Wayne Toups. Each stage has a large area for dancing, which acts like Toups kept full, but each also has lots of picnic table-style seating for those who wish to just munch crawfish while they listen.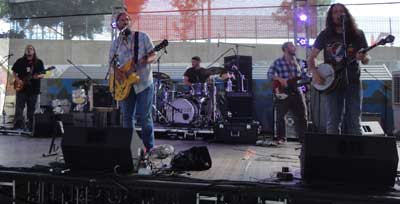 Dirtfoot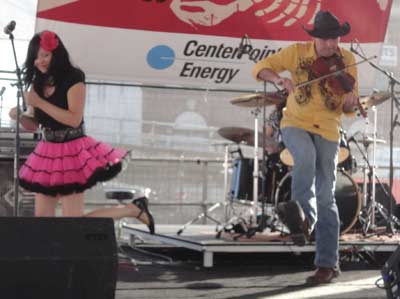 Members of the Mudbug Cajun and Zydeco band kick up their heels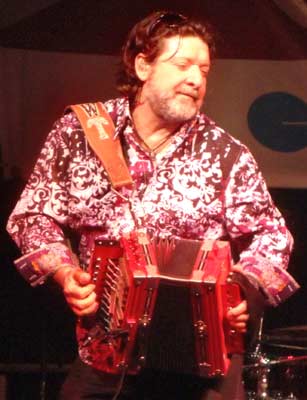 Wayne Toups
Mudbug Madness brings out all of Shreveport, at least all those that can get off work, so for visitors it's a great place to meet and mingle with friendly and fun-loving locals. Several crawfish eating contests are held and there's even a "crawfish calling contest." On opening night in 2014 Mrs. Louisiana Christy Whitaker was in attendance, meeting her fans and posing for pictures, and that same night also saw a whimsical Mardi gras-style parade with the "floats" on or being pulled by golf carts, complete with the tossing of thousands of strands of beads (and yes, cute little mudbug toys.)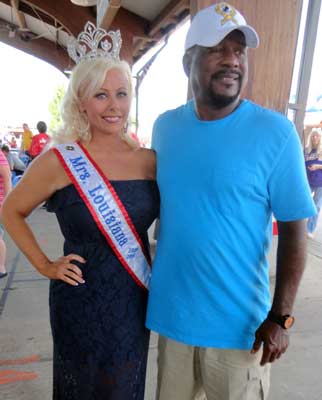 Mrs. Louisiana meets a fan
So as you can tell, catching Mudbug Madness is a good thing. Details of the 32nd annual Mudbug Madness in 2015 will be announced at www.mudbugmadness.com
To plan your trip to Shreveport and Louisiana's North, visit www.shreveport-bossier.org and www.explorelouisiananorth.com

.

---
...end