Odysea in the Desert- Scottsdale's A-Maze-Ing New Attraction


If somebody happens to tell you to "Get lost!" while you're visiting Odysea in the Desert, don't get upset. They're just wishing you a good time in the Odysea Mirror Maze, where getting confused and all turned around is part of the fun. The maze is one of three attractions at Odysea in the Desert in Scottsdale, Arizona, an entertainment complex that will eventually include an IMAX Theater, the Arizona Experience, a Ripley's Believe it or Not, MagiQuest, retail outlets and restaurants and anchor attraction the Odysea Aquarium. And it all started with a butterfly. Well, thousands of them, actually.

The first attraction to open at Odysea in the Desert was Butterfly Wonderland. And the place completely lives up to its name. An experience at Butterfly Wonderland begins with a 3D movie about the migration habits of the Monarch butterfly. The film's special effects put the viewer high up in the sky for a round-trip journey from Mexico to Canada, making it seem like you can reach right out and touch the delicate creatures (don't feel silly trying … everyone does it!) After the film the tour continues into the butterfly "emergence gallery" where butterflies are in various states of breaking out of their chrysalis, and if you're lucky you can see one actually emerging. Then it's into the conservatory to meet the stars of the show! The conservatory is a large (10,000 square feet) atrium filled with the flowers and foliage that butterflies love where about 2000 of them are fluttering around at any given time. Here you can leisurely stroll the paths, sit by the koi pond or stake out a spot on one of the numerous benches and watch as exotic Blue Morphos, Gold Banded Foresters, Zebra Mosaics, Costa Rica Clearwings and dozens of other species fly by. And even though it's forbidden to touch the butterflies, they can touch you and they will. Butterflies seem to take a liking to certain folks more than others but chances are a few will land on your clothing, head or arm while you're in the conservatory. Have your camera ready! You can stay in the atrium as long as you want but there is still more to see once you exit, including an ant colony, a honey bee "extravaganza," aquariums filled with fish from the Amazon and a tank of rays where you may get an opportunity to "pet" one of the creatures.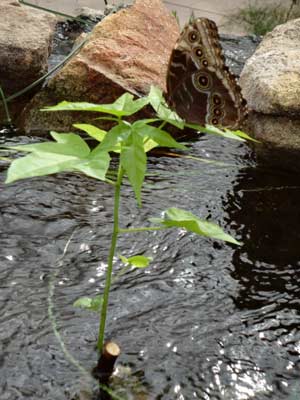 At Butterfly Wonderland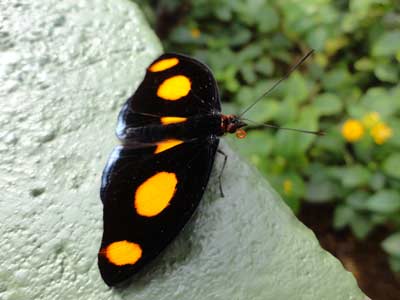 Butterfly Wonderland
Next door to Butterfly Wonderland is the Odysea Mirror Maze where the butterfly theme continues. The maze is a colorfully-lit warren of passageways with lots of dead ends and false exits to keep you guessing. Find your way to the center (or is it!?) of the maze and you'll find a turntable with a psychedelic swirl on it in the middle of the floor; if you weren't confused already just stand on this thing for a minute! While you're in the maze, try to spot the elusive butterfly image. There are only two places in the maze where the image appears and disappears so keep your eyes peeled. And don't count on following the giggles of others when you want to find the exit; you're supposed to be in a rainforest here and accordingly there are sound effects that help to mask any clues to finding your way. The mirrors in the maze are set up so as to project images of befuddling never-ending passages and you'll wear gloves while inside so as not to smudge the mirrors and lessen the effect.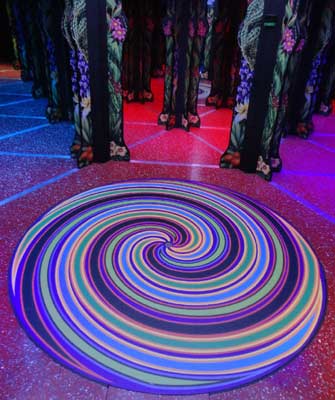 Odysea Mirror Maze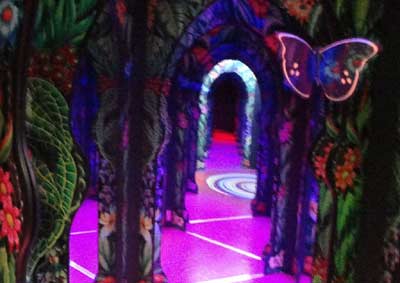 The elusive butterfly at Odysea Mirror Maze
The third currently-open attraction at Odysea in the Desert is the Laser Maze Challenge. In this maze you won't get lost; it's a "maze" of laser beams crisscrossing a playing field where you try to get from one place to another without breaking any of the beams and in a set amount of time. Everybody's seen spies and art thieves navigating these things in the movies; now anybody can do it just for fun. The laser field and timer can be set to four different levels of difficulty and a monitor on the outside keeps your score and a running tally of high scores for the day so you can compete against your buddies or just anyone else who happens to be there. The way admission to the Laser Maze Challenge works is that you pay based on how many times you want to go through.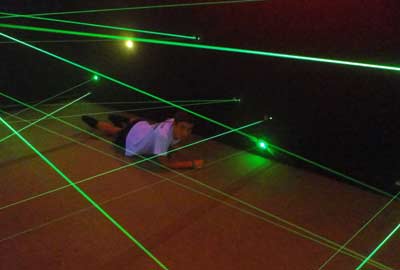 Laser Maze Challenge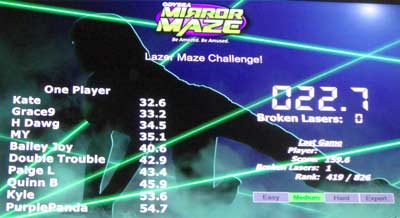 Laser Maze scoreboard
Admission to Butterfly Wonderland and Odysea Mirror Maze are charged separately. For more information visit www.butterflywonderland.com and www.odyseamirrormaze.com
To plan your trip to Scottsdale, visit www.experiencescottsdale.com

.

---
...end