The Little Walter Music Festival: Alexandria, Louisiana Gets the Blues


He's in the Rock and Roll Hall of Fame, and no wonder. The harmonica playing style of late bluesman Little Walter was so unique that it's been compared to the genius of Jimi Hendrix or jazzman Charlie Parker. And with stints playing in the bands of legendary musicians Jimmy Rogers and Muddy Waters, Little Walter not only secured his place in blues history, but influenced a host of important rock bands like the Rolling Stones along the way. Little Walter was born in tiny Marksville, Louisiana and lived for a spell in nearby Alexandria, where every year in late spring they celebrate the star's contribution to music with the Little Walter Music Festival.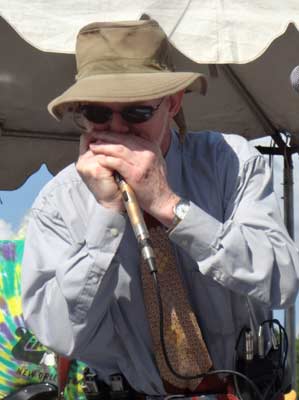 Harmonica Red
The Little Walter Music Festival is held in a beautiful and convenient setting: right in the heart of downtown at the Alexandria Amphitheater. Just a few steps from downtown businesses and restaurants, the amphitheater faces a scenic stretch of the Red River, so festival goers can watch pleasure craft zipping along on the water while grooving to the music. 2014 was only the second year for the festival, which is free to attend, but already the event is one the stars are clamoring to play at. Harpoon man James Harman, Grady Gaines & the Texas Upsetters and Mud Morganfield, the son of Muddy Waters, all made appearances at this year's fest, as did acts like Tullie Brae & the Medicine Man Revue and Nacomi Tanaka & the Blues Temple. Louisiana's own GRAMMY Award-winning zydeco kings Chubby Carrier & the Bayou Swamp Band also appeared; the popular band brought the audience to its feet and sent many into a dancing frenzy with "Zydeco People," a cut from their latest album. But of course this was Little Walter's day, and his music was featured prominently in a show by the Little Walter Tribute Band.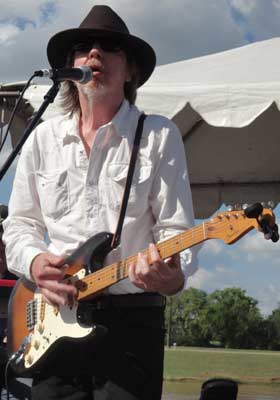 Buddy Flett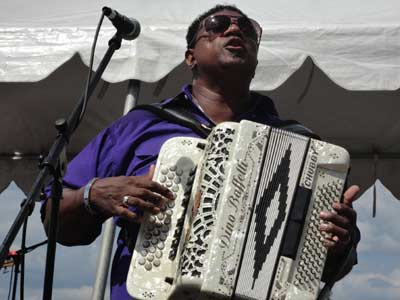 Chubby Carrier
The festival did an outstanding job at putting together a band to pay homage to Little Walter. All well-versed in Little Walter's music, the tribute band consisted of harp master Harmonica Red, guitarist Buddy Flett from Kenny Wayne Shepherd's band, Leon Medica of LeRoux, sideman and producing fame, and sax-wielding blues babe Paula Rangell.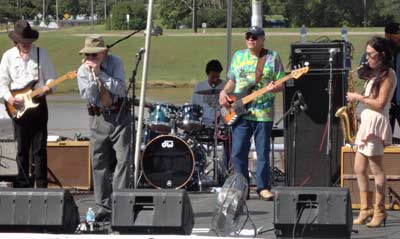 The Little Walter Tribute Band
The all-star band played a selection of songs associated with Little Walter, including cuts like "Sad Hours," "Mean Old World," "Last Night" and "You Better Watch Yourself," all of which were Top 10 hits for the vaunted Checker label. The band also ripped through a hot version of Little Walter's "Mellow Down Easy," an oft-covered song that rockers ZZ Top included on their Fandango album. And speaking of mellowing down, that's exactly what the crowd did for this full-day of music on the riverside. Food and cold drinks were on hand and so were many of the musicians who were available to chat and pose for pictures after their sets. Already one of Northern Louisiana's major music blow-outs, The Little Walter Music Festival is poised to become an annual must-do event for blues fans and lovers of good music in general.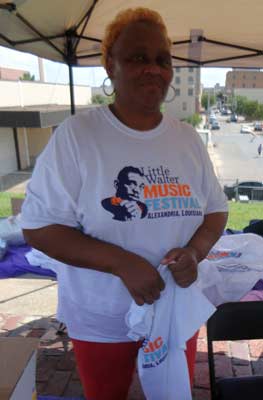 Ms. Velma rocks the official festival T-shirt
Little Walter fans will want to stop by the intersection of Lee and Warshauer Streets while in Alexandria; a marker indicating the spot as the one-time site of Little Walter's residence is located there.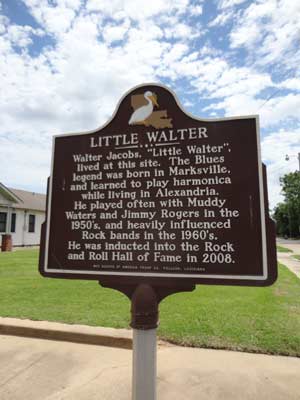 Little Walter historical marker
For more information visit the Louisiana North website at www.explorelouisiananorth.organd the Alexandria/Pineville Convention & Visitors Bureau site at www.alexandriapineville.com

.

---
...end