Key West: Where Florida Ends and the Fun Begins


If you visit Key West via cruise ship and only have one day to explore you can still see quite a bit of the small island. But if you want to know why folks like President Harry Truman, writer Ernest Hemingway and singer Jimmy Buffett all fell head-over-heels in love with Key West, you'll need to dig a little deeper. Besides the natural beauty and fun-in-the-sun attitude of Key West, there's something of significance everywhere you look, much of which is unexpected. For example, famous (now defunct) air carrier Pan American World Airways began in Key West, and the building that served as their early headquarters still stands. There are countless stories of shipwrecks, pirates and smugglers, both ancient and modern. And don't get the locals started on where to get the best key lime pie (hint: just try it every chance you get!) Truman had his "Little White House" retreat in Key West, Hemingway wrote "A Farewell to Arms" here and Buffett spent years based on the key, soaking up inspiration for songs like "Woman Goin' Crazy on Caroline Street," a ditty that name-checks one of Key West's main thoroughfares. All of this is part of what makes Key West so unique; you can visit and just party or you can visit and delve into a wonderful array of history. Here are some suggestions for first time visitors.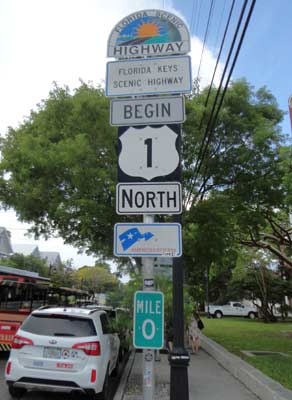 Road Trip Key West
Take the Train…
Key West is very walkable, especially the five-or-so square blocks of the "downtown" area, but a fun introduction to the area can be had by taking the Conch Tour Train. The Conch is not really a train; it's an open-air trolley that makes its rounds on the surface streets. The train's "conductor" gives a running explanation of what you're seeing and the route goes by dozens of attractions including the Truman House, the Lighthouse Museum, the Butterfly Conservatory, Hemingway House and the Southernmost Point where there's a buoy (on land) marking the end of Florida and the southernmost point in the United States. The site is one of the most photographed spots in Key West; the trolley also passes by another favorite spot for photographers, the sign that marks the beginning of US Highway 1 (the route runs all the way to Maine.) You'll also pass by hundreds of local homes on the tour, most of which are very colorful and resplendent with lush foliage including lots of exotic orchids. Tours run frequently and riders can hop on and hop off and there are different options as to the length of the tour. There are multiple places to buy tickets including at the Conch Tour Train main depot which is located on Front Street and is impossible to miss.
…Or Walk
As mentioned before, the business district of Key West is easy to navigate on foot. Some of the major attractions that are just a few minutes apart by foot include the Key West Aquarium, the Audubon House and the Mel Fisher Maritime Museum where they have a dazzling collection of silver ingots and gold coins and bars salvaged from shipwrecks along with cannons, firearms and lots more including gear that pirates used.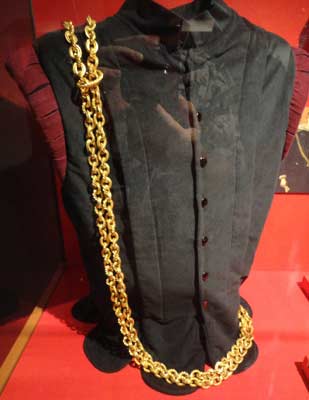 Bling at the Mel Fisher Maritime Museum
There is a time of day when it is almost mandatory to walk in Key West, and that's at sundown. The sunsets in Key West are glorious almost every night and it is tradition to come out and mingle and watch the last glimmers of the day. The place to do this is at Mallory Square and the seaside promenade that adjoins it; here you'll find food and drink, craft vendors, street performers, people telling fortunes and most importantly of all, people having a good time. It's kind of hard to forget about sunset in Key West; the daily party is such an important part of life in Key West that the time of the day's sunset is prominently posted all around town.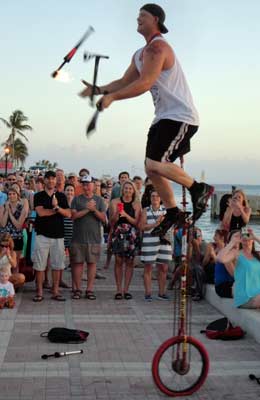 Street entertainer at Mallory Square sunset celebration
Rock a Little
There are lots of places to hear live music in Key West but the best place is the Green Parrot where groups like Galactic, the New Riders of the Purple Sage, Robert Earl Keen, Wayne Kramer of the MC5 and the Red Elvises are just a few of the big acts that've graced the stage. Autographed guitars and memorabilia decorate the place, there's never a cover (but get there early or you might be listening from the sidewalk) and the place makes an excellent Root Beer Barrel; the beer, root beer and schnapps drink that is the preferred libation for Key West rockers.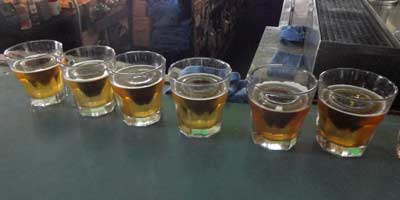 Root Beer Barrels ready to roll at the Green Parrot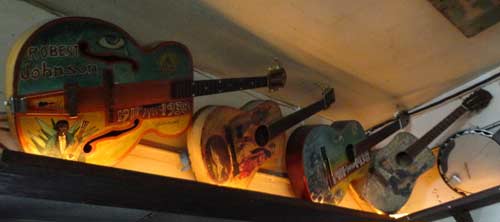 Memorabilia at the Green Parrot
Eat and Drink
Beings that it's an island in the Gulf of Mexico, obviously there's an abundance of seafood available in Key West. That also means restaurants here compete frantically to have the best this or the best that, resulting in a great foodie scene where you can count on always getting a tasty and satisfying plate. So ask a local to refer you to a place to suit your taste. One excellent place is Hogfish Bar and Grill where they specialize in the local delicacy hogfish along with dozens of other seafood combos. The restaurant sits on a spot that has a connection to the failed Bay of Pigs Cuban invasion (Cuba is 90-miles away) and if that interests you, ask your server. You'll need to drive to Hogfish as it is on its own little key adjacent to Key West.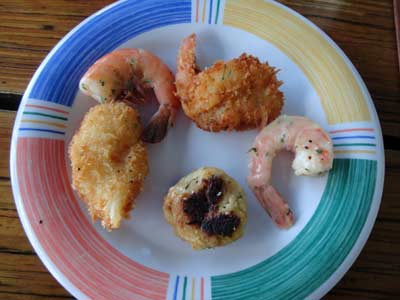 Seafood appetizers at Hogfish Bar & Grill
For breakfast, Blue Heaven is the place to go. Here you'll enjoy your specialty omelet or eggs and bacon outside under a shade tree on a spot where Ernest Hemingway once refereed boxing matches. And just because it is breakfast time doesn't mean you can't try the key lime pie; Blue Heaven serves a huge slice with a giant pompadour of meringue on top.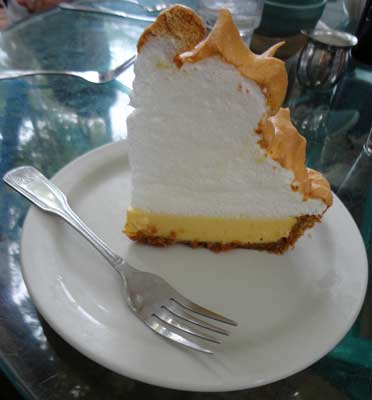 Key lime pie at Blue Heaven
Another place to taste the real Key West is at the Legal Rum Distillery. The place takes its name from the fact that Key West was, in the olden days, a haven for illegal rum making but now has its very first legal distillery. Legal Rum Distillery is a labor of love created by famed chef Paul Menta who opened the distillery recently on the site of a former Coca-Cola bottling plant. Sample and purchase rum in the distillery's tasting room where there's also a display of Coke memorabilia and some gear previously used by illegal rum runners. It is also possible to take a tour that takes you into the distillery room for an explanation of how the liquor is made.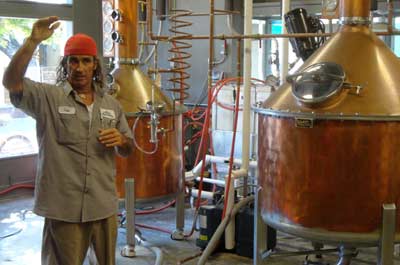 Paul Menta at Legal Rum Distillery
Where to Stay
Key West has a wide array of lodging choices including small bed & breakfasts, plush resorts and the ubiquitous chain motels. A good place to stay is the Westin Key West Resort & Marina which is located on the water adjacent to the pier where the cruise ships dock. It's also just a stone's throw from places like the Mel Fisher Maritime Museum, Mallory Square, Key West Aquarium and the Conch Train depot. www.westinkeywestresort.com
One of the best ways to really get the flavor of Key West is to talk to the locals. Don't be shy; they're friendly, they all have a unique Key West story and they have the scoop on everything that's going on. So just ask. Otherwise, before you go, plan your trip with a visit to www.fla-keys.com.

.

---
...end