Cruise to the Edge Part 3 - Roger Dean Interview


We wrap up our Cruise to the Edge 2014 coverage with a conversation with Roger Dean, the renowned English artist who designed the iconic Yes album covers including Close to the Edge, the celebrated prog rock classic that (sort of) lends its name to this festival at sea. Dean had a mini studio/showroom set up on the ship where he hung out for several hours each day, meeting fans, posing for pictures and answering questions about his artwork. And while the showroom was manned by staff throughout the cruise, for those purchasing an original piece or a print there was nothing like having the man himself turn over the artwork. In one special session, Dean also painted live while answering fan questions. I had some questions for Roger too and he was nice enough to answer them over lunch in the Divina's buffet restaurant.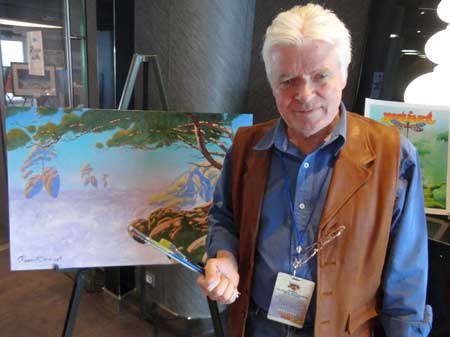 Roger Dean
How did you first get started doing artwork for rock stars?
My first job on leaving college was the interior at Ronnie Scott's Jazz Club (in London.) I immediately did an album cover or two for Ronnie Scott and I decided that was pretty cool, so I went around and showed various people my portfolio. (Band manager) Phil Carson said "I'd love to do some work with you, but I've only got two bands; Led Zeppelin and Yes." He called me when Yes needed a cover. I went and met them and we got on very well and I liked what they were doing. I was 24-years-old at the time.
What other bands were on the London scene back then? Were you immersed in the scene?
There were shows by Soft Machine, Caravan, Gong and Daevid Allen; they all came out of a Canterbury band called the Wilde Flowers. Robert Wyatt was a friend of mine at college and I went to see him playing at the Albert Hall; he was supporting Jimi Hendrix. I hadn't heard of Jimi Hendrix at the time. I wasn't really involved in the scene; if I was I didn't really notice. For a period of a few months Syd Barrett lived in our apartment; he was in a bad state by then and had just left Pink Floyd. That didn't seem momentous or historical at the time.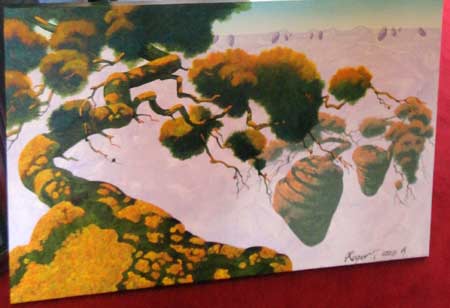 Roger Dean art
Do you think that era was rock's heyday?
There was something very special about that period in history. There were lots of different points of view and we were not only exploring what was called the counter culture or alternative society; the future seemed tangible. The Concorde was flying to New York on a regular basis; people were about to walk on the Moon. The future was there and it was not just the technological future. It was technological, spiritual, philosophical and social. The bands that were a big deal at the time…if you wanted to buy the entire collection of Led Zeppelin you'd only have to buy one album. There was no need for categories because there wasn't enough to represent a category. You could buy a few Beatles albums, maybe a few Rolling Stones, a few Who but everyone else was just making their first album. Everything was changing and "about to be," and it seemed about to be amazing.
How did this tie-in with your art?
There's been a very, very brief window in the history of music and art…music and art have been around as long as human beings, and if you wanted to make a gift of music, traditionally you'd either hire a troubadour or take someone to a performance. But it was ephemeral; it was gone. But for a very brief period of history, I could argue 10-years and at a stretch 20, art and music came together to make the perfect gift. The album, the package. For a grandmother to give a grandson or granddaughter an album was highly valued. The whole experience was wonderful. It didn't start when LPs were invented; it started when the packaging encompassed the whole. And it ended with CDs.
Do you ever get stifled creatively?
Here's the thing. People think you have to work for ideas but you don't. Ideas come, willingly or unwillingly. They'll just turn up. The trick is to snatch them out of the ether, to grasp the gift. They come from a different part of the brain than the logical and analytical part of the brain. The real trick to inspiration is just to be ready for it. To get ideas to come, the trick is just to not stop them.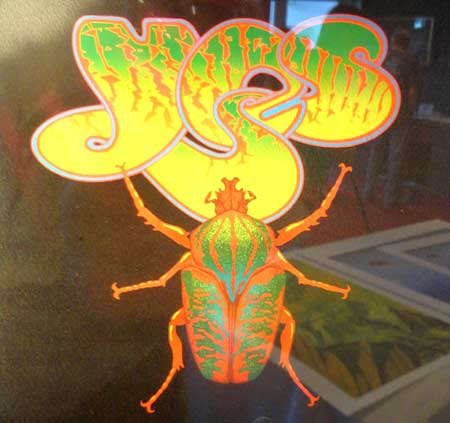 Roger Dean Yes beetle logo
As the MSC Divina sailed back to Miami the Cruise to the Edge came to a close, but only after fans had many chances to meet legendary figures like Dean, the members of Yes, Queensryche, Soft Machine Legacy, UK, Saga, Renaissance, Marillion and dozens of others. As fans disembarked the ship, the chatter was already about the next cruise; who'll be aboard and where will the ship sail? To find out, fans will need to monitor the cruise website in the coming months. www.cruisetotheedge.com

For more info on the art of Roger Dean, visit www.rogerdean.com


.

---
...end