Cardiff, Wales: A Time Traveler's Delight!


Most visitors to Cardiff get there on a train. The capital city of Wales is only 2 ½ hours from London's Paddington Station by rail and there's an express train to Paddington from Heathrow Airport so travelers freshly arrived in the U.K. need only endure one transfer on the way to Cardiff, making the journey extremely easy. Perhaps not quite as easy though as time traveling to Cardiff via TARDIS.

One of the newest attractions in Cardiff is the Doctor Who Experience, a giant installation that's part museum and part interactive adventure that celebrates everything having to do with the Doctor Who television show, the long-running BBC program that's kept viewers enthralled for decades. Doctor Who has always been produced at the BBC studios in Cardiff where they've also been meticulous about storing all the costumes and props that have been used in the show, tons of which are now on display at the Doctor Who Experience. Two full floors are crammed with Doctor Who memorabilia including stuff like a life-size rogue's gallery of baddies Abzorbaloff, Scarecrow, Winder, Warrior and every other being that's ever troubled the Time Lord. There are Cybermen masks, a tribute to sidekick Sarah Jane Smith and an impressive array of Dalek robots. Visitors will see an actual set from the show, the costumes that each Doctor has worn, space suits and gadgets and a display showing how some of the props were made. And of course there's the good Doctor's transportation, the TARDIS, disguised as a police "call box" and complete with a wax figure of "eleventh Doctor" Matt Smith alongside. Fans could easily spend a couple hours in this portion of the Doctor Who Experience but first comes the interactive part of the fun: an introductory film, a walk-through of the Doctor's storage room/workshop, a "ride" in the TARDIS where you can man the controls (try not to crash land!) and a face-to-face encounter with a group of scary and hostile Daleks. The whole thing is very well put together and worth a visit even for those who are not big fans of the show.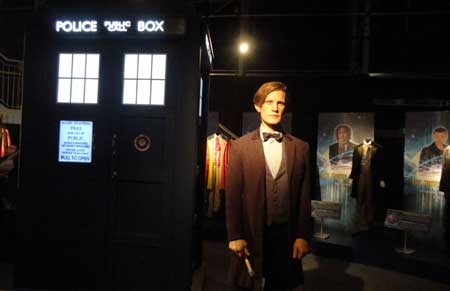 Doctor Who Experience
The Doctor Who Experience is located at Cardiff Bay, a newly-developed entertainment district on the city's waterfront. Filled with hip eateries and boutique shops, much of the area is a "pedestrians only" zone where locals come for a stroll, to chill out or to see and be seen.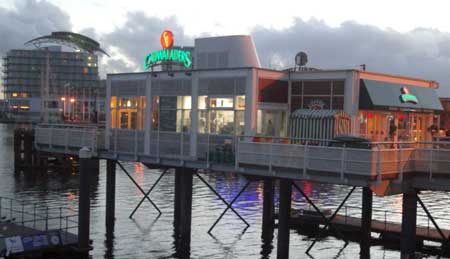 Cardiff Bay shops at sunset
The Wales Millennium Centre (opera house) is located at Cardiff Bay and depending on the timing of your visit you may be able to take in some live entertainment there. But there's plenty to do on any given day including seeking out the plaque marking Roald Dahl's Plass (the author of Charlie and the Chocolate Factory and James and the Giant Peach was born in Cardiff and christened at the nearby Norwegian Church, now an arts center and coffee shop) and a fan-driven shrine to Ianto Jones, a beloved character from BBC-TV's now-defunct Torchwood program (the character's death scene was filmed on the spot where the shrine is.) Boat tours of the harbor also launch from the Cardiff Bay entertainment area.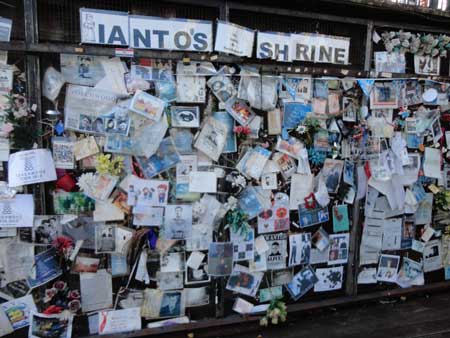 Ianto's shrine
The other portion of Cardiff that is a must see is the city center, a relatively compact area that's easy to explore on foot and home to attractions like the magnificent Cardiff Castle. Cardiff Castle, now a museum, has been the centerpiece of Cardiff for more than 2000 years and if you take the guided tour you'll learn about the castle's construction and its various occupants and owners over the centuries.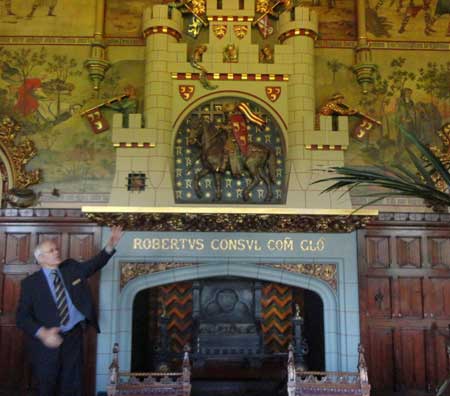 Cardiff Castle tour
The structure itself with its huge dining rooms, entertaining parlors and a minstrels' gallery conjures up vivid images of what life here was like. But the finery the place holds is the real draw; swords and coats of arms, ornately enhanced woodwork and furniture, gilded carvings and inlays all add to the castle's opulence. There's also a room that was at one time used to mind children that has walls decorated with murals depicting characters from well-known children's tales. Really, everywhere you look in the castle there's something bedazzling.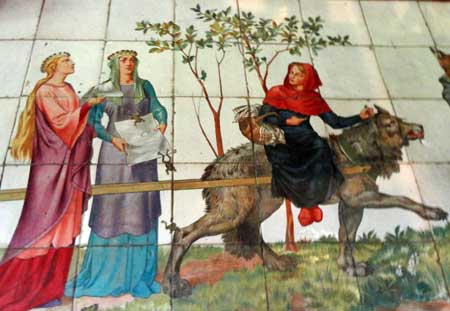 Cardiff Castle
The castle grounds are large and encompass another smaller castle, the Norman Keep. The keep, surrounded by a moat, has a climbable tower and from its top you have a good view of Cardiff. The grounds also hold a trebuchet, the device you've seen in movies whose purpose was to fling boulders and the like at enemy forces. There's a very nice interpretive center at Cardiff Castle too and in its basement you'll find the Firing Line Exhibition with a display chronicling the history of the Welsh soldier. Other attractions in the city center include the National Museum of Wales where you can see everything from high tech stuff like moving dinosaurs to ancient Celtic Crosses, Millennium Stadium where you can take in a Rugby game, and hundreds of places to shop, eat a quick meal or savor a fine dining experience. And of course there are lots of places to enjoy afternoon tea or a cold Welsh beer.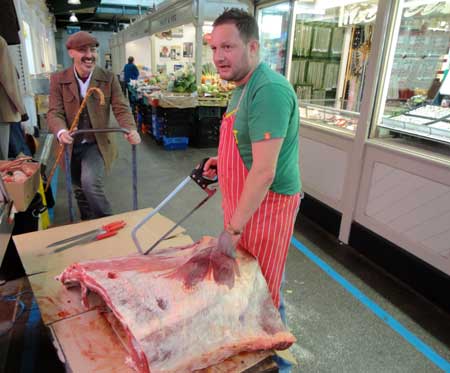 Cardiff Market
A really fun stop in the city center is Cardiff Market. Housed in a large Victorian building, the market is where Cardiff goes to select fresh meat and seafood, breads, tea and goodies galore from rows and rows of vendors. There's even a record store upstairs at Cardiff Market where collectors can find a huge array of vintage vinyl records. Cardiff has an excellent public transportation system and the train from the city center to Cardiff Bay (just a short ride) runs about every fifteen minutes during daylight hours.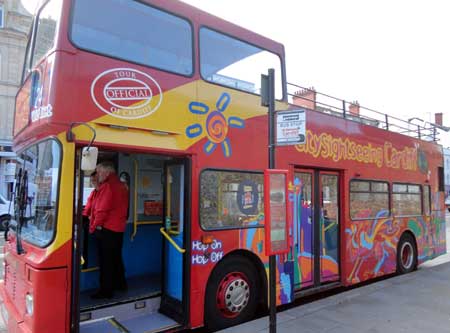 Hop on hop off tour bus
There's also a hop-on/hop-off bus tour available that makes the rounds of Cardiff's hot spots. A little bit farther out, on the city's outskirts, is St. Fagans: National History Museum. St. Fagans is a living museum where visitors can view more than 40 structures that were moved to the site brick-by-brick from various locations throughout Wales. The church, farmhouses and cottages offer a realistic (all buildings are originals) portrayal of Welsh life throughout the ages. Visitors can go inside most of the buildings and each is appropriately decked out with items from its particular era. There's no TARDIS, but visitors to St. Fagans can certainly experience time travel in a different way.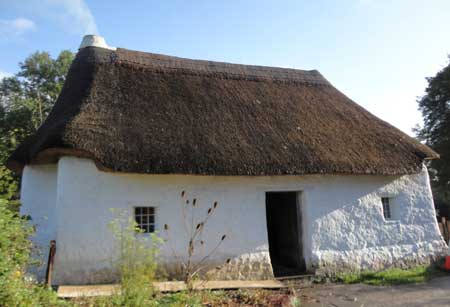 St. Fagans
A good place to stay in Cardiff is the Radisson Blu Hotel, conveniently located in Cardiff city center and an easy two-block walk from where the train from London arrives.
To plan a trip to Cardiff here
For more information about Wales here

.

---
...end