WOMEX - A World of Music Comes to Cardiff, Wales

WOMEX, the World Music Expo that's held in a different country each year, took place this year October 23-27 in Cardiff, Wales in the UK. The event draws bands and solo performers from all over the world; some playing contemporary music, some playing traditional and folk music from their nation, and most playing a delightful mixture of both. Concerts held at various venues in and adjacent to Cardiff's Motorpoint Arena and Wales Millennium Center showcased acts like Sidi Toure from Mali, Flamenco Electrico from Spain, Teta from Madagascar and Nomfusi from South Africa, truly offering something for every musical taste.
WOMEX also presents a great opportunity for the host nation to show off their indigenous music and this year's festivities kicked off with an opening night concert featuring a selection of Welsh songs curated by Cerys Matthews, one of Wales' most celebrated musicians. Matthews put together a show called "Land of Song" ("Gwlad Y Gan" in Welsh) that saw her performing much-beloved tunes such as "Can Merthyr," "Moliannwn" and "Men of Harlech" with a large cast of other Welsh artists such as Georgia Ruth, Sian James, Ghazalaw, Gwenan Gibbard, Frank Moon, Patrick Gibbard, the Treorchy Male Choir and Ballet Cymru. Some songs were raucous and some songs were quietly introspective, some were patriotic and some were meant to be sung along to. By show's end it was clear that Matthews and friends had touched the hearts of the Welshmen and women in the crowd while also giving those unfamiliar with the songs an authentic taste of homegrown music. The show also set the tone for the amazing variety of acts set to perform over the next few days.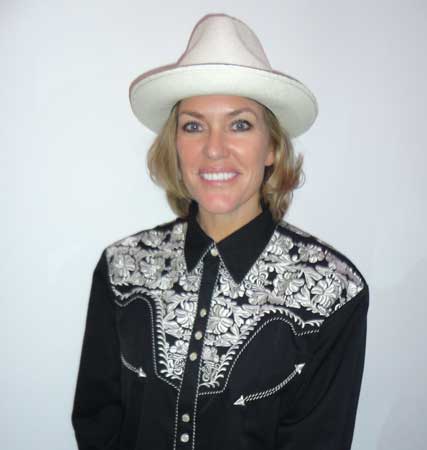 Cerys Matthews
Admission to the WOMEX showcases was available on a day-by-day basis so music fans who couldn't attend the whole festival could buy a wristband for whatever individual day they deemed to have the most desirable line-up. With about 60 acts performing in all, every day was a good one, with a typical day looking something like this: Start the fun with an afternoon showcase featuring the Emily Portman Trio to hear the UK folk songstress sing about mermaids on "Sunken Bells" and the simple delights of enjoying holly on "Hollin." Portman won the BBC Folk Award for Best Original Song of 2013 for "Hatchlings," the title cut from her new album, and the song, like the rest of her show, kept the audience mesmerized.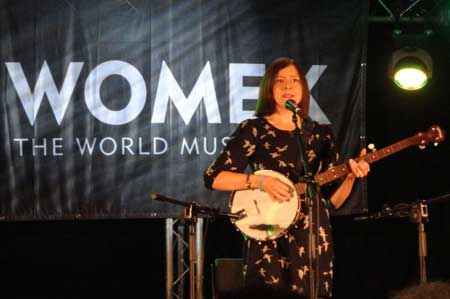 Emily Portman
After a lunch break the music started really flowing, particularly at the Twin Stage where two stages kept the music going almost non-stop. Here fans could enjoy a set by Algerian/Moroccan/French brass band Fanfarai on one stage and as soon as they quit dancing to the large band's exotic sound, simply turn to the right a bit and keep dancing to the Latin beats of Peru's Cumbia All Stars who started their show on the other stage.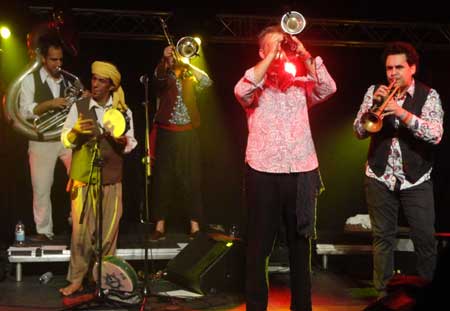 Fanfarai
The high-energy tent also hosted four other acts the same night, including evening favorites Shangaan Electro from South Africa. Hopping to other nearby stages, fans could take in music from French one-man-band Krismenn, the Jacky Molard Quartet, also from France, and many others including another UK favorite, Scotland's Fiona Hunter. As many acts did, Hunter favored songs steeped in history and one of her best received songs this night was "Shift and Spin," a tune about those who worked so hard in the now-closed mills of Scotland. Hunter also played a stunning version of "The Cruel Mother" as well as songs inspired by the works of poet Robert Burns.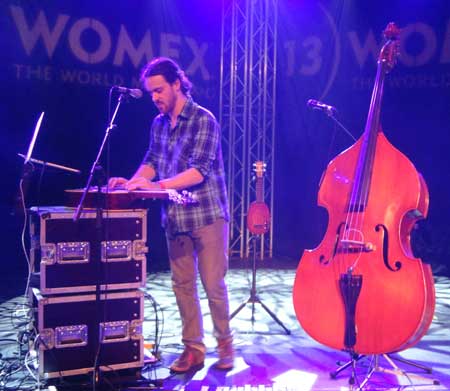 Krismenn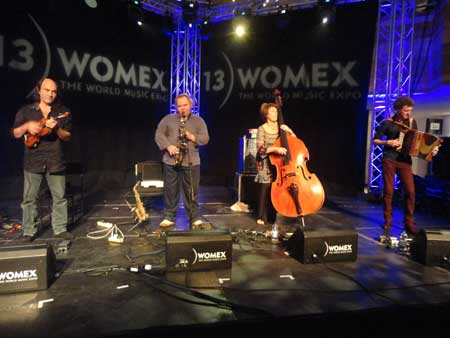 Jacky Molard Quartet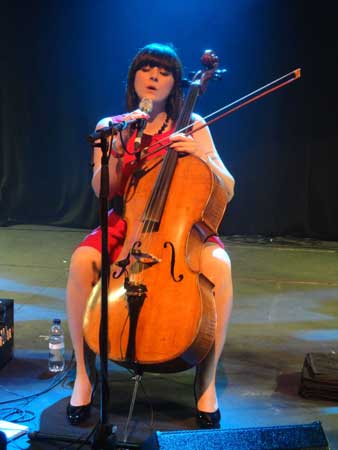 Fiona Hunter
Among the other players to choose from on this day were Wales' own Georgia Ruth, Gipsy Burek Orkestar from Macedonia and groups from Brazil, Serbia, Syria and Burkina Faso. WOMEX also features a trade show (for registered delegates only) that takes place during the day and here fans can mingle with the movers and shakers of world music, pick up sampler CDs and meet many of the musicians. Some, like Markus Tullberg of Swedish group Jidder, may even play a little impromptu concert just for you.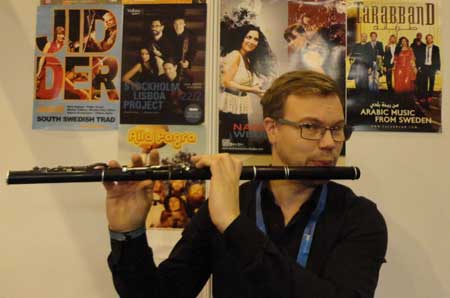 Markus Tullberg of Jidder
A big part of the fun of WOMEX is enjoying the local setting and many of the musicians and fans attending had never been to Wales or Cardiff before. Shows were conveniently held in the areas of Cardiff most popular with visitors; Motorpoint Arena is located in the heart of the city near attractions like Cardiff Castle, the fabulous Millennium Stadium and the city's bustling shopping area. Wales Millennium Centre is located in the city's scenic Cardiff Bay area where dozens of trendy restaurants and attractions like the Dr. Who Experience can be found all along the waterfront. Cardiff has an excellent public transport system and catching a bus or train to most places is very easy. Centrally located is the Radisson Blu Hotel, a great place to set up camp and also the place where many of the visiting WOMEX musicians stayed. They've gone home now but Cerys Matthews, Georgia Ruth, Sian James and many other fine Welsh musicians are around to entertain you with their world of music when you are able to come to Wales.
Plan a visit to Wales here

.

---
...end