Loving the Llama (And Everything Else About Taos, New Mexico!)

You can really have some fun with your friends when they find out that you're just back from your visit to Taos, New Mexico. Before you regale them with details of your adventure, tell them that while you were in Taos you had lunch with a llama. You'll no doubt get some funny looks and hear a couple of wisecracks but in fact llama trekking, an activity that encompasses a picnic lunch, is one of the most fun and most popular things to do in the Taos area.
Taos is not a place that you pass through on your way to somewhere else; unless you're headed to smaller towns within New Mexico or taking back roads into nearby Colorado, you will not just stumble upon the city. Nestled at the base of the towering Sangre de Cristo Mountains, scenic Taos is an easy day trip from Albuquerque or Santa Fe. And although Taos is rather compact and very easy to navigate, there's so much to do and see that even a long weekend will leave you a little short on time. Plan to kick back here as long as you can; you'll be glad you did!
The city of Taos is named after the Taos Pueblo, the still-occupied Native American settlement that is considered the oldest continuously-inhabited community in the country. To really see where Taos sprang from, take a self or guided tour of the pueblo and marvel at the adobe kivas (sacred religious shrines), hornos (outdoor ovens), picturesque cemetery, the San Geronimo Church (a National Historic Landmark) and lots more. Special events are held at the Pueblo throughout the year; in late September is the San Geronimo Feast and on Christmas the Deer and Corn dances or the Matachina (elaborate costuming) dance will be performed (the tribe will not determine which dance will be performed until December.) There's also an opportunity to shop for a large variety of craft items and meet the people who make them.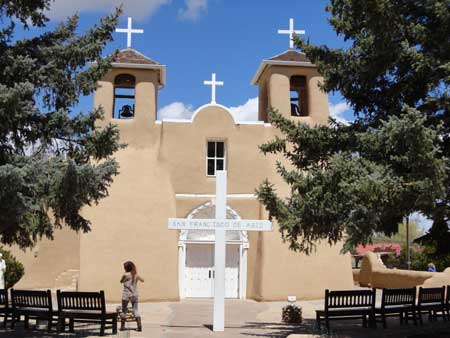 I know you're anxious to meet your new furry friend and keep your lunch date, but let's do a few other things first. Downtown Taos is small and very easy to explore on foot but there's a lot to see and do. If you choose to stay at the Historic Taos Inn during your visit you'll be centrally located at a place that's an attraction in and of itself; each room, done up in a southwest motif, has its own design and some of the rooms are (gasp!) said to be haunted. The place has a great restaurant in Doc Martin's where amongst the goodies on the menu is rabbit-and-rattlesnake sausage (yup, it's delicious) and there's also a watering hole that features live music every night. Just down the street is Michael's Kitchen, one of Taos' favorite eateries partially because of its large selection of fresh breads and pastries.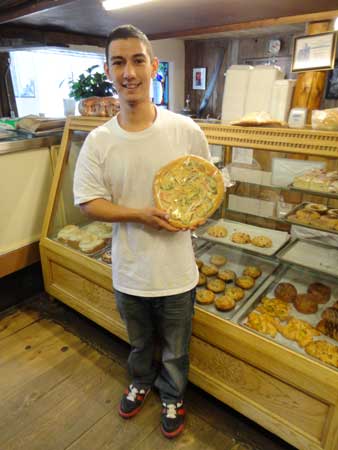 Kit Carson Park, where Carson is buried and where special events often take place, is on the block too. Walk across the street from the Taos Inn and you're in the shopping district, crammed full of more restaurants and shops selling all the things that represent the fusion of Mexican, Native American and Old West cultures that Taos is noted for. Taos also has bragging rights as an "artist's colony" and there are dozens of galleries offering fine art of every medium right in the downtown area and you can often meet the artists themselves in these places; photographer and longtime Taos resident Bill Davis has a large display of his work featured at the David Anthony Fine Art gallery and Kimberly Webber is usually on hand at Old World Fine Art to show you her trippy multidimensional fantasy scene paintings.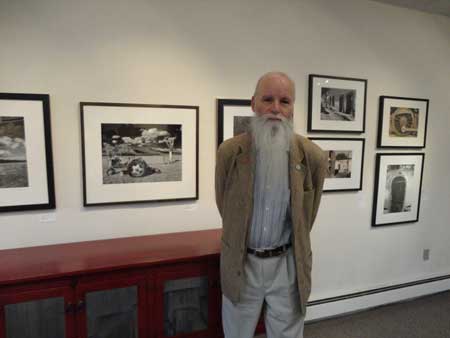 Taos has a little secret too and you can find out what it is at folk art shop Red Cat Melissiana. Taos has a network of underground tunnels running through the downtown area and over the years there's been a lot of wild speculation about what they were for (aliens made them!) but the truth is they were constructed in the 1800's to serve as a place of refuge from raiding Comanches. The tunnels have long been closed off, but in the basement of Red Cat you can open the doorway to the tunnels and peer into the mysterious darkness.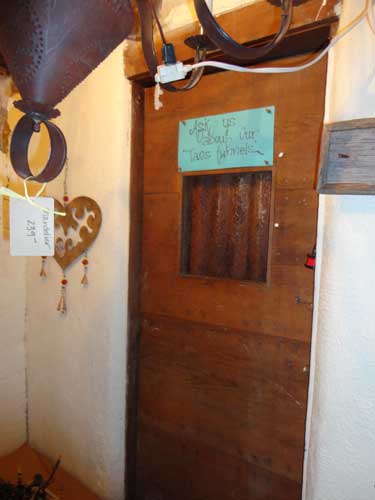 Wild Earth Llama Adventures is your llama connection in Taos and you'll need to set aside half a day to enjoy this super fun experience. The company offers various llama trekking tours but the most popular is the hike down into the Rio Grande Gorge from the Big Arsenic trailhead about 30-miles outside of town. At the trailhead is where you'll start to fall in love with the llamas as you get to give them handfuls of treats, pet them and learn their names (Rio, Zephyr and the rest are all males; the llama mamas get to stay at home.) There's a llama for every member of the hiking party and the llama train takes about 45-minutes to travel the mile down to the Rio Grande River, stopping on occasion for photo opportunities. The scenery is spectacular and some of the llamas are hams that know when their picture is being taken, or so it seems when you get an affectionate snuggle right when the photo is being snapped. The llamas are sure-footed so there's no problem in navigating the somewhat steep path (there's an approximately 800-foot change in elevation from trailhead to river) and they should always be behind you, so if your trail buddy tries to get ahead of you a gentle touch to the neck is a signal to back off a little. By the time you reach the river you and your llama will be good friends. Each llama carries a pack and they'll tote your extra gear for you (raincoats, cameras, etc.) along with jugs of drinking water for the hike back up and most importantly, lunch! All along the route your guide will point out animal habitats and native flora as well as explaining some of the area's history, and when you get to the riverbank you'll have an opportunity to taste wild mint and see bushes lush with juniper berries, the ingredient that flavors gin. While you relax at river's edge your guide will unpack a picnic lunch consisting of a healthy salad with all the toppings and the makings for turkey sandwiches: Boar's Head meat, artisanal bread and cheese and quality condiments. There's even some Blue Sky soda and cookies on hand for a burst of sugary energy to help you hike back up to the trailhead. Of course the llamas are having lunch too; they're satisfied with munching on the abundant plant life nearby. There are also some petroglyphs near the lunch spot; you can take about a 20-minute llama-less hike to see them after lunch or just hang out with the llamas before heading back to the top. Needless to say it takes a little longer going up, and if you get winded you can stop as often as you like and the guide will stay with the slowest person; lagging behind a little bit is actually a benefit because then you get to spend a few additional minutes with your new friend! The hike though is suitable for persons of any age in reasonably good shape. Back at the trailhead you can take last-minute photos and say thank you to your llama with a farewell handful of llama snacks. For fans of the outdoors and especially animal lovers llama trekking makes for a very memorable experience and there's probably no better place to do it than in the beautiful Taos area.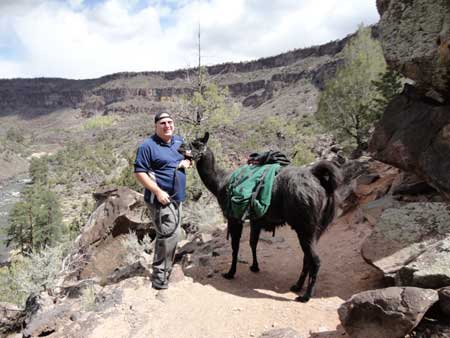 Okay, I know you're getting a little tired. But before you leave Taos, how about a trip to the Kit Carson Home and Museum, and a look at the San Francisco de Asis church, immortalized in Ansel Adams photographs and numerous paintings by Georgia O'Keeffe?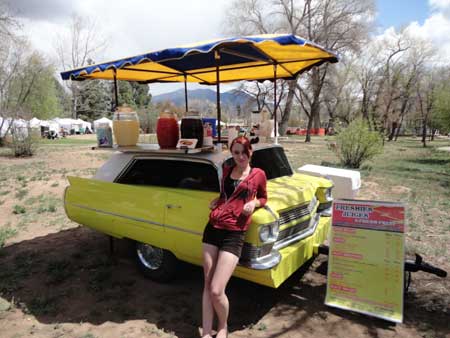 Or maybe you'd like to tour the Mabel Dodge Luhan house, once owned by actor Dennis Hopper, and stroll its labyrinth. There's the Harwood Museum of Art, the Blumenschein Home and Museum filled with works by Blumenschein and others who were based in Taos, and the Millicent Rogers Museum where you can see the phenomenal collection of turquoise and silver jewelry once owned by the late heiress. For a glimpse of how you might live in the future (and how you can, now) visit the Earthship Biotecture where you'll see ultra "green" and nearly self-sufficient homes with an otherworldly design. During your visit to Taos you'll find out that the locals, including the llamas, are a friendly and welcoming bunch. You may even get a benevolent boo out of one of those ghosts at the Taos Inn.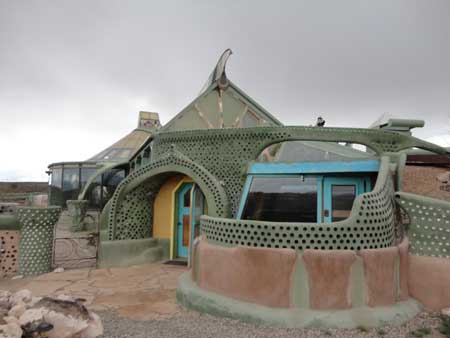 To help plan your trip to Taos visit www.taos.org

.

---
...end