Tall Ship Star Clipper Part 3: Antigua, Iles de Saintes and Guadeloupe


Let's wrap up our Caribbean adventure aboard Star Clipper with stops in Antigua, the rarely-visited Iles de Saintes and Guadeloupe. This particular itinerary is so packed with exciting destinations relatively close to each other that no "at sea" days are experienced; passengers will arrive in a different port every day. That means it's a good idea to look at the daily newsletter that'll be delivered to your cabin so you can keep up with what's going on shipboard and when it's happening. There'll be a couple of opportunities for the daring to climb high up into the ship's rigging (with a safety harness attached) to a "crow's nest" observation platform; this unique activity is limited in number of participants and must be booked in advance. The newsletter will also be a handy reference if you want to take part in things like morning gymnastics and workouts, water gym activities or attend one of the many "story time" sessions led by various crew members. No appointment is needed to get behind the wheel of the Star Clipper and steer her for a bit though; amazingly the ship has an open bridge policy and (with a few exceptions) passengers are welcome to add "sea Captain" to their resume at any time. As to meal times and after dinner entertainment; you'll get the hang of that pretty quick. All of this while you're fantasizing about the next island and the next adventure!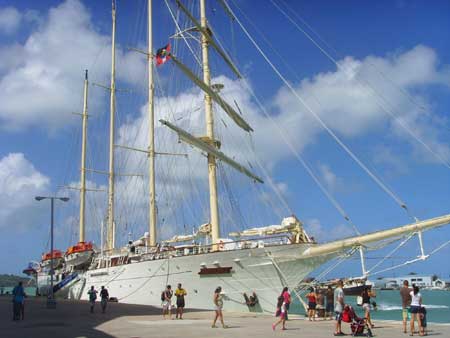 Star Clipper in Antigua
Shore excursions in Antigua, Guadeloupe and Iles de Saintes are quite varied. In Antigua passengers can take a snorkeling excursion, go on a canopy tour (zip lines) or participate in a yacht race (tons of fun!) For those who've done these things already or those that just want to see more of the island there's a three-hour jeep tour that goes through mountains clad in lush greenery, to Betty's Hope (former sugar plantation) and to a scenic overlook of Falmouth Harbor. The jeep tour also includes samplings of sugarcane and the delicious nectar that's made from it, rum. There is also a mini-mall of sorts near where the excursion begins that's well stocked with souvenirs of all sorts and inexpensive bottles of Antiguan beer.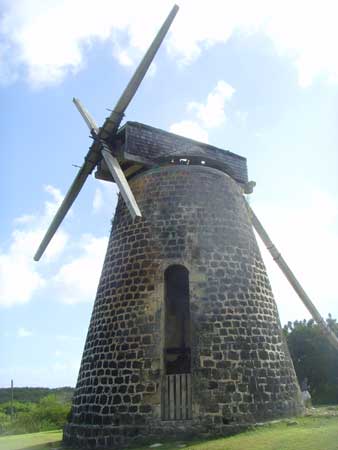 Sugar mill at Betty's Hope, Antigua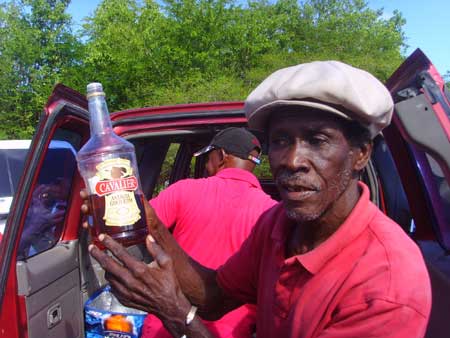 The rum man, Antigua
There are multiple choices for shore excursions on Guadeloupe as well but one of the most popular (be aware this one will sell out) adventures is a boat ride out to tiny Caret Island for a picnic lunch. The boat will stop at a reef for some snorkeling before reaching the islet; there excursion-goers will need to hop into the warm water and wade ashore, a precaution to keep the boat from running aground.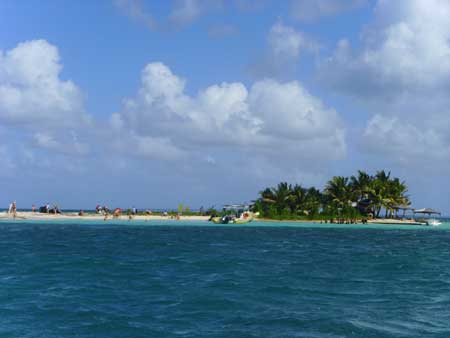 Caret Island. Guadeloupe
Once everyone is ashore the crew will start serving rum (and plenty of it) while preparing a lunch that includes freshly chopped coconut, chicken, sweet potatoes and other delights all sourced in Guadeloupe. Beachcombers will find lots of shells and coral pieces here as well. Lastly, the boat will cruise into a cove where mangroves grow and here you may see some local wildlife amongst the flora.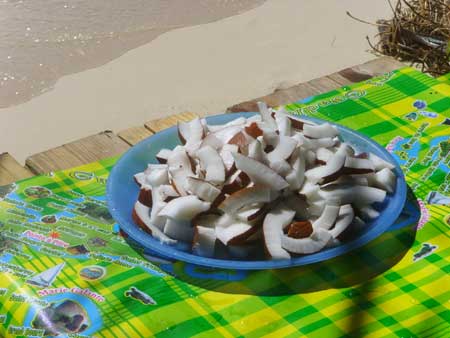 Fresh coconut on Caret Island, Guadeloupe
At Iles de Saintes, a multi-island possession of Guadeloupe, Star Clipper will tender at the sleepy fishing village of Le Bourg on the island of Terre de Haut. There are a few places in Le Bourg geared to tourists but you won't find pesky souvenir hawkers or dozens of souvenir stands here. The village is very small and it is quite pleasant to stroll among the homes and shops as the locals go about their business. There are lots of photo opportunities in Le Bourg ranging from a monument to the fishing industry to fishermen themselves to friendly produce vendors. If you'd like to go beyond the village there are places where you can rent bicycles or, more popularly, one of the island's ubiquitous scooters.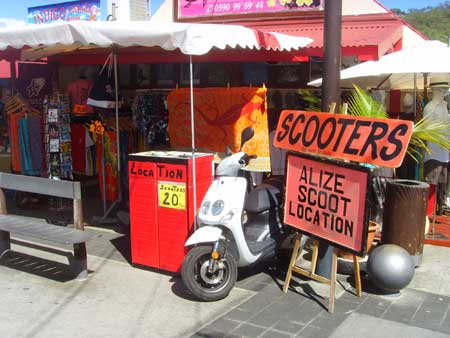 Scooters for rent on Iles de Saintes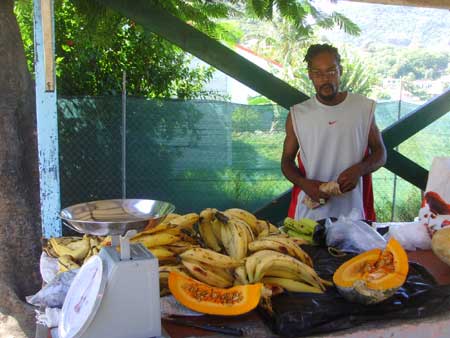 Fruit vendor, Iles de Saintes
Alas, all good things come to an end and before you know it your week-long Star Clipper sailing will conclude as she once again moors in St. Maarten. As previously mentioned, there's a post-cruise shore excursion you can take there should you have the time before your flight leaves. If not, you'll certainly be a happy camper (sailor!) as you head to the airport. And your journey home will give you plenty of time to dream about the next time.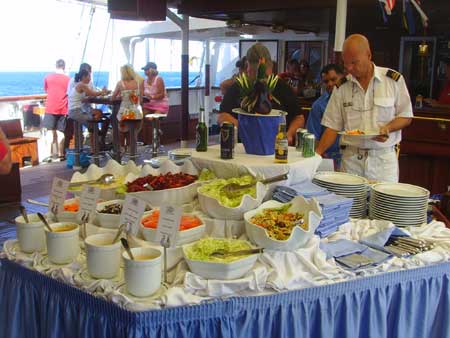 Happy hour aboard the Star Clipper
The Star Clipper is one of three tall ships operated by cruise line Star Clippers; the others are Star Clipper's twin sister Star Flyer and the larger Royal Clipper. Between them they offer sailings in the Caribbean, the Mediterranean, Costa Rica, Panama, North Africa and Spain and even ocean crossings. Cruises can be booked with a travel agent or directly at www.starclippers.com


.

---
...end