Sail Into Sunshine Aboard Tall Ship Star Clipper, Part 2: St. Barts


Normally when Star Clipper sails into a port she's the center of attention. But in the harbor at Gustavia, St. Barts she has a little eye candy competition as luxury yachts, albeit motorized ones, ring the city's marina. It's not unusual either to see huge yachts anchored offshore; when I arrived in St. Barts the palatial ship belonging to Roman Abramovitz, replete with helicopter and worth about a billion dollars, was anchored not far from the Star Clipper. It's no surprise that the owner of the British football team Chelsea FC was on island; St. Barts after all has a reputation for being a favorite destination for the wealthy and well-heeled. Fortunately the beautiful island also is very welcoming to those of us who have wallets that are a little bit smaller.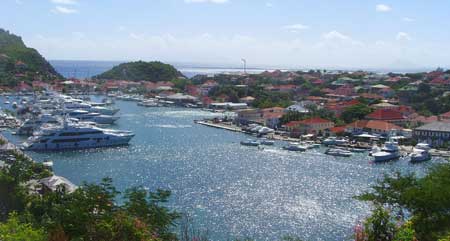 Gustavia marina
St. Barts is not touristy at all; you won't find vendors hawking trinkets at the marina or anywhere else on the island. There is however a well-staffed visitor information office right by where the Star Clipper tenders drop off passengers (tenders run every half hour here) and also a taxi stand where drivers can be hired to give you an island tour. St. Barts is very mountainous and the road out of Gustavia climbs rapidly; before you leave the city your driver will stop at an overlook where there's a great view of the endless Caribbean and the harbor far below.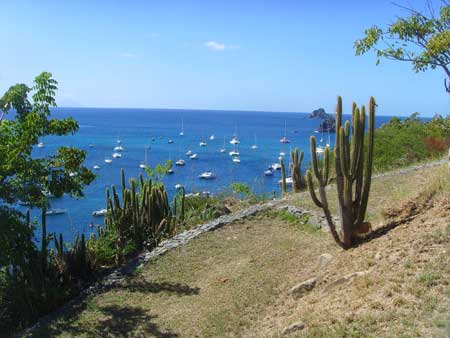 Scenic St. Barts
The road out of town also runs right alongside Gustavia's airport, famous for its single short runway where one end is carved out of the mountainside and the other ends in the water. Needless to say no jetliners fly here, small planes only, and if you're really lucky you'll get to witness a rather breathtaking spectacle as one of the flights lands. That's a prized shot for many photographers and if you'd like to try and capture the feat yourself you can always hang around at one of the small eateries across the street until the next plane comes in.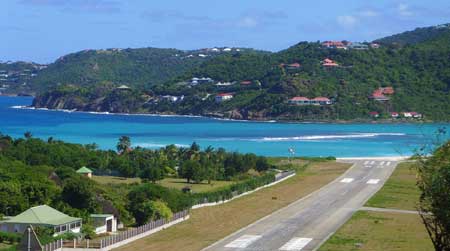 The famously short runway at Gustavia's airport
There's also an interesting cemetery across from the airport; the graveyard is very historic in that only longtime islanders have been buried there but most visitors will find that what makes the place unique is the eye-popping proliferation of colorful plastic (and some live) flowers that adorn the crypts and markers.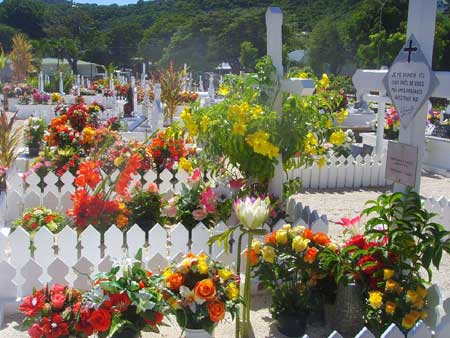 Cemetery in Gustavia
Once leaving Gustavia a tour will take you up into the green mountains where vast swathes of land are unpopulated and more or less untouched, and just when you think the scene can't get any more stunning you'll come to a place where you can see for miles out into the blue Caribbean. There are literally hundreds of such vistas along your route; if you want to get a photo just ask your driver to stop and he will accommodate so long as there's a suitable place to pull over. Of course the road goes down to the shoreline as well; you can stop and take a dip at any number of beaches like the small Gouveneur Beach where the incredibly debris-free sand is deep, warm and beckoning.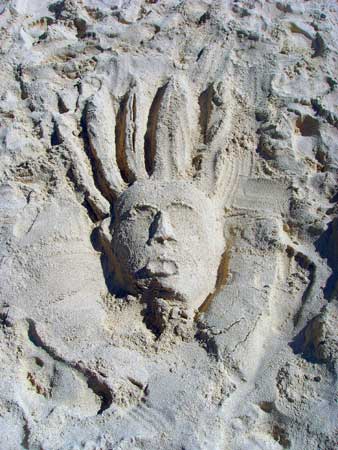 Sand art at Gouveneur Beach
If you're a fan of American reality TV you might want to stop for a drink and a look around at the Tom Beach Hotel, the place where the ladies of The Real Housewives of New York did some serious partying. In the unlikely event that you run into a construction zone along the way make sure to get a snapshot of the mobile stop light that's controlling the flow of traffic; it's the only one on the island. Most of these tours do not have a strict route to adhere to and the drivers aren't going to rattle off a bunch of facts that you may not be interested in; just give them an idea of what you want to see and learn about though and you'll have an unforgettable journey. Whether you're interested in flora and fauna, local architecture, the salt or fishing industries or the coolest resorts there's something for you. There's a nice museum in Gustavia too.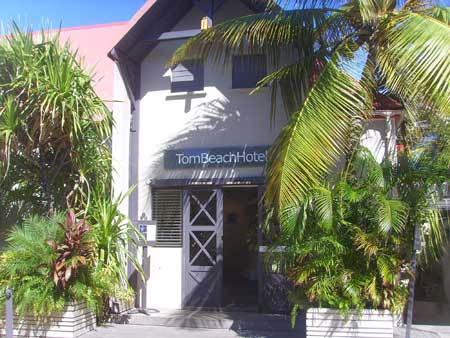 Tom Beach Hotel
When you return to the marina area of Gustavia there's a small upscale shopping area where there also are restaurants. St. Barts is very French and you can enjoy a full-on fancy French meal if you'd like but for the less adventurous palate there's a place where you can get mini-hamburgers of the Windy City Slider sort. Whether you eat here or not make sure to take a stroll along the row of slips; the variety of yachts is really something to see and you never know who you might meet.
Back on the Star Clipper one-man-band Tamas is showing off his accordion skills during happy hour, (later he'll be spinning disco tunes) a delicious dinner is being prepared, and the crew and passengers are thinking about the next island. Up next, the third and final part of our tall ship adventure finds us sailing to Guadeloupe, Iles de Saintes and Antigua.
For more information on St. Barts visit www.saintbarth-tourisme.com


.

---
...end