Roots N Blues N BBQ

There's no stopping it; when the calendar says that fun-in-the-sun season is over, it's over. But in Columbia, Missouri there's no sadness as summertime slips into autumn; in fact there's a huge farewell party in the form of the city's annual Roots N Blues N BBQ Festival, a three-day event featuring tons of good food and musical performances by the likes of the Black Crowes, Steve Earle, Mavis Staples and Johnny Winter. Formerly held in Columbia's vibrant downtown area, Roots N Blues took place this year in the city's pretty Stephens Lake Park, a venue that allowed festival-goers to stretch out on the grass for a day's worth of entertainment and eating. The park has more room too so everybody had plenty of space even when there were upwards of 10,000 people in attendance. That's a lot of BBQ!
The first day of the Roots N Blues N BBQ Festival in 2013 took place on Friday, September 20 and the barbecue (and beer, and soda, and…) was already flowing as Kansas City-based guitar firebrand Samantha Fish kicked off the concerts with a rockin' blues performance. Fish wowed the crowd with a set that included "Go to Hell," "Foolin' Me" and "Lay It Down" from her new album Black Wind Howlin' and also played a scorching version of Howlin' Wolf's "Killing Floor."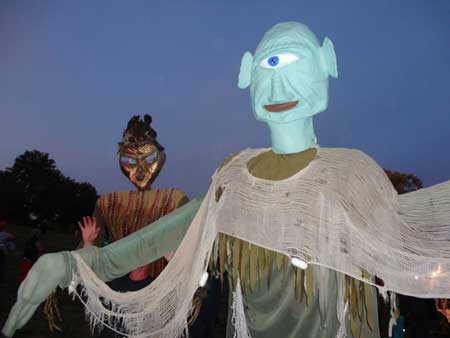 Performances were presented on two stages and the music was more or less non-stop; Steve Earle & the Dukes followed Fish on the big Missouri Lottery Stage and John Hiatt & the Goners, opening their set with perennial favorite "Drive South," closed out the night. Over on the Shelter Insurance Stage shows by Keller Williams with the Travelin' McCourys, ZZ Ward and Nikki Hill kept the audience rapt and dancing. Ward in particular struck a chord with the crowd, winning new fans as she detailed the heartbreak that led her to write "Last Love Song," a downbeat highlight from her hit album Til the Casket Drops.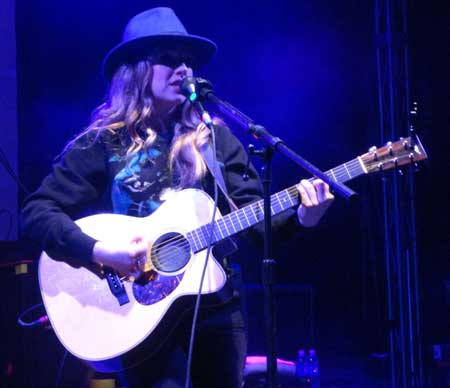 ZZ Ward
The area between the two stages was where the many food vendors were lined up, putting festival-goers in the delightful predicament of having to decide what to eat. The festival's namesake food was in abundance and everywhere you looked people were munching on ribs, barbecued chicken, pulled pork sandwiches, grilled sausage and much more. Columbia's own Lutz's Famous BBQ was a favorite stop where many patrons purchased a side of freshly cooked homemade potato chips to go with their meal. Those in the know got in on Lutz's pulled pork nachos on this first night; the delectable goodies were sold out by festival's end.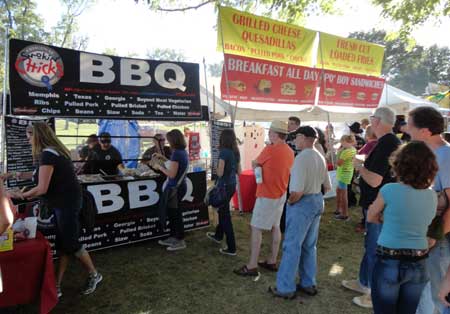 Saturday the 21st turned out to be a beautiful day weather-wise and all sorts of creatures came out to Roots N Blues to play. And I do mean all sorts! Mushrooms danced through the crowd, Gumby was on hand, and even a couple of giant "aliens" couldn't resist stopping by. Hot air balloons flew overhead, a troupe of young ladies in costume showed off their Hula Hoop-ing skills and the youngest festival goers took a ride on the Ferris wheel. Mark Mahnken of Missouri Legacy Beef was tempting all comers with free samples of his wares, Felicia Leach of Leroy Fishstix design and print company was on hand with one-of-a-kind Roots N Blues clothing items and the festival merch table was buzzing with excitement as folks browsed the CDs, T-shirts and unique items (a Johnny Winter bobblehead doll!) that were on sale.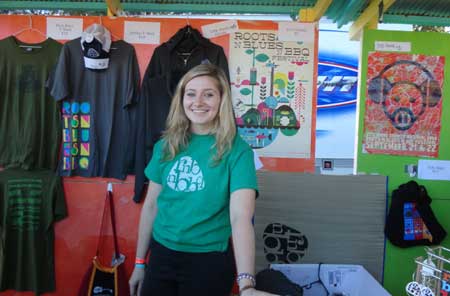 Then of course there was the music, a very strong line-up featuring electric bluesman Dale Watson (voted the festival performer with the best hair), elder statesman of rock and blues Johnny Winter, Bela Fleck & Abigail Washburn and hot indie band Phosphorescent. Wrapping up things for the night were Blues Traveler, the much-revered Alejandro Escovedo, Trombone Shorty & Orleans Avenue and stars the Black Crowes. The last few acts had to share the spotlight with another big "star" as the clear but darkened skies revealed that, huge and orangey, Mr. Harvest Moon was also in attendance. Also appearing earlier in the day were the Bel-Airs, the Hatrick, Chump Change, Some Train Yard and the Pines.

Johnny Winter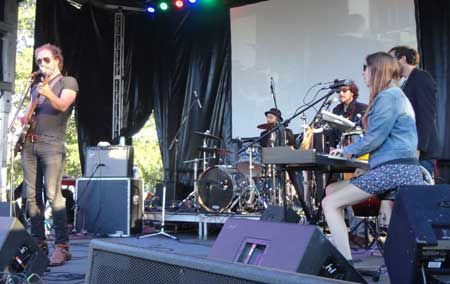 Phosphorescent
Summer was officially over when the festival began on Sunday the 22nd with a Gospel brunch show that featured Music Maker Revue warming up the crowd for the legendary Mavis Staples. Staples played a buoyant set, alternating gospel numbers like "Wade in the Water" with soulful covers of secular tunes like the Band's "The Weight," universally putting everyone in a jubilant mood. Sixties-referencing band Vintage Trouble took Staples' cue and ran with it as they played a raucous 90-minute set that proved to be the day's favorite for dancers. Jamaican mainstay Jimmy Cliff closed out the festival with a set of reggae and ska tunes, including a long, percussion-heavy take on "Rivers of Babylon." TJ Wheeler, the Peter Parcek 3, big and brassy Mudcat and Bocomo Ramble also took the stage throughout the day.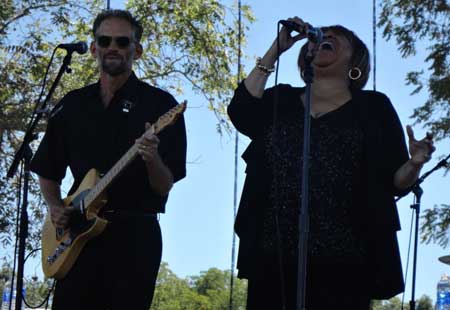 Mavis Staples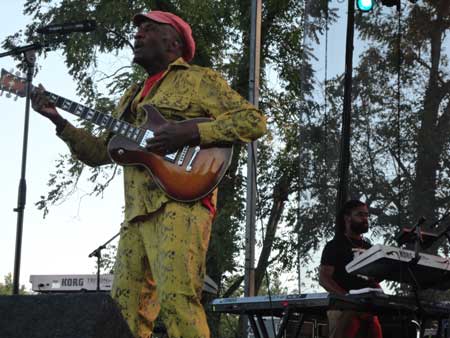 Jimmy Cliff
Tickets to Roots N Blues N BBQ were available by the day but many festival goers chose to purchase the Whole Hog ticket, A V.I.P. pass that provided entry for the whole shebang and that came with lots of perks like access to special viewing areas, food, use of private port-a-potties and rides on golf cart shuttles that ferried passengers from one stage to the other and from the festival gates to the V.I.P. tent. But clearly everyone in attendance felt like a V.I.P.; you could tell from all the enormous smiles. Available separately for a small fee, attendees could purchase a pass good for unlimited shuttle bus rides to the festival from Columbia's downtown area and numerous hotels. If you'd like to join the fun next year, information on the 2014 festival will be posted at www.rootsnbluesnbbq.com
Columbia is a fun loving town where there always seems to be plenty going on. For information on other events and for help in planning your visit, stop by www.visitcolumbiamo.com

.

---
...end