Bowled Over By Reno

Some of the pleasures of the Reno area are well known; the city's casinos put dollar signs in the eyes of gamblers dreaming of taking home a jackpot as rich as the fabled Comstock Lode and those who love the outdoors figure they've struck gold when they arrive at Lake Tahoe. But those activities just scratch the surface of the fun to be had in and around Reno where there's a little something for fans of vintage automobiles, a great place for train lovers, a challenge for athletic types and a place that'll simultaneously delight fans of the historic West and rock'n'roll. And yes there really is something that'll really bowl you over.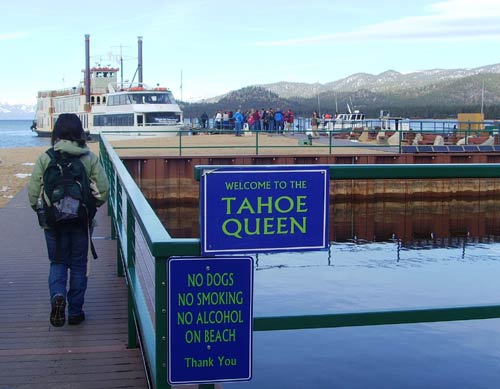 A visit to the Reno area isn't complete until you've seen Lake Tahoe, about an hour's drive away from the city. The journey to Tahoe is an extremely scenic one as the highway winds through heavily forested mountains and once you get to the crest you have an incredible view of Lake Tahoe stretching out below. The lake is shared by Nevada and California and in Stateline on the Nevada side you'll find the Heavenly Ski Resort, the most popular place in the Tahoe area to take to the slopes. The place couldn't be better named; for proof just take the gondola up to the observation platform for a panoramic view that's, only partly due to the altitude, breathtaking. Skiers and snowboarders are in paradise here but there's also plenty to do at Heavenly for anyone not playing in the snow; browse the shops of Heavenly Village, have a meal at Fire + Ice where you watch while your meal, consisting of fixin's that you've personally selected is sautéed to perfection on a giant griddle over an indoor fire pit or kick back at the Tamarack lodge where the Heavenly Angels go-go girls perform. And fairly close to Heavenly at the Ski Run Marina you can hop aboard the Tahoe Queen paddle-wheeler for a 2 ½ hour cruise on Lake Tahoe. The Tahoe Queen has two decks so you can enjoy the scenery from inside or outside and the ship also has lunch items and drinks for purchase during the narrated cruise. The ship's relatively slow pace on the placid waters make for a very relaxing experience. www.skiheavenly.comwww.tahoesouth.com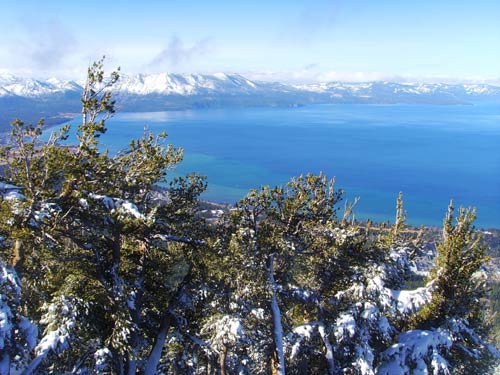 View From Heavenly
Another day trip jaunt out of Reno is to Virginia City where many shops, eateries, and drinking establishments are steeped in fabulous 19th century history. In those days Virginia City was a boomtown built around the rich Comstock Lode that yielded over $400 million in gold and silver before it played out; to give you a better idea of the money that was flowing, that $400 million would be equivalent to 20 billion bucks today. The television western Bonanza was set in this era and the (fictional) Cartwright clan's Ponderosa ranch was situated near Virginia City. When the show's characters would ride into town you'd often hear them talking about going to have a drink at the Bucket of Blood Saloon, originally opened in 1876. An incarnation of the bar still exists today; in fact the joint is sort of the unofficial town hall of Virginia City so not only can visitors quench their thirst where Hoss and Little Joe did, they can also find a good assortment of locals here. You might notice that some of those locals seem to have stepped right off the pages of a history book, and that's the idea behind the Living Legends that you'll see all over town. The Living Legends are a group of locals that mingle throughout the main tourist area, clad in authentic period garb. Dressed as saloon girls, lawmen, grizzled prospectors, soldiers and other assorted characters these folks are happy to pose for photos and each one of them is also very knowledgeable about the lore, legends and myths of Virginia City so hit them up with all your questions.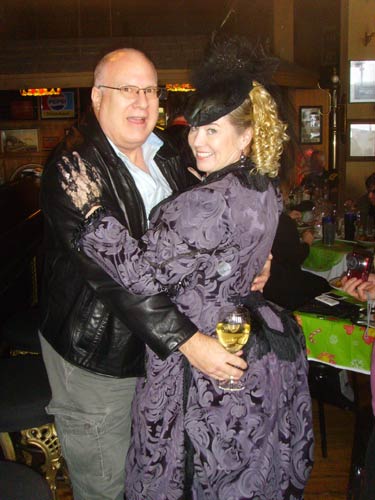 Another interesting aspect of Virginia City is that Mark Twain at one time worked for the local newspaper and you can investigate that and much more by making stops at the Twain Museum, the Way it Was Museum and several other repositories of local history. There's also a trolley ride tour that takes riders beyond the saloons and storefronts of the main drag where the guide will point out places where bonanza-era saints and sinners took refuge (churches and brothels respectively.)
And for a taste of a different kind of history, fans of rock'n'roll can mosey into the Red Dog Saloon, the place where Janis Joplin first appeared on stage with Big Brother & the Holding Company, the first step in what proved to be her journey to stardom. Hippies from San Francisco took quite a liking to Virginia City back in the mid '60s and lots of Bay Area bands, including the Charlatans, Jefferson Airplane, the Family Dog, Quicksilver Messenger Service and It's a Beautiful Day came over to play at the Red Dog. Today the Red Dog is a popular place to have pizza and beer and they still have live shows in the evening and sometimes musicians who performed there back in the day show up to reminisce. Walls full of posters, photos and flyers from the era let visitors do the same.www.visitvirginiacitynv.com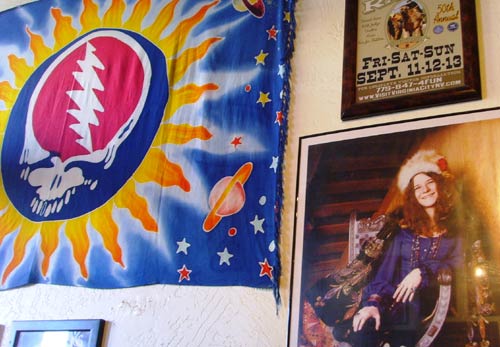 Virginia City is only 26-miles from Reno and the shortest route there takes you through Carson City, Nevada's capital city. Train buffs will want to stop in Carson City at the Nevada State Railroad Museum where they have more than 65 locomotives and cars on hand. And these are not just any old railroad cars; most of the displays are from the Virginia & Truckee Railroad line or other railroads with deep connections to local history. And yes, you can take a ride on a choo-choo; an old-fashion locomotive chugs around a short loop multiple times on most days, carrying riders in style in a vintage railroad car.
The city of Reno itself is full of fun places to go beyond the gaming circuit. At the National Automobile Museum you can walk through room after room of vintage cars holding all the makes and models you'd expect and then some.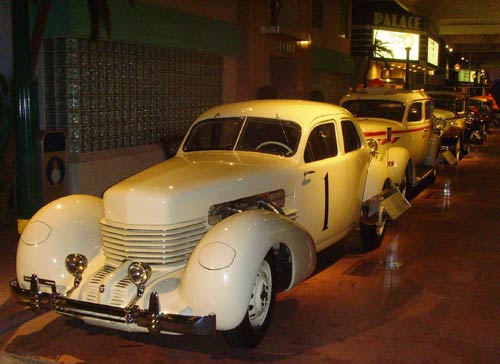 A 1938 Phantom Corsair is on display; the black and futuristic-looking (for the time) car was a failed venture of the Heinz family of ketchup fame. There's a 1971 replica of a 1935 Duesenberg that was once owned by Rat Pack member Sammy Davis, Jr. and amongst the myriad Mercers, Stanley Steamers and Hupmobiles you'll also find unique pieces like the odd-looking Dymaxion and a tricked-out hotrod assembled by the legendary custom car builder and Rat Fink creator, Ed "Big Daddy Roth." Car Collector magazine picks the spot as one of the Top 10 auto museums in the country and that's likely an understatement.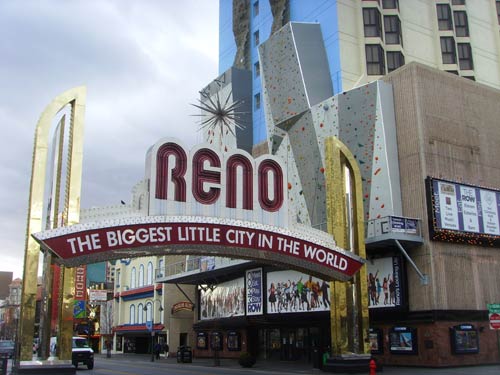 CommRow
Another popular spot in Reno is CommRow, a recently-revitalized entertainment district right near (one of) the city's famous "Biggest Little City in the World" arches. The showpiece for all of CommRow is the world's tallest climbing wall, a 164-foot structure on the outer wall of world-class climbing facility BaseCamp. The brave and talented can strap into a safety harness here and climb up as far as they dare. There are also a couple of short climbs for beginners outside, and inside BaseCamp there are some "easy" climbs where you don't need a harness; lose your grip on these and your impact is cushioned by thick padding. The concert and clubbing scene is also a big part of the fun on CommRow.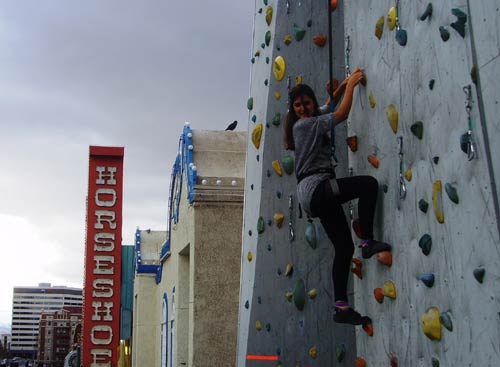 And I promised something that would truly bowl you over; how about a visit to the National Bowling Stadium? Yes, I said 'stadium;' there are a whopping 78 championship lanes here! This is where many of the top bowling competitions take place and many of these events are not open to the public. There are however events and occasions where the lanes are open to the public (info is on the Visit Reno/Tahoe web site) and there's also a very nice museum that has some amazing memorabilia that is open to all. Strike!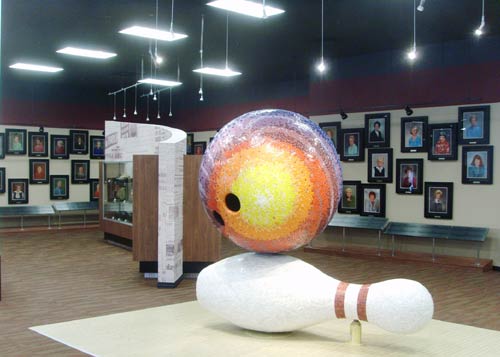 I stayed at John Ascuaga's Nugget while I was in Reno. The Nugget has good and reasonably-priced rooms and even if you don't stay there you might want to stop in and have a look at the solid gold rooster on display in the lobby. It's just one of many things that Reno has to crow about.
www.visitrenotahoe.com
www.travelnevada.com
www.facebook.com/travelnevada

.

---
...end