Ireland

Irish Dream: Emerald Isle Adventure Exceeds Expectations
It's that joyful time of year again! Time to dust off your "Kiss Me I'm Irish" T-shirt and head out on the town for a couple of Guinness and a plate of corned beef and cabbage. We'd kiss you if we could but instead let us offer you a dream of Ireland this St. Patrick's Day in the form of a second helping (we first published this in 2009) of travel editor Kevin Wierzbicki's feature about his visit to the southwestern part of the Emerald Isle including the gorgeous Ring of Kerry area. And we promise --- even with a mighty effort Kevin wasn't able to drink up all the Guinness while he was there. There's still a cold pint or two waiting so follow the link at the end of the article and you'll find some very helpful information to aid you in planning your own trip to Ireland. Sláinte!
It's common to hear people talking about their dream vacation. And while that phrase has a wide and varied meaning you can almost take it literally if the journey in question is to the charming green world known as Ireland. How can you not feel like you're dreaming when you're in a land where castles dot the landscape, where traditional acoustic music floats on the daily breeze and where a frosty glass of Guinness awaits at the close of every day? Of course an Irish experience offers a lot more than these things but they're a pretty good start to a dream don't you think? Whatever your concept of what Ireland might be like, the chances are that you'll find the country far more intriguing than you thought. I know that was the case when I spent a week exploring the southwestern part of the nation.
You probably already know (I hope you do!) that there are no such things as leprechauns. Amazingly enough, according to Will, my tour guide on this trip, there are actually people who come to Ireland expecting to see the "little people!" I'm usually not a big fan of organized tours, preferring instead to explore on my own, especially in an English-speaking country. But Ireland is so rich in culture and so full of nuance that you just flat-out miss a lot of stuff if you go out on your own and Will proved not only to be a great guy full of Irish wit and vinegar but also an extremely knowledgeable guide. On my first day in country, after arriving at Shannon airport and finding accommodations in nearby Limerick, Will took me to see the city's very gothic-looking St. Mary's Cathedral where the adjacent cemetery is filled with grave markers composed of somber but beautiful Celtic crosses.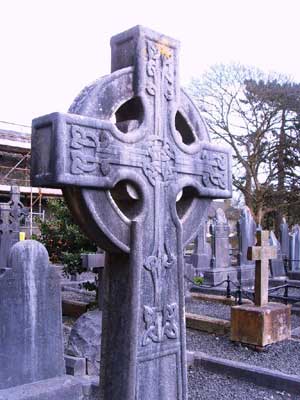 We also took a drive outside of town to a lesser-visited stone circle at Lough Gur where cows grazed placidly in the meadow next to the ancient ritual site.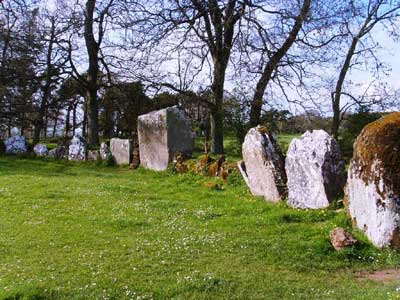 Back in Limerick we finished off the evening at a pub near my hotel, listening to traditional Irish music and emptying a few glasses of Guinness. Hearing music in an Irish pub is a very warm and intimate experience; the performers just sit themselves down at a table, order a drink and begin playing. There really isn't a better way to cap off an evening and all you have to do to find this anywhere in Ireland is walk down the street. If one pub doesn't have music chances are the next one will.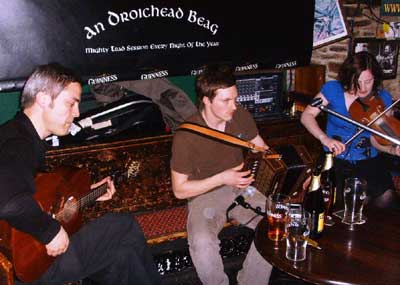 The next few days held one amazing surprise after another as Will showed me around southwestern Ireland, beginning with the Gallarus Oratory, a small, well-preserved church that dates back to about 700 AD. The church was a place of worship for the area's Christian farmers and it is almost unbelievable that you can still enter the building today especially in light of the fact that the masonry is held together without the benefit of any type of mortar.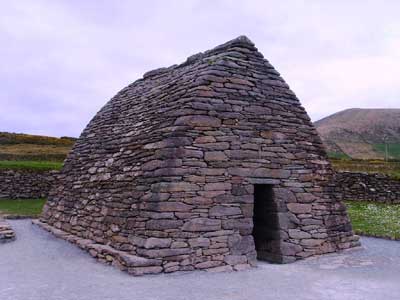 Gallarus Oratory
Gallarus Oratory is located on the scenic Dingle Peninsula, also the location of our next stop, the Blasket Centre in the village of Dunquin. Blasket Centre is a museum with many interactive exhibits that's located right on the tip of the Dingle Peninsula and that celebrates the rich history of the Blasket Islands that lie just offshore. The Blaskets are particularly known for having produced famous authors including Maurice O'Sullivan, Tomas O'Crohan ("The Islandman") and "The Queen of Gaelic Storytellers," Peig Sayers. The museum's exhibits are extensive and lots of fun so a visit here can take up the better part of a day but enthusiasts will want to book a boat trip out to the islands themselves if the weather allows (the sea here is notoriously rough and safety concerns often make the journey impossible.) Another thing to watch for along the Dingle Peninsula is "beehive huts;" ancient stone huts that were once occupied by monks. Like lots of historic buildings in Ireland, most of these are on private land. So while you can view and photograph them from the roadside it may be necessary to pay a small amount to the landowner to get up close. This is another benefit of traveling with a knowledgeable guide like Will---these guys know the best places to stop to get pictures and also keep you out of any trespassing trouble.
In the Killarney area we visited Crag Cave where we saw thousands of unique crystalline formations forty feet underground, took a leisurely jaunty cart ride (horse-pulled buggy) through Killarney National Park where the popular attraction Muckross House is located and of course hit a pub in the evening where we listened to traditional music played by a three-piece group called Sunday After Mass.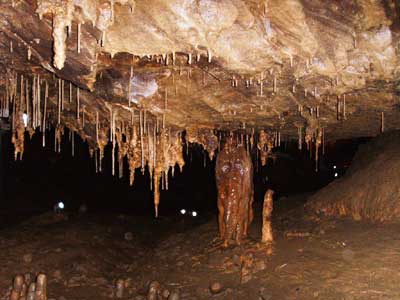 Crag Cave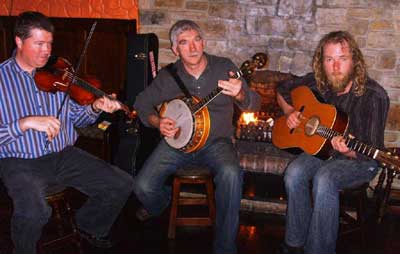 Sunday After Mass
We spent a full day touring the famous Ring of Kerry; that's a ring road that circumnavigates the scenic Iveragh Peninsula and that goes past such famous places as the mountain range known as McGillicuddy's Reeks, Cromwell's Bridge and a Druid's Circle in tiny Kenmare. All along the twisting route you have spectacular views of the sea or green rolling hills dotted with fluffy sheep and cute lambs, castles nestled into every nook and cranny and picturesque villages lanes lined with unique shops and pubs. This area is a good place to shop for the woolen goods that Ireland is so famous for. We'd later find our way north a bit to County Clare where we drove through an area known as The Burren; it's a beautiful but harsh landscape where craggy limestone formations make any type of off-road travel all but impossible.
County Clare is also home to another of Ireland's most famous spots; the Cliffs of Moher. The view at the cliffs is nothing short of breathtaking as the coast of Ireland gives way to the Atlantic Ocean with a sheer 700-foot drop. There's an interpretive center at the cliffs with a nice place to have lunch or a snack and there are also lots of booths set up near the center where you can buy souvenirs of varying quality and price.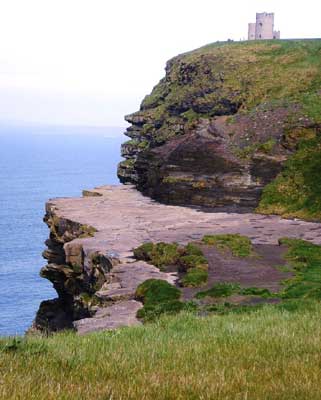 The finishing touch to my Irish adventure occurred over a couple of days in the Galway area, walking it's historic streets and learning about the local culture (Galway hookers are not what you might think…they're fishing boats!) and driving through the gorgeous Connemara area where Will showed me Cnoc Suain where they have a functional recreation of a traditional Irish village complete with a performance spot where we listened to traditional music played by women musicians.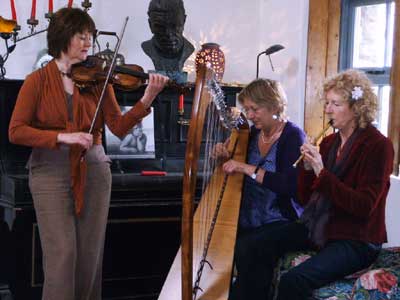 And for the grandest finale you could ever imagine, we stayed at the plush Ashford Castle (built in 1228 and once home to the Guinness family) where the halls are lined with suits of armor and other relics of days gone by. Ashford Castle is home to the Ireland School of Falconry and to top-off my stay I spent an afternoon taking a falconry lesson where I got to handle stern-looking Harris hawks and take them on a hunting expedition in the woods. You don't have to stay at the castle to take advantage of the falconry class and I can't recommend this experience enough---you'll never forget having one of these magnificent birds perched on your arm! An Irish dream indeed!
Everything I've mentioned is just a fraction of the many things to do in the southwestern part of Ireland. The country is geared to tourism and more importantly to offering authentic experiences; you won't find a lot of hokey tourist traps in Ireland. And if you travel with a guide like Will (ask your travel agent or Discover Ireland) you may even end up an expert limerick writer! To plan your trip visit: www.discoverireland.com

.

---
...end