Geneva- Having Fun with Science!

Sometimes very big things spring from something small and such is the case with the tiny Higgs boson particle. The existence of the Higgs boson, the so-called "God particle" that simply defined has to do with why things have their given mass has recently been confirmed by scientists working at CERN (European Center for Nuclear Research) in Geneva, Switzerland. The confirmation of the minute particle means that the brilliant minds ensconced at CERN will be working on scientific advancements that will eventually benefit us all and even though this type of facility doesn't seem like it would be available to the general public, you can actually take a fun and informative tour of the place as part of your personal discovery of Geneva. But having fun with science is just one of the things to do in the cosmopolitan city.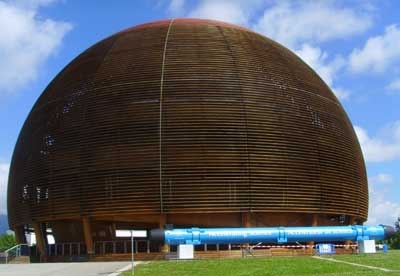 Cern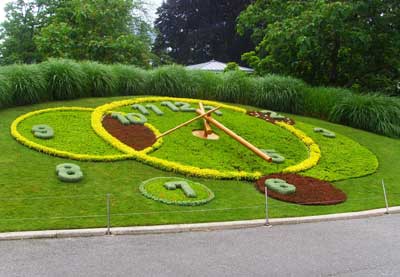 Like many cities all over Europe, Geneva is steeped in history; in fact Geneva is Switzerland's largest historic city and with 2000-years under its belt there's plenty to keep a real history buff occupied for a long time. To get just a taste though, a walk through "old town" is recommended. Old town is home to St. Peter's Cathedral, the place where John Calvin sermonized in the 16-century; the beautiful building is a great place to take a memorable souvenir photo. Also in old town is the Reformation Wall, a tribute to the leaders of the Protestant Reformation featuring towering sculptures of Calvin and his peers. And just off a small, charming square where concerts are sometimes held is the Alabama Room, the place where the famous Geneva Convention was signed. And so it is in old town; look anywhere and there's something historically significant. But a stroll through this picturesque part of Geneva is fun even if you don't care about history in the slightest; boutique shops and sidewalk cafes populate every nook and alley, making old town a good place to have lunch while being serenaded by street musicians, chat up the locals or just sit and people watch.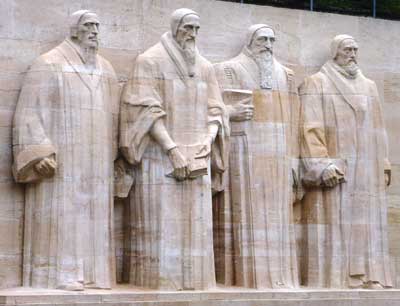 Reformation Wall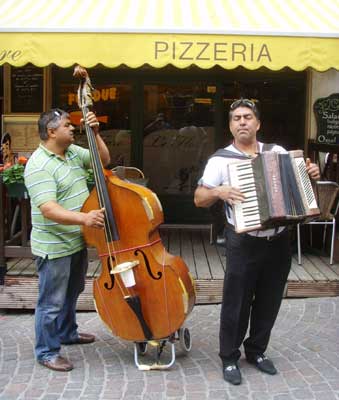 Street Musicians
Geneva's downtown area hugs the shoreline of Lake Geneva and the sparkling water makes this part of town another favorite for locals and visitors alike. There's a lakeside promenade here, allowing for leisurely strolls past ice cream stands and excellent views of the Jet d'Eau, the city's famous water fountain. The Jet d'Eau sits out in the lake and blasts water 450-feet into the air and if you don't mind getting a bit of a free shower there's a walkway out to it. Another good way to see the fountain is to take a cruise on Lake Geneva; there are various options for this but every cruise will sail close enough to the fountain that again you may get that free shower. Lake Geneva also has a fleet of water taxis so if you get tired walking along the promenade you can always hop on the boat; they generally run every ten minutes.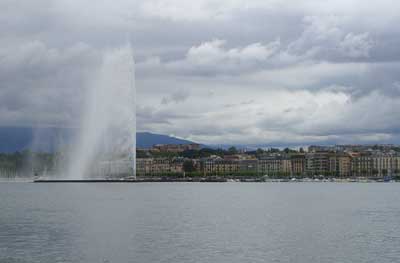 A bit further into the city is Geneva's diplomatic zone where various countries have their embassies and where you can take tours of places like the Red Cross and Red Crescent Museum and the European headquarters of the United Nations. You may even run into a diplomat or two on a tour of the U.N.; someone like Kofi Annan could very well pass you in the hall during your tour and if meetings are in session you can watch the diplomats at work from special viewing areas. Otherwise you'll see things like ornately-decorated chambers, artwork from around the world and historical artifacts as you learn about the inner workings of this branch of the U.N. The U.N. complex is actually sovereign territory and if you want to mail a postcard from here you'll need to use a United Nations stamp and not a Swiss stamp; you can buy this unique postage and lots of other cool items in the gift shop. Guided tours here last about an hour.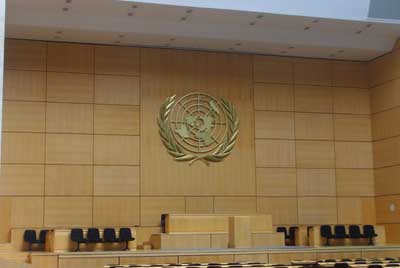 And finally, some fun with science! CERN is not far from Geneva's city center but is located on the outskirts of town so you'll need to take a taxi, bus or train there. Of course you cannot go into the giant Hadron Collider, the massive underground particle accelerator where the Higgs boson was discovered as part of the Atlas experiment, but you can go into the Atlas visitor center that sits squarely atop of portion of the Hadron. Tours are given by young scientists involved in the project and they'll give you knowledgeable answers to your questions as you stroll through viewing areas and after you see an informative film. The adjacent museum has displays dating from the current day all the way back to CERN's inception, and best of all there's a large hands-on interactive section. This part of the museum is kind of surreal; the room is dark and lit mainly by individual displays that are presented in glowing orbs that give you the feeling that you're actually walking amongst an array of the tiny particles that CERN scientists are investigating.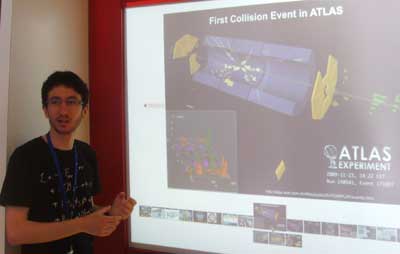 Getting around Geneva is not difficult; you can wander freely and not have to worry about getting lost. Buses and trains run with Swiss precision and every hotel in the city will give you a Geneva Transport Card upon check-in; it allows for free passage on public transportation including the water taxis.
To plan your trip to Geneva visit www.geneva-tourism.ch and www.myswitzerland.com

.

---
...end