Good Water, Bad Nauheim! - Germany's City Of Health (And Elvis)

You've heard the old saying "there must be something in the water" and in certain places, like the city of Bad Nauheim in Germany's Frankfurt Rhine-Main region, the adage rings completely true. Bad Nauheim is one of Europe's most famous "spa" cities and the reputation of its healing waters has drawn princes and potentates, lords and ladies, sheiks, kings and common folk from every corner of the world. Today Bad Nauheim has grown into a well-rounded and important center for medicine and the healing arts and those wishing to bathe in local mineral waters can still do so. But many visitors are satisfied simply to see where the magic used to take place, which is in the bath houses located at the Sprudelhof, where some rooms were reserved just for royalty. Speaking of royalty, Bad Nauheim also has a connection to the King of Rock'n'Roll, Elvis Presley.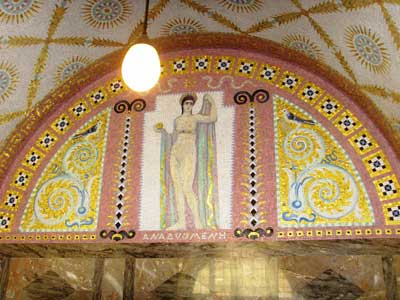 The Sprudelhof is a complex of buildings set around a beautiful courtyard with a large water fountain serving as a centerpiece. Here are Bad Nauheim's most famous bath houses, no longer in operation, where luminaries like Franklin D. Roosevelt and General George Patton came for mineral water treatments. With smaller fountains and a water motif throughout, the Sprudelhof seems to cast a relaxing spell over visitors even before they step into the historic bath houses where some rooms are rather quaint and some, used only by the rich and famous, are lavishly tiled and feature fabulous mosaics. Tour guides explain how the tubs were filled directly from the underground springs while regaling visitors with stories of famous (and infamous) bathers. They'll tell you too about the endearing architectural style used in the construction of the buildings; the German version of Art Nouveau known as Jugendstil is on full display at the Sprudelhof. In fact the Sprudelhof is one of the best representations of Jugendstil anywhere in the country.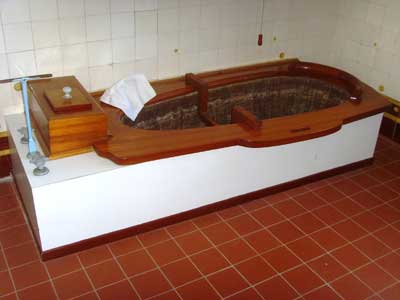 After touring the bath houses at the Sprudelhof you may very well want to take a healing dip yourself and there are many modern facilities offering that opportunity elsewhere in Bad Nauheim. But there are a couple of other things relating to healing waters that visitors to Bad Nauheim should do and one is to taste the mineral water. This you can do at a drinking cure complex called the Trinkkuranlage.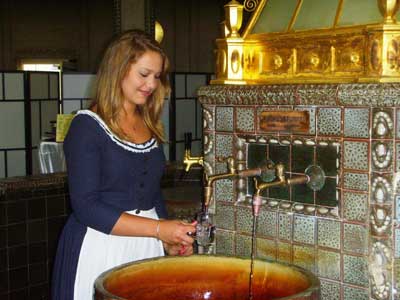 The Trinkkuranlage sits on a spot where the healing water still can be drawn directly from its source up to a tap in a room that looks, not surprisingly, like a beer hall. Here a fraulein dressed as she might have been 100-years-ago will serve you a small glass of the water which has a heavy but not unpleasant mineral taste. During actual treatments patients would partake of much of this water but some say they feel a little livelier after just one glass.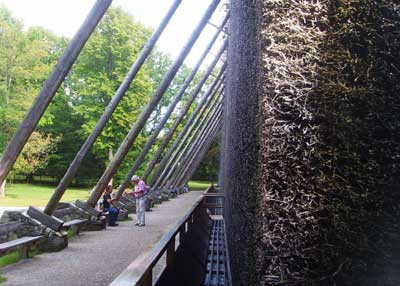 Another place not to miss is the Inhalatorium, a tall outdoor structure covered with twig-like botanical matter that's constantly marinating in the healing waters. The Inhalatorium is constructed as an arch of sorts and you can walk through it or just alongside it to garner the benefits it offers; here you breathe in the water as it turns to mist as it evaporates. Now that you're feeling at the top of your game, how about a little rock'n'roll? Well, rock'n'roll history.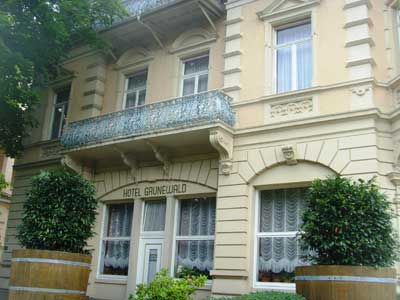 Elvis lived here!
Most Elvis fans know that Presley had to take a little time off from being the King of Rock'n'Roll when Uncle Sam called him into military service. In October of 1958 Elvis was stationed in Bad Nauheim and fans today can take a self-guided walking tour to places like the spot where he first met his future wife Priscilla, to the barber shop where he got his hair buzzed off, to the store where he purchased his preferred smokes (Tiparillos) and even to the bakery where his 24th birthday cake was made. There's a nice monument to the King outside of the Hotel Grunewald, a place where Presley lived for awhile until some shenanigans got him kicked out. It's said that Elvis was well behaved during his stay at the Grunewald but some of his buddies pushed a flaming piece of paper under his door and into his room; needless to say hotel management didn't take the prank lightly. The room Elvis stayed in has been kept in its original state but the current owners of the hotel use it as a private residence and visitors are not allowed inside. Besides the highlights and markers throughout town, Bad Nauheim also honors Presley with the European Elvis Festival every summer.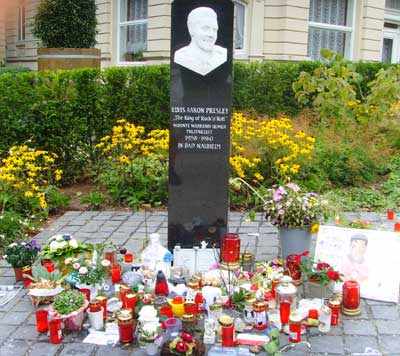 Bad Nauheim is a relatively small city and much of what you'll want to see is easily accessed on foot. For a panoramic view of the city, take a taxi up to the restaurant called Johannisberg; there you can enjoy the scenery while sipping a cocktail al fresco, or even better, go inside and watch the sunset over a nice dinner.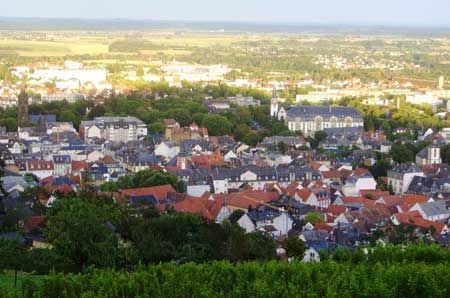 View of Bad Nauheim From Restaurant Johannisberg
www.bad-nauheim.de
www.frankfurt-rhein-main.de

.

---
...end