Texas Top To Bottom Part 2: In The Middle - Popping Into Waco: Be a Pepper!

I'm a pepper, he's a pepper, she's a pepper; wouldn't you like to be a pepper too? It may not be easy to describe the taste of Dr. Pepper soda but it sure is easy to get the brand's jingle stuck in your head. Charles Alderton invented the drink about 125 years ago in Waco, Texas, and one of the fun things to do in the city is spend some time at the Dr. Pepper Museum where you can find out just how Alderton came up with his concoction and how it became so popular. Best of all, you'll have a chance to taste Dr. Pepper like you've never tasted it before. Now that'll put some fizz into your visit! But let's take a tour of some of Waco's other attractions before we have that cool drink.
If you were an outlaw in Texas in old west times there was one thing you didn't want to come across on the trail --- a Texas Ranger. Like the Canadian Mounties, these tough lawmen were (and still are) known for stopping at nothing to get their man, and there's no better place to delve into the Rangers' colorful history than at Waco's Texas Ranger Hall of Fame and Museum. Here you can see it all; the badges, the guns, the hats and the handcuffs from all different eras. There's plenty of space dedicated to the Rangers as they relate to pop culture too; displays featuring memorabilia from the Lone Ranger and Walker Texas Ranger television shows stand alongside case after case of photos, news clippings and all sorts of artifacts used by the real deal. Today the Texas Rangers are part of the Texas Department of Public Safety and the museum also includes a section on modern crime fighting, including a list of the current 10 Most Wanted Texas fugitives. And if a visit should happen to bring out your inner Ranger the museum's gift shop sells all sorts of goodies to get you cowboy copped up, even a limited edition Colt .45 pistol with 24-karat gold embellishments. Buying a hat and a belt buckle may not turn you into a legend like Ranger Manuel "Lone Wolf" Gonzaullas but chances are no one will mess with you while you're wearing them! www.texasranger.org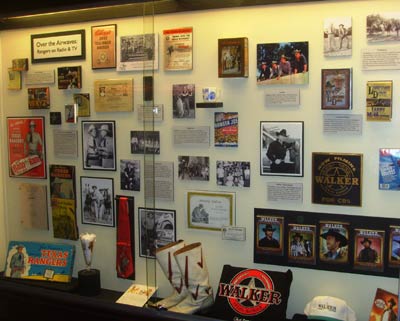 Texas Ranger Museum
Another very interesting place to visit in Waco is the Homestead Heritage Traditional Crafts Village. This is actually a residential community where many of the residents have chosen to live a life that reflects the traditions and values of days long gone by. Visitors can see things like a working grist mill, a blacksmith's shop, a woodworking workshop and a loom and yarn crafts room. But just because the manufacturing techniques are old doesn't mean the products turned out are old-fashioned; the blacksmith shop produces fancy decorative ironworks of all sorts, guitars are made in the woodwork shop, the grist mill turns out flour used in high-end restaurants and the loom shop makes a wide variety of clothing items including highly-coveted sweaters. On any given day you can see all these folks in action and it is quite something to see the mill grinding grain into flour or to sit and watch the blacksmith hammering away at a piece of red hot iron. Most folks spend a day at Homestead and wander from one area to another at their own pace but if you're going to be in Waco long enough Homestead offers a myriad of classes that teach you how to do these things that they do every day. Homestead also has a small restaurant that serves meals prepared from locally-produced foods and an extensive gift shop where you can buy a wide variety of the items that are produced on site. www.homesteadheritage.com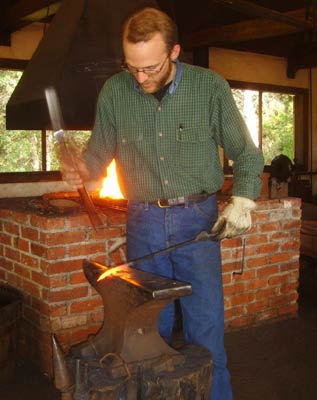 Blacksmith at Homestead Heritage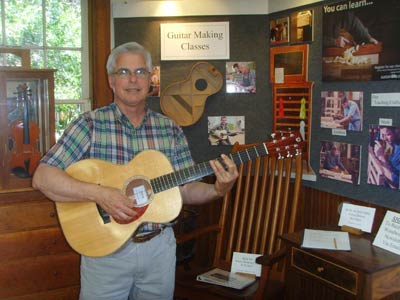 guitar maker Joe Slack at Homestead Heritage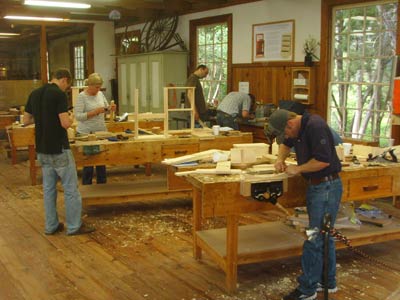 Woodworking class at Homestead Heritage
I'm sure you know that Texas does everything big but you may not know that things have been big there for at least 68,000 years! At the Waco Mammoth Site you can see the remains of more than a dozen Columbian mammoths; these huge beasts were trapped in a steep-sided channel along the Bosque River where they drowned when the river flooded. It took until the 1970's to find the herd's bones and now you can peer down at the remains from an elevated indoor platform during a guided tour. A few of the "bones" are actually reproductions as the originals have been moved elsewhere for study and display but most of what you'll see is what's left of what was once a real-live creature. Archeologists continue to work at the site in the belief that there is a lot yet to be found. www.wacomammoth.org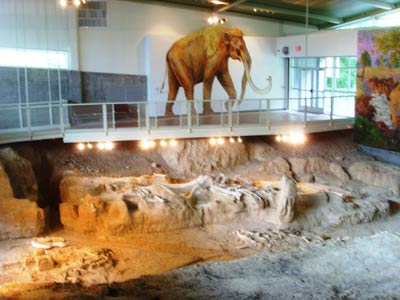 Okay, I bet you're about ready to wet your whistle. The Dr. Pepper Museum houses three floors of information and memorabilia that includes everything you ever wanted to know about the soft drink. Dr. Pepper was at one time made with the spring water that once flowed through Waco (since gone dry) and the museum sits on the site of one of the wells where this water was brought up to be used in the tasty mixture. You can still look down into the well and adjacent to the water source is a manufacturing and bottling set-up; the array of vats and tubes and hoses once gurgled with gallon after gallon of soda pop. Elsewhere in the museum you'll find everything from a replica of an old time general store to a vintage Dr. Pepper delivery truck, a display showing the various designs of Dr. Pepper bottles, advertising pieces big and small and even stuff like vending machines and coolers. To top your visit off, and this is at a reasonable extra cost but almost mandatory, have a glass of Dr. Pepper in the museum's old fashioned soda shop. Here the pop is made fresh for you as you order it; watch as the Dr. Pepper syrup is drizzled into your glass and then mixed to perfection as carbonated water is added. You can have a scoop of ice cream added to make a Dr. Pepper float and the shop also sells bottles of the syrup if you want to take some home to use in your own kitchen (lots of folks use the sauce as a secret ingredient in their barbecue sauce.) www.drpeppermuseum.com
To plan your refreshing visit to Waco: www.wacocvb.com

.

---
...end