Troll Patrol - On the Lookout (For Fun) in Lillehammer, Norway

Until recently the charming small city of Lillehammer, Norway has had one major claim to fame: it was the site of the 1994 Olympic winter games. Now a new spotlight is shining on Lillehammer thanks to the Netflix television series Lillyhammer that stars Steven Van Zandt as a New York City gangster relocated to Norway as a Witness Protection Program participant. Lillyhammer has become the most-watched show in Norwegian history and American viewers of the program hopefully realize that the show's premise is completely fictional. Shot in and around the actual Lillehammer, the stunning scenic views seen in the show are real but that's where it ends; there are no gangsters in Lillehammer, relocated or otherwise. But there is something to do in Lillehammer that will get your head spinning and your heart pounding, an adrenaline rush that's probably equivalent to the one you'd feel coming face-to-face with an unhappy wiseguy. And it has nothing to do with the trolls that you need to be on the lookout for!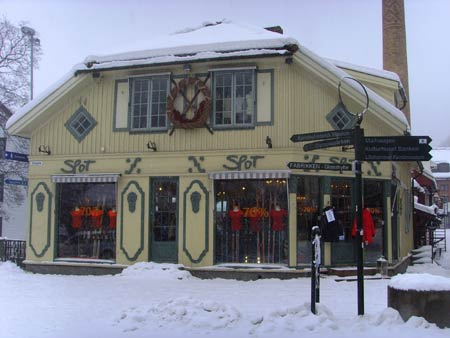 While a bit off the beaten path, it actually takes very little effort to get to Lillehammer. I arrived in Norway at the Oslo airport where there is also a train station. Hop on the train to Lillehammer at the airport station and in about 1 ½ hours you'll be at your destination. Most international flights arrive in Oslo early in the morning so even after the train ride you'll have a good part of the day left to start your adventure. I started my afternoon at Maihaugen, www.maihaugen.no an outdoor museum where you can learn about Norwegian history as well as take a general trip back in time. Maihaugen is situated on a huge piece of land and as you begin walking the snowy paths you'll be among houses that represent how Norwegians lived 100 or more years ago, all crafted out of rough-hewn timber and many with sod roofs. Some of the buildings are actually from the time period they represent while others are replicas, but here's the mind-blowing thing about Maihaugen. The museum started out with all of these very old historic buildings but then someone got the idea to bring things forward and now Maihaugen has "modern" homes too representing eras all the way through the 1980s. Not only is each home built in the architectural style of the day, they are also decked out with period appliances, knick-knacks, furniture, etc., right down to the books and magazines you'll see lying around. And you've probably never done this in a museum before: travel from one installation (home) to another via kick sledge, a self-powered sled where the driver stands up at the sled's rear and uses his feet to propel the thing forward.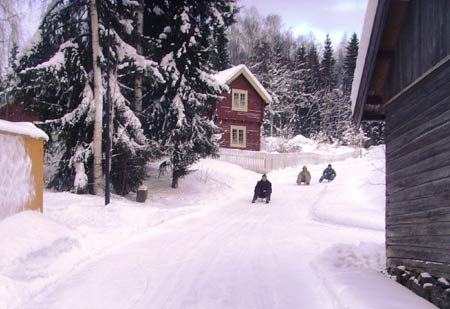 The kick sledge is just a warm up for the grand finale of a tour of Maihaugen; a ride on a "rump racer.' Rump racers are typical Norwegian toys that every boy and girl grows up with that are also very popular with adults. They are very simple and very small toys, about the size of a big boot print, consisting merely of a piece of wood with a tiny handle to hold on to and one runner. The toy's name is derived from the fact that you just plop your butt down on it and take off racing downhill with pure childlike joy. Ask about the availability of rump racers and kick sledges at the start of your tour. After Maihaugen I went to the Olympic Park and the massive ski jump used in the '94 games; this spot is the best place to get a panoramic view of Lillehammer and the narrow valley it's tucked into. Back in town I had a little time to roam the snowy streets of Lillehammer's shopping area before it got late. This area is very picturesque and also, if you want an authentic and versatile souvenir, a good place to buy a snuggly reindeer pelt.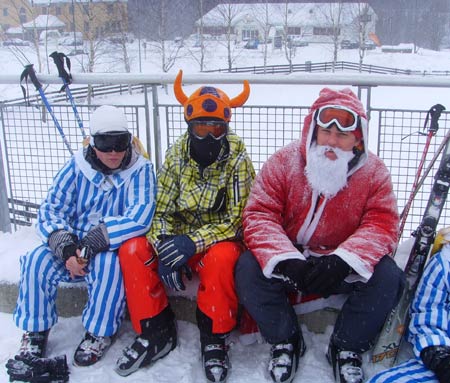 My second day in Lillehammer I went to the Hafjell Skicenter, www.hafjell.no a place you can reach easily via city bus. Built for the '94 games, Hafjell is a paradise for skiers of all skill levels with dozens of runs ranging from bunny slopes to black diamond. I didn't come to ski but I took the gondola lift to the top of the mountain a couple of times, chatting with skiers and marveling at the view as I glided by a million snow-dappled trees. Back at the foot of the mountain I had lunch at Le Ski Café where surprisingly the wall above the kitchen features a tribute to the Beatles. Or maybe that's not surprising at all since the Fab Four had a hit called "Norwegian Wood." I'm certainly not one to pass on lunchtime, but on this particular day it was important that I get some food in my stomach because my next stop in nearby Hunderfossen www.hunderfossen.no was to include "bob rafting," the heart-startling activity I alluded to earlier.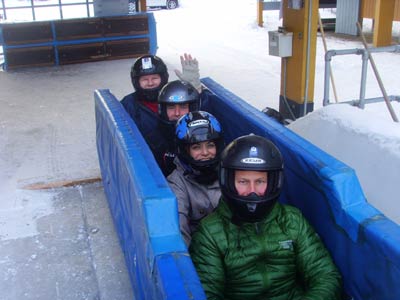 A bob raft is a rubber bobsled with room for a driver and four passengers that hurtles down the icy Olympic luge track at about 65 MPH, all the while exerting a pressure on your body of about 3 G's. Definitely not for the squeamish! If you've ever watched the luge competition on television you know that a typical course has places where the bob raft will need to go all sideways, tilting 90 degrees to the right for a second before being flung back to a position 90 degrees to the left. This happens a couple of times and the first time it seems like the thing is going to tip over in a horrible high-speed crash; you grip the safety cords a little tighter and pray that your helmet, straining against the G-forces, doesn't burst its strap and go flying. But the bob raft driver is a very experienced professional and the thrill ride, covering about a mile, is over safely in about 70 seconds. Again, this ride isn't for everyone; prospective riders should check out videos of the ride on YouTube before booking. But I can tell you this: if you do go you'll experience a feeling of exhilaration that's hard to match and you'll be talking about the bob raft for weeks.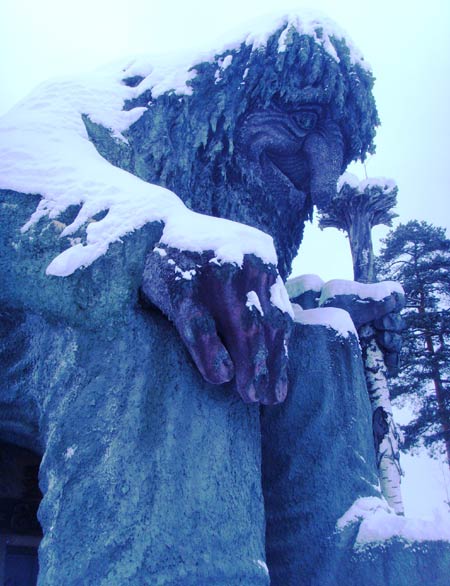 Don't get too out of sorts at the bob raft though, because if you're like me, your next stop will be the Hunderfossen Vinterpark (winter park) where you'll need to have your senses about you because there are trolls everywhere there! Trolls and gnomes are creatures that populate Norwegian myth and you can encounter the lot of them at the Vinterpark. Spend some time walking through the "troll forest" and you'll see about a dozen meticulously-designed depictions of popular troll legends, some scary and some not-so-much but all relevant to stories that Norwegians hear as they grow up. The restaurant here has trolls lurking throughout, outside there's a giant troll and, well, you get the idea. Vinterpark also has a large fairy tale castle full of amusement rides and there are after dark activities like fireworks. Vinterpark is also the site of the Hunderfossen snow hotel and ice bar; make arrangements in advance and you can sleep in a hotel that's made completely of ice and packed snow, meaning that it has to be rebuilt every winter. Otherwise you can stop in for an adult beverage and have a look at some of the ice sculptures, many of which depict, you guessed it, trolls.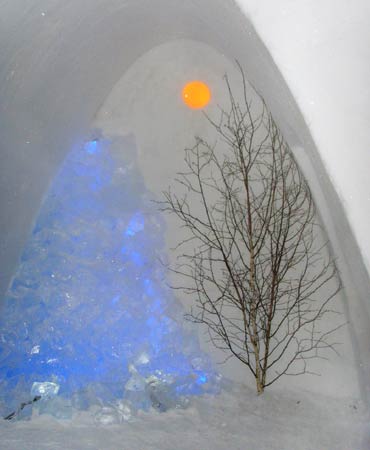 I stayed at the centrally-located Rica Victoria Hotel in Lillehammer. Nikkers, only a couple blocks from the hotel, is a good place to have dinner. Nikkers is après ski casual and make sure to check out the moose head mounted on the wall. Or is it? Take a look at the other side of the wall outside and you'll see that the big fella is not exactly what he seems to be. Nikkers is also a great place to try vaffel---a Norwegian pancake that you eat any time of day with jam and cream. Vaffel are distinctly Norwegian and quite tasty so make sure and have one.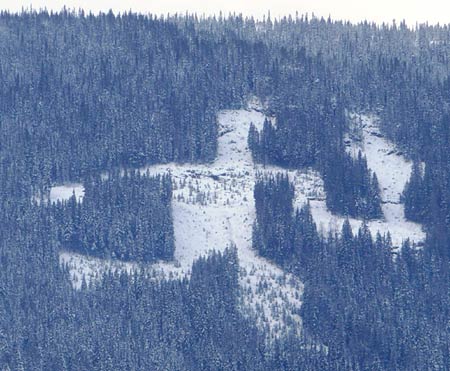 I headed back towards Oslo by car so that I could stop at Norefjell www.visitnorefjell.no which is also an Olympics site having hosted the games in 1952. I stayed at the Quality Spa & Resort, a large property with gorgeous mountain views and plenty to do. I spent my days doing things like having a Swedish massage and my nights indulging in things like a cooking class. It was great fun learning to make salmon tartare, especially since the drinking of champagne and Norwegian beer was also involved. The main attraction at Norefjell is skiing and I did visit the slopes once but only to have lunch at the ski-in (or drive/walk-in) restaurant Norefjellhytta that's located half way down the mountain right off one of the runs. The idea is for skiers to be able to eat without leaving the slopes and Norefjellhytta serves appropriately hearty fare like moose soup; it may sound a bit sketchy but it is actually delicious. Back at the hotel there's a rock climbing wall so don't worry about slurping up a couple of bowls full at this all you can eat place; you can work it off.
So there you go. When you get back home from the Lillehammer area you can regale your friends with stories of trolls, rump racers, moose soup and bob rafts. Just no gangsters.
Part 2 of Road Trip: Norway is coming Friday---Awesome Oslo!

.

---
...end