Cleveland's Rock Hall Induction and The Home of Rock & Roll

It's easy to take the term for granted; most people have heard the words "rock and roll" for so long that they give little thought to the origin of the label. Where did rock and roll music originate, or what was the first rock song? Well that's all up for scholarly debate. But one thing's for certain; the music of artists as disparate as Elvis Presley, the Beatles, Nirvana, Creed and (gasp!) Justin Bieber is all referred to as rock and roll because of one man: Alan Freed. Freed, a well-known disc jockey who died in 1965, is the man who coined the term as it applies to music. And he did it while he was on the air in Cleveland, Ohio, making Cleveland, in a manner of speaking, the birthplace of rock and roll. And the hard working, hard partying residents of the blue collar city do indeed love their rock and roll. For rock fans a visit to Cleveland is almost akin to a holy pilgrimage as here you'll find the greatest homage to rowdy music and those who make it that'll ever exist: the Rock and Roll Hall of Fame.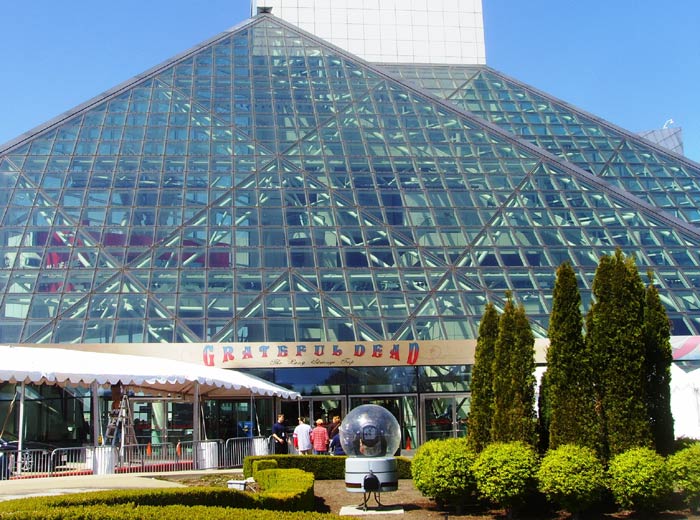 The Rock and Roll Hall of Fame (www.rockhall.com) in downtown Cleveland is one of the city's centerpiece attractions and folks come from all over the world to see the massive collection of rock memorabilia ensconced there. The hall is not a place that you can (or would want to) scoot through in a couple of hours; allow at least four hours or more if you can to explore six floors packed with exhibits. Yes there are hundreds of musical instruments that were played by famous rockers along with countless numbers of records, posters, stage outfits and every imaginable kind of tchotchke. Music and videos play as you wander through sections devoted to punk and grunge and dozens of other rock sub-genres. But rock and roll has always had a reputation for being over the top and you can see some graphic examples here like the Eliminator, the Ford coupe owned by bearded guitarist Billy Gibbons of ZZ Top that appeared in many of the band's videos. Like Joan Jett's Jaguar and one of Alex Van Halen's eccentric drum kits. Giant illuminated starburst signs, previously used on tour, scream "Moby" and "Gwen" (Stefani.) Props from well-known music videos hang from the ceiling, and, hey, who is that guy over there? Many very famous rock stars, including Led Zeppelin guitarist Jimmy Page, have strolled through the museum just like normal patrons, so keep your eye out. And while the hall salutes all kinds of rock music and rock musicians, it is of course the biggest honor to one of the persons or groups inducted into the actual Hall of Fame that gives the museum its name. There's a separate section just for these folks, a section that grows every year in April when new inductees are honored. Induction week is a particularly good time to visit Cleveland as there's lots of additional rocking good fun to be had during this time.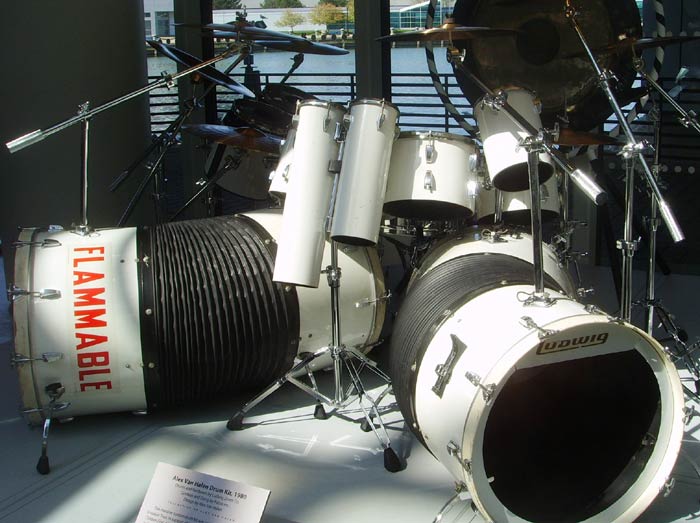 Alex Van Halen's Drumkit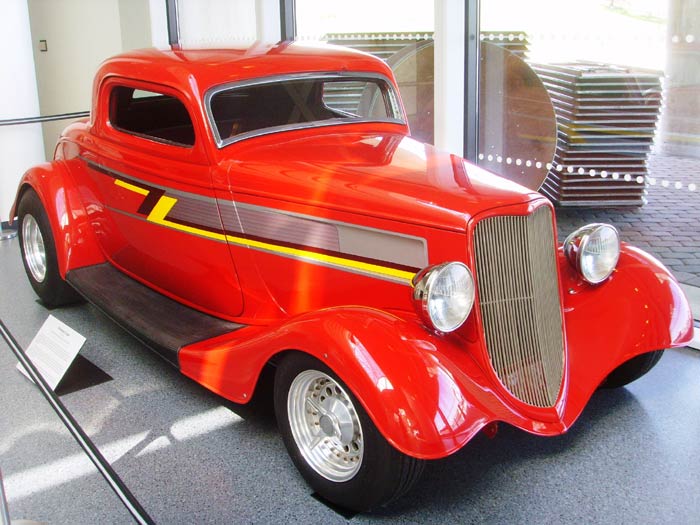 ZZ Top's Eliminator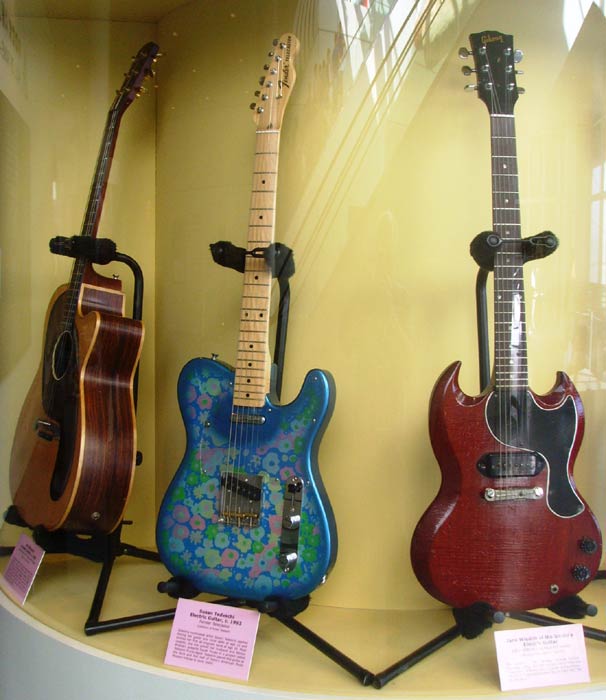 Guitars of women rockers
The Rock and Roll Hall of Fame induction ceremony is not always held in Cleveland. In 2011 it was held in New York City but this year it came home to Cleveland where a majority of fans believe it belongs and should stay. What better place to have the star-studded party than Public Hall, a medium-size arena a few blocks from the Hall of Fame itself? Tickets are not easy to get but a portion of the seating for the ceremony are available for purchase by the general public. Every year the show is a different kind of rock and roll circus and this year was no different. Axl Rose created the biggest buzz this year, refusing to attend the ceremony for the induction of his band Guns N' Roses. Snide remarks and X-rated criticisms of Axl ran rampant throughout the evening until late in the program when a Slash and Myles Kennedy-fronted GN'R blew the roof off the joint with renditions of "Mr. Brownstone," "Sweet Child O' Mine" and "Paradise City." At that point no one was thinking of Axl anymore. Rod Stewart also was a no show; Rod the Mod had the flu and couldn't attend the induction of the Small Faces/Faces. Green Day performed and Billy Joe Armstrong dropped the first F-bombs of the evening, the Red Hot Chili Peppers got all emotional before playing their set, aging hippy Donavon played several of his hits after reciting a newly-written flower power era-sounding poem and touchingly, the remaining members of golden oldie groups like the Crickets and the Comets accepted their induction trophies. Another touching moment was when the Beastie Boys minus Adam Yauch, currently fighting cancer, accepted their induction awards. The guys didn't want to play without Yauch so Kid Rock, Mixmaster Mike and Black Thought, backed by the rest of the Roots, played a set of Beasties songs in their stead. John Mellencamp, Chris Rock, Robbie Robertson, Billy Gibbons and Frank Beard all appeared as presenters and at the end there was a big jam session with the members of Green Day, the Chili Peppers, Gun N'Roses and Ronnie Wood rocking the stage. All in all the show lasted 5 ½ hours. If you're able to visit Cleveland during the induction ceremony but can't score tickets you can always hang out at the red carpet entrance to the show and watch for celebrities. There's also a free Concert for Cleveland every year during rock week; this year the headliner was Cleveland's very own Kid Cudi with opening act George Clinton with Parliament/Funkadelic.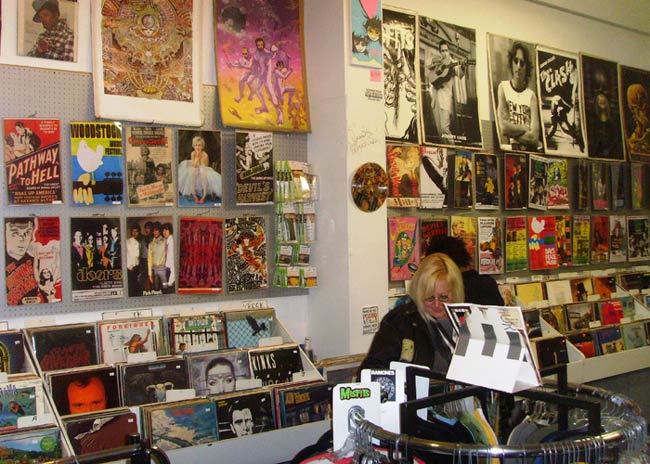 Blue Arrow Records
True to its rock and roll soul, Cleveland is a great place to shop for old rock records. Add to your vinyl collection at Music Saves (www.musicsaves.com) and Blue Arrow Records (www.bluearrowrecords.com) both of which you'll find in the Collinwood neighborhood. The city is also dotted with nightclubs that host live acts nightly, most popular among them Peabody's (www.peabodys.com) and the infamous Beachland Ballroom (www.beachlandballroom.com)There's an absolutely crazy store called Big Fun (www.bigfunbigfun.com) where the store overflows with all types of toy-related collectibles including a section for rock fans and at the Ritz Carlton hotel bar you can sip on a "rocktail" or two---try the Bittersweet Symphony! And if you're a fan of late '70s/early '80s rock and remember Cleveland's Michael Stanley Band and their hit "He Can't Love You" you'll be pleased to know you can turn on the radio and hear Michael holding down the afternoon drive shift on the city's coolest rock station. You'll also find that wherever you go and strike up a conversation that Clevelanders love to talk about music. And why not---it's practically their birthright.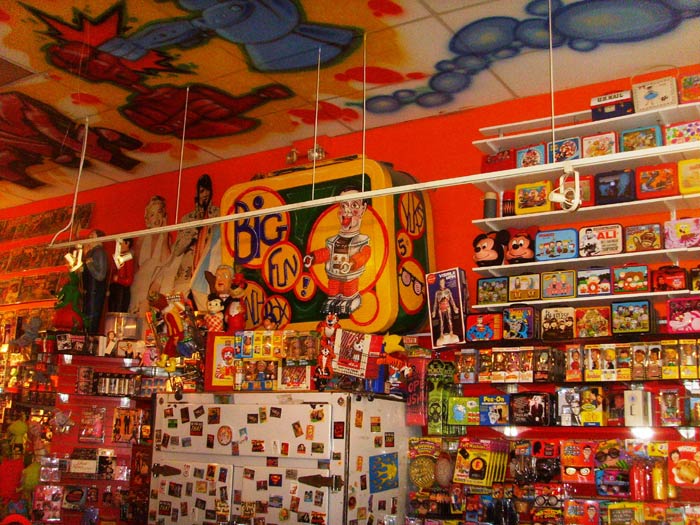 Big Fun
The Rock and Roll Hall of Fame, currently hosting a temporary exhibit featuring the Grateful Dead, always gives free entry to all touring musicians
Plan your trip by visiting www.positivelycleveland.com

.

---
...end