Ann Arbor's Main Street Still Rockin'

"I am not a robot…I am a person!" Those lyrics from Charlie Slick's song "I Am Not a Robot" may not be as well known as some of the other words that have been produced by Ann Arbor musicians in the past but locally they are just as beloved. Bob Seger grew up in Ann Arbor and immortalized the city's main drag with his reflective hit "Mainstreet" at about the same time that, on the outskirts of town, a young Jim Osterberg was changing his name to Iggy Pop and writing hopped-up songs like "I Wanna Be Your Dog." Anyone who thinks that Ann Arbor no longer has it's musical edge need look no further than at Slick---a frenetic ball of energy with a kit bag full of Thomas Dolby-like synth rockers with titles like "Now You've Got Your Lasers on Me." And just like Seger was with his pre-Silver Bullet Band Bob Seger System and Pop was with his Stooges, Slick has earned his fan base in Michigan and is ready to break out well beyond Main Street.
As is the same situation in many American cities, in Ann Arbor Main Street is symbolic of a sense of community. But in Ann Arbor Main Street is literally also one of the most alluring areas for locals and visitors alike, lined with hip art spaces like Concentrate, Clay Gallery and Gallery Project. Quite Scientific Records, an indie label releasing music by locally-based acts like Chris Bathgate and Frontier Ruckus is headquartered on Main Street and Ghostly International with their stable of national acts like School of Seven Bells, Deastro and Choir of Young Believers is not far away. Ann Arbor's Main Street area is an incredible hub of creativity; it's no wonder that one of the country's largest and best art and street fairs takes place there every July in the form of the Ann Arbor Street and Art Fair. To say the fair is huge is an understatement in every respect; it's actually four different fairs that have merged over the years that begins with several blocks on Main Street and then zigzags through another twenty or so blocks in the surrounding area. Needless to say you can't really cover all this in one day or one afternoon but the event carries on over a four-day span so you have lots of time to enjoy plenty of art, crafts, food, music and other quirky fun associated with giant street parties.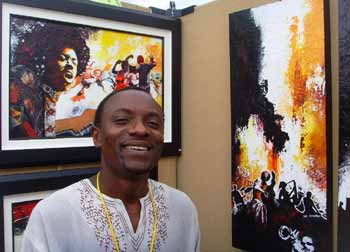 Hussein Saidi with his art at the Ann Arbor Street Art Fair
Of course you can find just as much fun indoors on Main Street at any time of year; satisfy your hunger, thirst and desire for live music all at once with a stop at Conor O'Neill's Irish Pub and then afterwards take in a concert right next door at The Ark. The Ark is a relatively small club specializing mostly in quality acoustic acts and a perfect place to see and hear someone like the recently-hosted Sarah Lee Guthrie, the charming daughter of Arlo Guthrie and granddaughter of the legendary Woody Guthrie. The Ark also has a massive gallery of locally-taken photos of musicians that'll fill up any spare moments a concert-goer might have.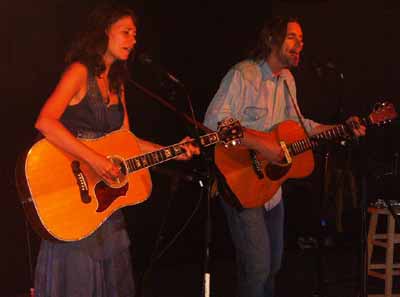 Sarah Lee Guthrie & Johnny Irion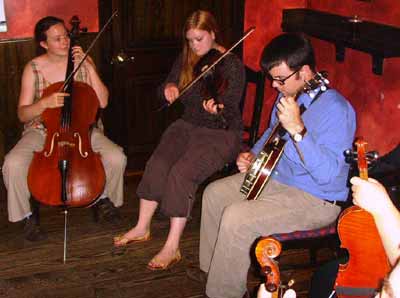 Jam night at Conor O'Neill's Irish pub
Ann Arbor is one of those rare medium-sized cities with a downtown area that is vibrant at every square inch, thanks in part to it being the home of much of the campus of the University of Michigan. The locals like to describe the U of M campus as an archipelago, a string of islands that runs throughout the entire city with many of the "islands" being located downtown mere blocks from Main Street. Since the campus is not crammed into one big lot it makes it easy for the general public to visit places like the University of Michigan Museum of Art where galleries spread over three floors house everything from American art to examples of European art going back to the year 1100 to African art to large displays from various Asian cultures.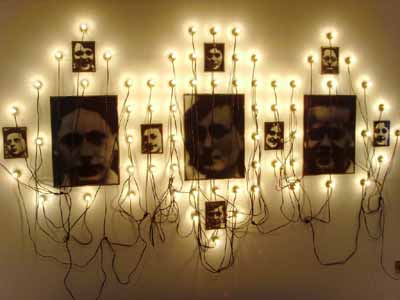 Modern art at the University of Michigan Museum of Art
There's a sizable collection of intriguing modern art and adjacent to that display is the highest point in the museum's "vertical gallery"---a viewing area that allows for a unique angle on the artwork installed on a portion of the lower floors. An individual piece not to be missed is Ouk Chim Vichet's Apsara Warrior, a sculpture promoting peace that's made entirely of dismantled AK-47 rifles.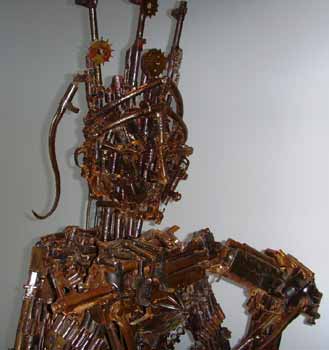 Vichet's peace sculpture
Guided tours of the museum are available by appointment but there's usually a docent around to answer any questions you might have or to point you in the right direction in this rather large facility. Another place in the downtown area to enjoy cultural entertainment of a different sort is the Performance Network Theatre. This intimate theatre hosts plays like the Shakespeare-related Rosencrantz and Guildenstern Are Dead, the one-woman show The Blonde, the Brunette and the Vengeful Redhead and Jeffrey Hatcher's A Picasso. Live theatre thrives in the Ann Arbor area and if the Performance Network Theatre doesn't have what you're looking for you can always take a drive to nearby Chelsea to take in a show at the Purple Rose Theatre.
The small city of Ypsilanti is adjacent to Ann Arbor and it's another hotbed of southern Michigan fun and creativity. Ypsi's (say "Ip-sy") main street is called Michigan Avenue and that's the part of town where you'll find the unique gift and novelty shop called The Rocket where they have everything from toy robots to vintage candy brands. Around the corner is Puffer Red's; a shoe, clothing and music store where they have for sale a large selection of limited edition kicks that drive "sneakerhead" sneaker collectors wild. Arbor Brewing Company is based in Ann Arbor but they also have a large spot in Ypsi called the Corner Brewery where you can sample a wide variety of microbrews like Espresso Love Breakfast Stout and Brasserie Blonde.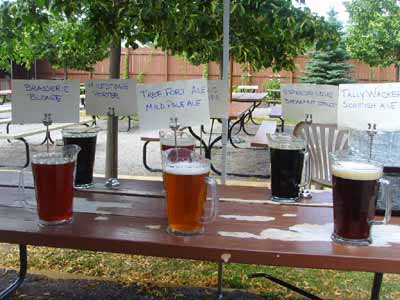 Corner Brewery in Ypsilanti
And the streets don't roll up in Ypsi when the sun goes down either; the fun just moves to places like the Elbow Room where local up-and-comers like Javelins and Bloodlined Calligraphy rock the house into the wee hours. The Elbow Room is also a favorite haunt of Charlie Slick so catch him there while you can before he gets too big to play the small venue. The rest of the Ann Arbor-area fun though will be waiting for you when you're ready.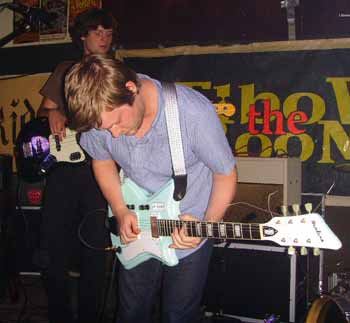 Javelins on stage at the Elbow Room in Ypsilanti
www.annarbor.org
www.ypsilanti.org
www.michigan.org

.

---
...end