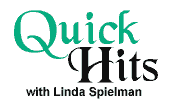 This month Linda gives us her "Quick Hits" on new CDs from My Morning Jacket and Ben Kweller.


Ben Kweller - On My Way


If the band Jellyfish went acoustic and rootsy I think this CD would be an adequate comparison. Ben Kweller's writing of the most simplest of life's everyday occurrences is refreshing to say the least.
Most of the 11 tracks fall in equal caliber of writing and musicality. They are all very mellow, with the occasional relenting guitar riff rearing it's rock n roll head. The CD starts off very slow with the first 4 tracks. However don't give up on the CD just yet. Although a slow start out of the gate, in its entirety the CD is well worth a listen. It has a very earthy sound to it, with catchy lyrics and melodies. Like I said, if Jellyfish were to have ever done an acoustic/organically driven CD it would have probably sounded a lot like Ben Kweller.
Rating:



My Morning Jacket - Acoustic Citsuoca


"How could we resist such an invitation, to gently & quietly play our friend Gordon's Halloween party in our most favoritest of cities, Braintree, Mass...so we rented out the Startime Pavilion, near downtown Braintree, invited his closest friends, and set the stage for a most enchanting night. The air was crisp, the moon was high, and the champagne - delicious! we hope you enjoy listening to this moment in time as much as we enjoyed living it." ~ My Morning Jacket
This compilation live EP of 5 tracks from the band's live performance from the above described evening is unplugged heaven. The performance more embodied a set at a local coffee house as opposed to a pavilion setting. The tracks are a virtual melting pot of the styles of Dave Matthews, Coldplay and an acoustic resemblance to Radiohead.
Although not being a mainstream recognizable name, My Morning Jacket is band that makes you take notice. Their melodies are articulated and complimented with their equally impressive musicianship. With all the mechanics involved in the music industry today, bands such as My Morning Jacket and their peers such as Dave Matthews are still able to display true musicianship as an art form.
Rating:
tell a friend about this article


What Do You Think?


Fanspeak removed due to spam and abuse