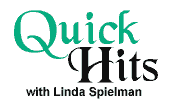 This month Linda gives us her (not so) "Quick Hits" on new CDs from Edwin McCain and Avril Lavigne


Edwin McCain - "Scream & Whisper"


Back in 1998 I was in Charlotte, NC visiting a friend who was on the road working for Matchbox Twenty. Sitting backstage after the show I found myself in conversation with a guy about my age, discussing music, travel and living in the South. I figured he was a friend of one of the guys in the band.
He was very funny and I remembering him saying how much he liked coming to my hometown of Pittsburgh when he was on tour. I never asked my backstage buddy his name. But later on that evening, while talking with my friend whom I came to visit he asked, "So I see you were hanging out with Edwin McCain tonight." To my surprise I had no idea who I was chatting with for the entire evening.
Having made a name for himself over the years on the Adult Contemporary Radio, and TV shows such as Dawson's Creek where his music was featured, Edwin McCain's fourth CD entitled "Scream & Whisper" due out June 22nd is yet another valiant product of simplistic yet heart felt collaboration of songs. The collection of 14 tracks is consistent with McCain's stellar track record of song writing. His songs are as charming as the
personality behind them. Just as we hear of southern comfort foods, Edwin McCain's music is just that, southern comfort food for the ears.
The CD's first track "Coming Down" is a lively, upbeat tale of the astronaut-like character coming back to earth and realizing the importance of the simple and real things life has to offer. Whether it be the character portrayed in the song coming back to earth, or McCain speaking for himself as one involved in an industry so caught up in the "it's all about me" mentality, the message of relying on those things you are true and real as opposed to instant gratification is well written.
Such other notable tracks include "Good Enough", "Wild At Heart", "Save The Rain" & "Shooting Stars". The main underlying theme of this whole CD is not to look for happiness in material things and instant feelings of self worth & gratification. You need to step back, take a good look at what your life is already worth and enjoy the small but very important aspects of the general everyday, both good and bad. McCain not only utilizes his talent of compassionate yet realistic song writing, but also incorporates romantic melodies along with musical arrangements that take the listener on a journey into themselves as well as ability to appreciate true musicianship.



Avril Lavigne - "Under My Skin"


She's not a girlie girl, but yet feels all the same emotions of your typical 19-year-old girl. Those emotions run the gamut from frustration of troubled relationships to the somewhat startling realities of becoming an adult. Avril Lavigne is also unapologetic for her anti-pop princess like style. While everyone else is baring the butts (along with other body parts), Lavigne is kicking butts right along side the boys in the music world with her sophomore effort "Under My Skin".
Not one to shy away from telling it like it is, Lavigne's first single from the CD "Don't Tell Me" is a kick in the face to every boy, guy and man who's taken advantage of his girlfriend. Lavigne's "I'm out of here, I can do better" anthem is a perfect introduction to old and new fans to the grown up, mature Lavigne.
Enlisting the help of Butch Walker (of Marvelous 3), Raine Maida (of Our Lady Peace) and Don Gilmore (Linkin Park) "Under My Skin" is darker in content, yet just as guitar laden and rocked out as Lavigne's debut "Let Go". Written primarily by Lavigne and Maida's wife Chantel Kreviazuk, whose instant friendship translated into consistent and effortlessly written tracks for the CD exemplifies the growth Lavigne since she emerged onto the scene 2 years ago.
The chemistry between Chantel & Avril transcended into the inevitable recording of much of the CD at the Malibu home of Chantel and Raine. The endless nights of recording and producing left the duo with products ready for pressing. Whether it is the ocean air, the new living/recording arrangements, or a chance to write songs free from any industry overhead, "Under My Skin" is truly a solid piece of work that Lavigne can be very proud of.
The CD is pretty much a wild ride from start to finish. If you were expecting anything less from Avril Lavigne, then you probably didn't get where she was coming from originally. She loves her guitar, and every song has it's own identity when it comes to those melodies and riffs. "Who Knows" will have your head bobbing along just like "Sk8er Boi" did. "Take Me Away" has their dramatic, smoldering verse that makes one wonder how someone so young, could figure out life's complexities. The most brooding of the 12 tracks are "Forgotten" & "Nobody's Home" reveals the angst and heartache that
even rock star princesses face in their everyday lives.
"Under My Skin" is a powerhouse of musical & mental maturity that Avril Lavigne is quite willing to wear on her sleeve and share with the world.

tell a friend about this article


What Do You Think?


Fanspeak removed due to spam and abuse