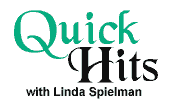 This month Linda gives us "Quick Hits" on new CDs from Fastball and Katy Rose


Fastball - "Keep Your Wig On"


This CD is a departure for the guys in Fastball. After listening to them for many years, this CD is the most rooted and solid sounding to date. No more heavily, saturated radio tunes from this CD. These songs are some of the best written & produced from the band.
Don't worry about the new direction of musical style from Fastball. There songs are still as quirky as ever.
They are still as visual as their past CDs. And these songs are every bit as infectious to the listener. You may not realize it, but you will find yourself subconsciously humming along to songs far after the CD is out of your stereo.
Two tracks are noteworthy on this CD. "Red Light" & "Perfect World" blend a Southwestern hybrid rock country vibe. Their sound has a lot rootsy, bluesy overtones. It makes the listener look forward to each new track because it has the ability to give each song a completely different personality.
As quirky as ever, the title of the CD Keep Your Wig On still exemplifies the style of Fastball. Although the songs are not recognizable on the radio right now, they are true stylistic gems.



Katy Rose - "Because I Can"


With the influx of female teen divas and rockers in the current music environment, it seems that most labels are cashing in on what seems a sure bet in reaching the prime demographic music public. Give them someone they can relate to in terms of age & angst. For the most part, that formula is paying off. But for every one good, solid artist out there, the labels are churning out in mass production mediocre music by the younger set.
Case in point, Katy Rose. Her debut release entitled Because I Can is a futile attempt to cash in on the visually appealing yet somewhat rockin sound. Avril Lavigne and even Ashley Simpson can pull this off. However, in the case of Rose this CD has a little to offer in terms of substance and even less in catchy hooks.
For the most part, the first five tracks are a kind of melodic spoken word in verse. It is almost as if she is afraid to actually sing the melody and opts to speak the verses. Most of the chorus' within those same five tracks attempt to showcase Rose's vocal capabilities, yet drown her out with the instrumentals.
The only track which shows even the smallest glimmer of Rose's vocal abilities is "Snowflake". It is a very Smokey-jazz track which is the only one on the entire CD that has her actually singing from start to finish. Her voice is mature, raspy and heartfelt. It is quite a departure from the rest of the album which attempts to fuse the pop punk sound so popular in today's music scene. This track is the one and only highlight of the whole CD.
All remaining tracks after "Snowflake" are as lackluster and the first five. Being able to get through a whole verse and chorus without skipping to the next song, only to be disappointed yet again is a listener let down. Instead of trying to Xerox Katy Rose into something that is already out there and letting her truly show what she could do with a team of better writers and producers she could be someone to watch in the future. The talent is there, but to pigeon hole her into what is trendy right now is the downfall of this CD.
tell a friend about this article


What Do You Think?


Fanspeak removed due to spam and abuse