.


.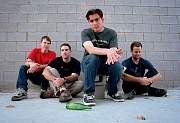 You can be the best band in the world but if you sign with the wrong label than your chances of success are doomed. Fortunately for Jimmy Eat World, through trial and error and a series of setbacks that would have derailed a lesser band, they finally inked a deal with DreamWorks, one of the last big labels that actually still believe in artist development.
What that has meant for the band is they were given the opportunity to build on their foundation and win more fans over and to ultimately find major league success. It took awhile for the band to break out from the underground and gain a foothold with a mainstream audience after a few false starts other labels.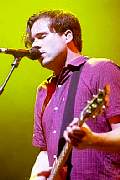 Jimmy Eat World's story is one of perseverance, where the band knew that if they kept at it long enough a mass audience would eventually pick up on what they had to offer. Their journey from their beginnings in 1994 to where they are today has been a long one with a few twists in the road but Jimmy Eat World are starting to enjoy the fruits of their labor in a big way. So by having a little patience, it all worked out for the band, the label and most importantly the fans!
It all started back in 1994 in Mesa, Arizona when childhood friends Jim Adkins (vocals/guitar) and Zach Lind (drums), Tom Linton (guitar/vocals) and Mitch Porter (bass) decided to form a band together. Looking for a name for their new group, inspiration came from the aftermath of a fight between Zach's younger brothers, Ed and Jimmy. After having a fight with Jimmy, Ed took out his frustrations by drawing a picture of his older brother chomping down on a globe with the inscription "Jimmy Eat World" below the illustration. The band saw the picture and thought the name was perfect, so they ran with it.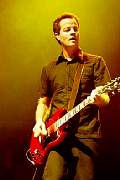 Like most groups of the past decade or so, Jimmy Eat World took an indirect route to stardom. They began building a fanbase around Mesa with their live performances and released several EP's and singles through a local record company, Wooden Blue Records in 1994 and 95. Those releases proved popular with Jimmy Eat World's growing fanbase and soon Capitol records became interested in the group.
After a short courtship, the band signed on the dotted line and found themselves recording their major label debut, "Static Prevails" at the end of 1995. Despite the momentum behind the group, bassist Mitch Porter split with the group and was replaced with Rick Burch, a longtime friend of Tom's.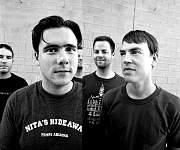 With a solid lineup and a major label deal in hand, the group entered the studio with a mission to make the best possible album they were capable of. The group's sound had developed from their various influences to become a guitar driven power-pop mixed with elements of modern rock and punk. Green Day had used a similar formula to make their mark on the music world, but while Green Day leaned more towards the alternative rock spectrum, Jimmy Eat World's brand of rock is a bit more straightforward, plied with plenty of hooks to capture the attention of listeners.
"Static Prevails" provided a good introduction to the world of the basics of Jimmy Eat World, but some longtime fans were a little disappointed in the disc, thinking that it was over produced and the band was following the lead of their record company. Nevertheless, the album did help increase their fanbase and set the way for their second album, "Clarity".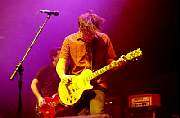 By the time "Clarity" hit stores in February of 1999, after being previously shelved by Capitol, Jimmy Eat World were already the new found heroes of the emo underground. The irony of course is the fact that the "emo" label didn't really apply to the group. While they had some familiar elements in common with the general frameworks of what had become known as "emo", Jimmy Eat World never let those elements confine their sound. Instead, they branched out with more of a punk edge but also employed a strong powerpop base to build from, not to mention their willingness to experiment with elements of electronica.
"Clarity," was received well by critics and often sited as one of the best releases of that year. Unfortunately, Capitol records didn't seem to put enough behind the album. The only hit single from the disc, "Lucky Denver Mint," came by way of inclusion on the soundtrack to the Drew Barrymore movie "Never Been Kissed" and was released before Capitol even decided to release the album.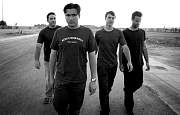 While "Clarity," did once again bring more fans into the Jimmy Eat World camp, the group wasn't able to break through to the mainstream in a major way. It wasn't for lack of appealing songs, as "Clarity," is filled with them. It had more to do with the realities of the modern music industry and Capitol Records reluctance to pull out all the stops to make them stars. Because of the lack of support, within six months of the release of "Clarity," Jimmy Eat World had left Capitol Records.
No one could dare call Jimmy Eat World an overnight success. But another overused cliché' does apply, it's darkest before the dawn!
Most bands have one shot at the big leagues. It's almost impossible for a band to continue after leaving a major label. At this point most groups would dissolve but the members of Jimmy Eat World felt that their best music was yet to come. The exception was that they would record their next album on their own terms. That was exactly what they proceeded to do..
Jimmy Eat World entered the studio to record their third album without the backing of a label. Unrestrained from expectations from a record label and paying for the album out of their own pocket, the band was free to write and produce the music they wanted, getting back to their indie roots but also using what they had learned over the course of their career.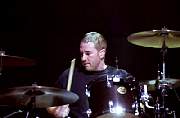 When the band emerged from the studio, they knew they had something special and once DreamWorks got a whiff of what Jimmy Eat World was up to musically, they stepped in with a deal. Ironically, Capitol approached the group wanting a second chance but Jimmy Eat World had been there and done that and wanted to try their luck with another team behind them. The irony goes further, Gary Gersh who was the president of Capitol when Jimmy Eat World signed their deal ended up as the group's manager along with his partner John Silva.
Jimmy Eats World's break through album hit stores in July of 2001 on DreamWorks Records with the original title of "Bleed America". (After the terrorist attacks on the U.S. on September 11th, the title was changed to "Jimmy Eat World".) Fans and critics instantly began singing the album's praises. Many felt that the group had taken another giant step forward in the much the same way that "Clarity" topped "Static Prevails". The album ended up on many critics "best of" lists for 2001 but the major breakthrough for the band would come in the months to come.
The band had fine-tuned their power-pop sensibilities but without sacrificing their rock credentials. Unlike other bands saddled with the "emo" label, Jimmy Eat World's power-pop focus made their music almost universally attractive. In fact, old school guitar power-pop fans who can't stomach "emo" have fallen in love with Jimmy Eat World's addictive sound.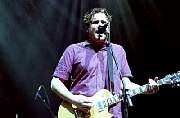 Because of 9/11 the band experienced a minor setback when radio stations began pulling the first single "Bleed America" from playlists. Unlike Capitol, DreamWorks took a long view with Jimmy Eat World. They knew they had a powerhouse album on their hands and took the old fashioned route of letting an album mature and reach a mass audience over time instead of the practice most major labels use now where they release an album, give it six to eight weeks to stick and if it doesn't, they move on to the next project.
DreamWorks long view along with the band's patience paid off throughout 2001 and 2002 as the band gained momentum and sales of the CD steadily climbed. Jimmy Eat World knew they had a great album and since it was released they have been out taking it directly to fans with almost nonstop touring including a major tour with Green Day and Blink-182 in 2002 that was dubbed the "Pop Disaster Tour".
When the group wasn't winning fans over on the road, their singles, ""The Middle" and "Sweetness" were catching the attention of radio listeners and MTV viewers. In July of 2002 DreamWorks proudly announced that "Jimmy Eat World" had gone platinum and even now seven months later it shows no signs of letting up.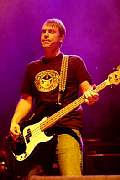 A lot of lessons can be learned from the Jimmy Eat World story. One is the fact that getting a deal is only half the battle; you have to get a deal with the right label. Think of the folks at Capitol who are kicking themselves for dropping the ball and letting this band slip through their hands! But the most important lesson that can be learned from Jimmy Eat World is that dreams still can come true if you're patient and keep your goals in focus and don't let setbacks derail your aspirations.
Quality music will always have an audience but the sad reality of the modern music industry is that most of the time the best music goes unheard by the masses. That was once true of Jimmy Eat World, but the story of their success has only just begun. While Jimmy Eat World is the exception, rather than the rule, they truly embody a play on another overused cliché', "If you play great music, they will listen… eventually!"


More
Visit the official site for more info on the band
Listen To/Purchase Jimmy Eat World's Music
Jimmy Eat World Player! Preview the entire album!
Live photos by Adam Bielawski
Group Photos Courtesy DreamWorks Records
All Rights Reserved
Keavin Wiggins is the founder and editor of Rocknworld.com
Adam Bielawski is an iconoFAN Contributor.