.


.
The worst album review I ever wrote was for the Eels' Daisies of the Galaxy. I had been writing CD reviews for my college paper for a year and a half at that point, and this was the first time I would admit I had no idea what I was doing. Partly because I thought the album was so depressing I didn't want to listen to it, and partly because the album's cover art, with its slightly saddened children's book imagery, left me disturbed. I'd heard the Eels before; I still have my cassette copy of their major label debut, Beautiful Freak. But I was not prepared for this collection of half-brave, all-sad man-child songs. I suppose in a way I consider this review/career retrospective my makegood. But I digress…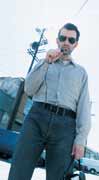 In 1996, the Eels' Beautiful Freak was the first album released by Dreamworks Records, a label founded by Steven Spielberg, Jeffrey Katzenberg, and David Geffen. Eels' frontman and brain Mark Oliver Everett, a.k.a. "E," came to Dreamworks after releasing two solo albums on Polydor Records in the early Nineties. The original Eels lineup included drummer Jonathon "Butch" Norton and Tommy Walters. Walters would eventually leave the band and form his own group, Abandoned Pools.
The Eels found success quickly with their first single, "Novocaine for the Soul," the black and white video for which featured all three members of the band floating freely through the air. Beautiful Freak introduced the band's alternative folk sound and established Everett as one of alt-rock's premier singer-songwriters.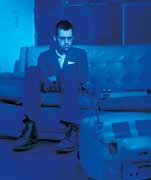 The Eels followed up their initial success with 1998's Electro-Shock Blues, a critically acclaimed album that found its inspiration in the suicide of Everett's sister, as well as his mother's losing fight with cancer. The album did not yield the same mainstream success as Beautiful Freak and was considered very depressing in some circles. The band was, however, recognized for their resultant achievement in the video medium, scoring a nomination for Best Breakthrough Video at the 1999 MTV Video Music Awards for "Last Stop: This Town," wherein Everett builds a carrot likeness of himself and the two duet.
After Electro-Shock Blues came 2000's Daisies of the Galaxy. Recorded shortly after Electro-Shock Blues, the album finds Everett trying very hard to put on a brave face following the loss of his family, but the songs still carry the sadness and frightened man-child attitude of the previous album, with the exception of the miles-more-upbeat "Mr. E's Beautiful Blues," with its enthusiastic refrain of "Goddamn right, it's a beautiful day."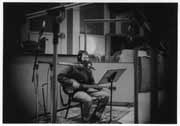 The Eels' next album was titled Souljacker and was released around most of the world in September of 2001, a bad time to claim to be jacking anything. The album's cover featured Everett in a full beard and hood, resembling popular mid-90s domestic terrorist the Unibomber. Souljacker was finally released in the U.S. in March of 2002. That summer former guitarist Walters would release the debut from Abandoned Pools, scoring a minor hit with "The Remedy," which some thought may or may not have been a clever jab at his former band's early success.
This brings us to the present. The Eels recently released their fifth album, Shootenanny!, and the band has never been so upbeat, while at the same time staying true to Everett's singer-songwriter roots.
The album opens with the blues track "All in a Day's Work," drawing the listener in with its metered guitar thumps and the ear-grabbing opening lyric, "When I was born, the doctor said, there's something wrong inside that baby head." Rounding out the track's sound is some apropos harmonica accompaniment.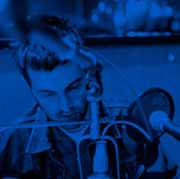 Not a blues album, however, Shootenanny's biggest draw are its up-tempo numbers. Everett is still the same man-child he was in 1998, as evidenced by "Saturday Morning," about (and don't act like you've never done this) being a kid and waking up on Saturday morning at six a.m. and not having anyone to play with. However, Everett's childhood longings are no longer a prime focus, as that theme breaks way to the bittersweet "The Good Old Days," wherein he finally admits "Little kids go out to play, they're just happy it's another day… and who's to say, these could be the good old days." Finally living in the present, Everett moves on to laugh at "a girl with a dirty mouth" on "Dirty Girl" and proclaims his independence on "Lone Wolf."
There aren't many traces of sadness on Shootenanny, but there are a few down-tempo jams for those rainy days to fill that particular expectancy. Although Everett manages to be up during his admitted "Rock Hard Times," with the darkly comical line "It's hard to laugh as you choke," he's willing to express a little pain on "Agony" and ekes out a strange lullaby on "Fashion Awards." Everett also takes the role of a stalker on "Restraining Order Blues," with the haunting line "Everyone knows I'm not a violent man; I just a man who knows he's in love."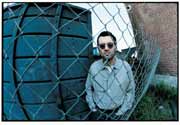 VERDICT: Shootenanny's breezier (by comparison) nature is as happy as the Eels have ever been. Which isn't to say, of course, that the band has gone pop. Everett is as ever a cult hero whose following is meant to be small but appreciative. The Eels songs are depressing to some but uplifting to the depressed, if that at all makes sense (I'm starting to regress back to my confused "Daisies" speech). Put it this way: In Brian K. Vaughn's "Y: The Last Man," the main character, the last man alive in a world where a disease has destroyed everything with a y-chromosome, goes over all the musicians that have been wiped off the face of the Earth. He mentions the obvious choices: McCartney, the Stones, Tom Petty, Tom Waits, "the Motherf***ing D" (Tenacious D), but he also mentions the Eels. At the time I had no idea why the Eels were polluting a list of rock legends, but in truth, Everett is probably one of the best singer/songwriters to release an album on a major label in the past decade, and his fans have been lucky enough to receive five of them.


More
Visit the official site for more info on the band
Listen To/Purchase Music From the Eels including their new CD "Shootenanny"
"Saturday Morning" Video - 56K | Broadband
Photos Courtesy DreamWorks Records
All Rights Reserved