.


by Linda Spielman
.
"Somewhere In The Middle"…The title for the first release off of Dishwalla's third album entitled "Opaline", seems to reflect where the band has been in the past few years. The lyrics from JR Richards (vocals), Jim Wood (keyboards), Scot Alexander (bass), Rodney Browning Cravens (guitar) and Pete Maloney (drums) don't necessarily reflect the story of Dishwalla, but their determination to keep their music alive for the masses. The title seems fitting in giving us a glimpse as to where they have been as a band, and where they intend to stay.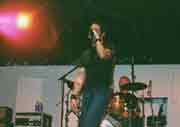 Many radio fans may remember Dishwalla as the "Counting Blue Cars" band. The song, which seemed to be in constant rotation in 1996, garnered the band the Billboard Award for Rock Song of The Year. One can easily say the song surpassed heavy rotation on a majority of radio stations and ventured into the realm of infinite rotation. The song allowed Dishwalla's debut "Pet Your Friends" on A & M Records to sell more than a million units worldwide. With their sophomore release, "You Think You Know What Life's About" on the same label, the band experienced relative success on the airwaves yet again. However, during this time the music industry as a whole was heading into a slow spiral of mergers & consolidations. Like many artists, Dishwalla found themselves without a label (A & M eventually closed their doors forever) and were caught up in a mass consolidation of records labels in the late 90s. With no label to showcase their music, Dishwalla could have very easily faded into oblivion like so many artists that got lumped into these unfortunate events in the music industry.
The saying goes…"Whatever doesn't kill you makes you stronger." Having followed the career of the band since the days when they opened for the Gin Blossoms & didn't even have their own tour bus, it is refreshing to know they didn't give up on their music despite the turn of events in the industry. It is more refreshing to see that along the journey to have their music heard, they have stood strong in their convictions as writers and musicians, which made the band so electric from the beginning. I recently had the opportunity to sit down with Pete Maloney from the band while in Pittsburgh to discuss the record, the music industry, and everything in between.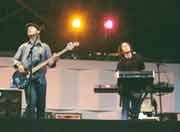 Newly signed with L.A. based Immergent Records, the group now has a truly devoted group of people that are willing to go above and beyond the call of duty to make this record successful. Mixing some of best industry people who were also victims of the music industry mergers & who have previously worked with the band, have enabled both company and band to solidify a great working relationship. As Maloney notes, "The comparisons to being on a major label to a smaller label is always a Catch 22. Yes, the radio stations will always acknowledge the major label names. However, if we were on a major label right now, we wouldn't be getting the attention in promoting this album as we are with Immergent. It's been four months since the album's release, and we're still getting adds onto station play lists' everyday. That concentrated effort that we have experienced by all at Immergent might never have happened if we were signed with a major label."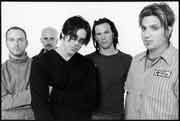 Another contributing factor in the gap between the band's second album and "Opaline"; was material. After almost a year into rehearsing and writing in their hometown of Santa Barbara, the band was yielding nothing. Maloney attributes that to being too comfortable in their surroundings. To break their comfort level in their Eden-esque Oceanside hometown, the band packed up and headed south to Los Angeles to write and rehearse. Taking in all the embodies L.A. such as staying at the historic Hollywood Roosevelt Hotel or noticing such inconspicuous sights as a shrine erected to a fallen automobile accident victim (which inspired the track "Candleburn"), enabled the group to collectively feed their creative minds and start the musical juices flowing. "If the environment you're in isn't inspiring, then get out and go somewhere else. And that is what we needed to do," Maloney recalls. To take the writing process one step further, the band set JR packing to Atlanta for a short trip. The trip also enabled JR to focus on things alone, and come back to band with yet another perspective for possible songs. Maloney elaborates, "We sent JR to Atlanta to focus on things by himself. He's best when he's able to hone in on certain things, refine and tweak them. The track "Home" was written during his time in Atlanta. That song, and a bulk of the material on the record would have never happened if we would have stayed in Santa Barbara." Maloney also feels in his opinion that "Opaline" is the best Dishwalla album to date. Having each person bring their ideas to the table, collectively mapping out the course of the album, and in the end having 40-50 songs to pick the best of the best for the album are all contributing factors to both Maloney's and the band's belief in the quality of this record.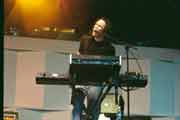 Dishwalla songs have a unique, intriguing vibe about them. There is a lot of layering of sounds, Richard's haunting voice, and to date some of the most reflective, introspective lyrics that the band has written. So, how does a band with such a distinctive sound find a producer that sees the same vision as they? Many producers were scouted for the band to help in production. However, Maloney along with his band mates didn't feel comfortable with most of their options. He recalls that it was as if the producers only wanted the job but didn't care to offer an objective opinion on the band itself. Then Gregg Wattenberg submitted his demo for the band's review. At first listen, Maloney and the band opted to pass on Wattenberg because they just didn't like his demo submission, and he didn't have a strong resume (currently Wattenberg has found success with the Five For Fighting album). Wattenberg's persistence in wanting to meet and work with the band for one week helped to change the band's mind. Maloney elaborates, "We needed someone to give us guidance. We needed someone with a backbone to say I don't like this and I do like that. It's just funny that a guy, who already knew the odds were against him, still came in the first day and had criticisms. He came in and gave a piece of his ideas and creativity to make sure the vision stayed true to Dishwalla. It worked out perfectly for us. We feel this is the most complete & best record we could have put out. Greg's contribution and guidance made the record what it is."
In terms of matching previous successes Dishwalla is taking things in stride. In today's music climate it's all up to radio. Maloney freely acknowledges the band is and always will be a commercial radio pop/rock group. "It's what we are. JR is a melody writer. He writes catchy, hooky songs." And as far as fitting into current trends, they refuse to pigeonhole themselves. As we all know trends fade, and if a group such as Dishwalla were to try and conform to a musical trend, it would be as if they would be handing over their souls to achieve what we all know as "success".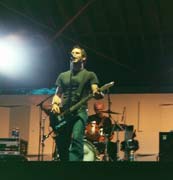 Speaking for himself, Maloney's favorite track off of "Opaline" is "Home". However, also noting it was one of the most difficult tracks to achieve the desired final product during production. Usually what is created on an album is very hard to duplicate live. Maloney doesn't hesitate to say he still gets the same vibe from playing "Home" every night as he did when it was originally recorded.
In today's world music is taking on a variety of meanings in terms of healing, comforting and dealing with events in our lives. The members of Dishwalla having completed the writing of "Opaline" pre-September 11th have found most of the lyrics to the tracks fit perfectly in today's world. Sometimes music has much more of a healing power than many people realize. On a personal note, Maloney along with his bandmates recall an acoustic set which they performed at Ground Zero…"We decided to play an acoustic show at St. Paul's Cathedral, which was a place where many of the police & fire-fighters who were involved in the recovery mission took refuge on a daily basis. This is where they came to eat, sleep, and regroup each day, 24 hours a day. We went in with just acoustic instruments and played for them one afternoon. It wasn't on the tour schedule, and it wasn't publicized. During the course of the set which included "Angels or Devils" and "Home" I had to close my eyes just to get through the set. You could hear people crying because our music was reflective of what they were going through at that very moment. We also spent the day with one fire fighter who lost his entire team on September 11th. That day was about the music, but more so that someone (we as a group) cared enough to come out & just be with them for the day."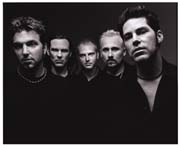 What does Dishwalla want the listener to come away with from listening to their music? Maloney best sums it up, " Opaline the color has a transparency to it. It can translate to an open canvas. "Opaline" the album is just that, an open canvas for the listener. It sets them off into a vibe, but doesn't take them to a specific direction. If people come away from our shows humming at least one of the melodies, then we've succeeded!!"

More
Visit the official Dishwalla site for more info on the band
Listen To/Purchase Dishwalla Music



Live Photos By Linda Spielman
Promo Photos Courtesy Immergant Records
All Rights Reserved
Linda Spielman is a iconoFAN contributor